Plan Details:
2,841 Sq Ft
4 Beds
3.5 Baths
1 Stories
3 Cars
Welcome, fellow house hunters and dreamers, gather 'round for a captivating journey into the realm of architectural perfection.
Have you ever envisioned living in a home so perfectly balanced that it could gracefully walk a tightrope?
Well, brace yourself as we step into the enchanting world of a 4-bedroom modern farmhouse that's more heartwarming than your grandma's apple pie and as chic as that slightly overpriced latte you secretly adore.
Close your eyes for a moment and let's paint a vivid picture: Picture two picturesque gables, whimsically playing peek-a-boo on either side of the welcoming front porch.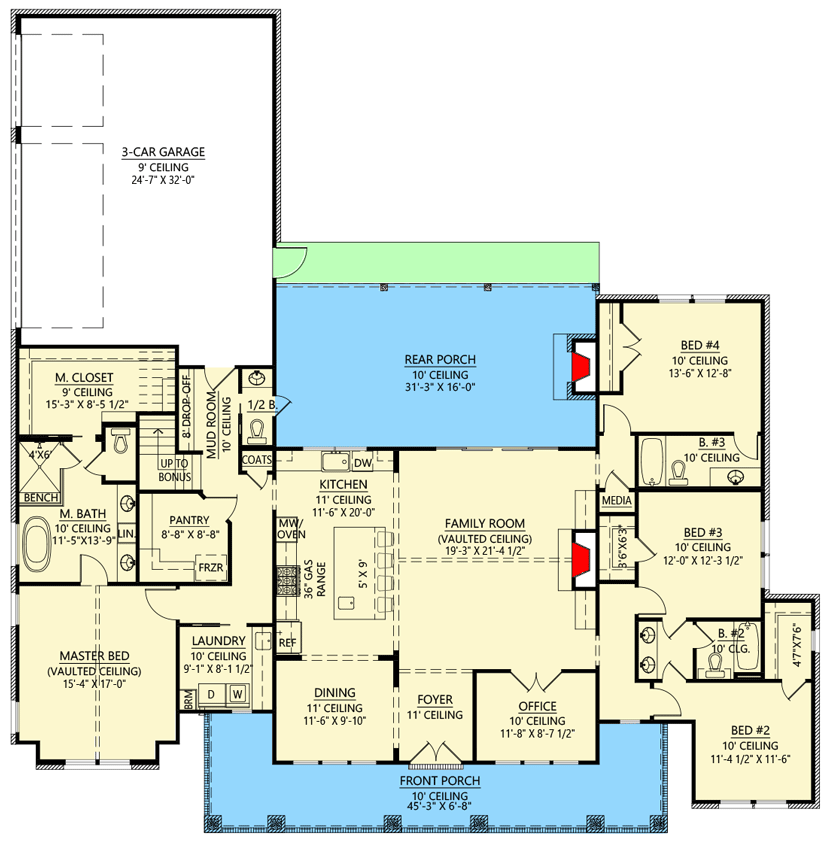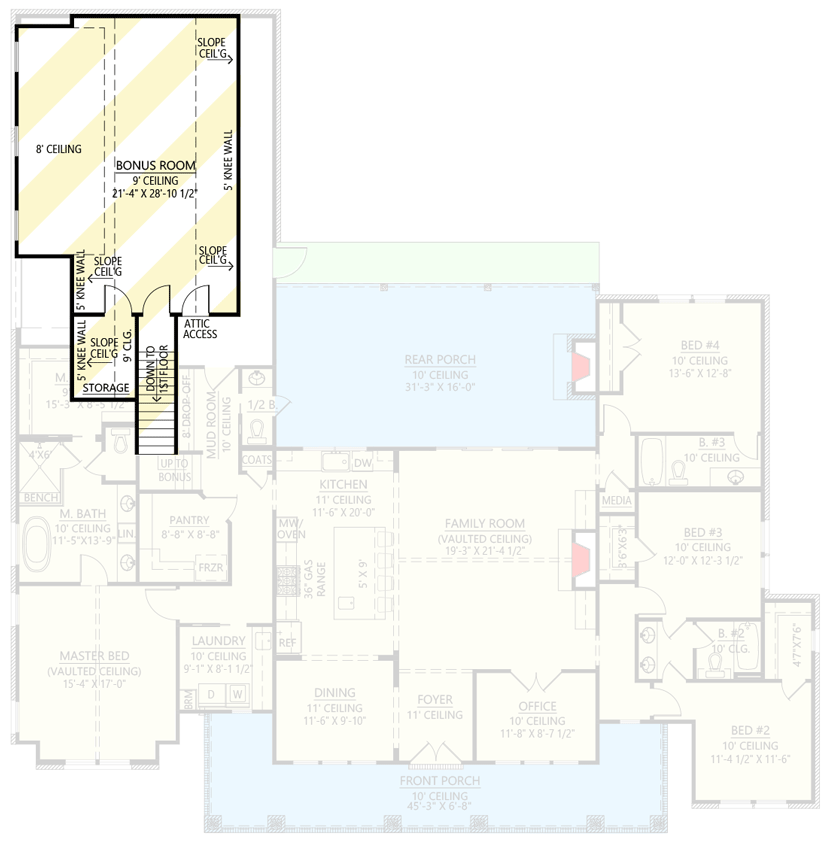 These gables aren't just any gables; they're soaring to heights of 10 feet—higher than the hopes I had for my last relationship. And their 4:12 pitch? It's just steep enough to add a touch of drama but not so audacious that they're showing off.
Now, let's talk about the cherry on top of this architectural sundae—a classic gabled dormer perched majestically above the French doors. It's like the elegant vase you bought but never found the perfect flowers for—utterly beautiful and purely decorative.
But let's not linger on the exterior for too long, as there's so much more to uncover inside. The curb appeal, you ask? It's not just for show; it's a testament to timeless elegance with a pinch of rustic charm. Think of it as the little black dress of home exteriors: simple, yet drop-dead gorgeous.
Step inside, and the very first thing that will make you exclaim, "Whoa!" is the vaulted ceiling of the great room, beckoning your attention from the moment you enter. But hold onto your socks, because they're about to be knocked off. A cozy fireplace awaits, thoughtfully placed on the right wall.
It's surrounded by built-ins, ready to house all your quirky knick-knacks, ensuring that you feel right at home. As you gaze across the room, your eyes will naturally gravitate towards the rear porch and the culinary wonderland that is the kitchen.
Speaking of kitchens, this isn't your run-of-the-mill toast-and-tea kind of space. No, this is a gourmet masterpiece. Need to conceal your not-so-healthy snacks? There's a spacious walk-in pantry for that.
Fancy a midnight chat or a pancake brunch? The large prep island not only welcomes your culinary experiments but also offers seating for four.
And for those moments when you're hosting fancy dinners or pretending to be the star of your very own cooking show, there's a formal dining room, all ready to roll out the red carpet.
When the sun is shining and the siren call of the barbecue beckons, step out onto the grilling porch conveniently located just outside the kitchen. Even if you happen to slightly overcook those sausages, the ambiance alone will more than make up for it.
Now, let's meander to the master bedroom, tucked away on the left side of this splendid abode. It offers a serene retreat with its vaulted ceilings, creating a sense of space and tranquility. The en-suite bathroom is generously proportioned, providing ample room for all your skincare products (yes, even THAT many).
A spacious walk-in closet beckons you to bring your prized shoe collection, and a separate tub and shower are there to cater to your daily bathing preferences.
On the other side of this dreamy haven, three secondary bedrooms coexist harmoniously. Two of them share a Jack and Jill bathroom (because sharing is indeed caring), while the third boasts its very own private bathroom. No waiting in line for showers in this household!
As we conclude our tour, the rear porch grants you access to a powder room that's so fancy it even connects seamlessly to the mudroom via a discreet pocket door. Genius, right?
And for all you car enthusiasts out there, we've got you covered with a spacious 3-car garage just waiting for your prized vehicles. Meanwhile, for those who enjoy sneaking out to their secret garden or escaping to a makeshift outdoor gym, there's a convenient man door leading to the backyard.
In a nutshell, this 4-bedroom modern farmhouse transcends the concept of being just a house. It's a dream, a sanctuary, and perhaps, just perhaps, the stage for your next great adventure. So, who's ready to make this extraordinary place their new home?
Plan 56535SM