Plan Details:
2,688 Sq Ft
2-4 Beds
2 – 3 Baths
1 Stories
3 Cars
Discovering your dream home is akin to selecting the perfect melon from the bustling market – a delightful blend of excitement and uncertainty.
It's like tapping the melon, sniffing its aroma, and giving it the suspicious eye before slicing it open to reveal its true essence.
Well, let me be your guide and slice open the doors to an exclusive New American Farmhouse that will leave your senses buzzing with joy.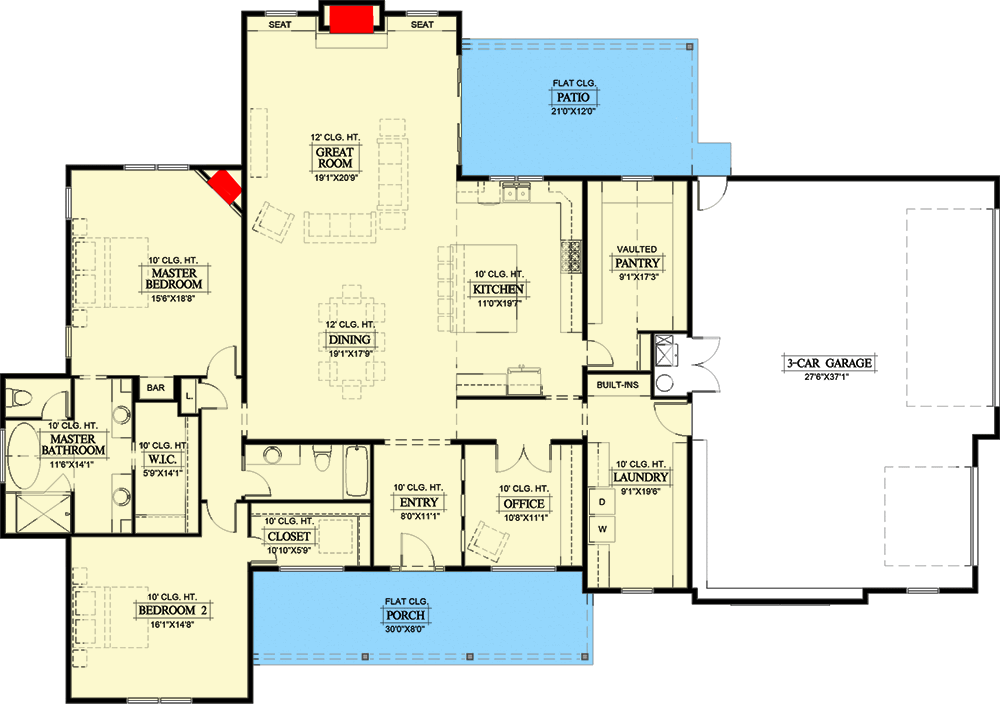 This isn't your ordinary farmhouse; it's a modern marvel, sprawled across a spacious 2,688 square feet, designed with a genuine commitment to providing ample space and ultimate comfort.
As you step inside, you'll find the two primary bedrooms nestled in the left wing of this magnificent abode. Whether you prefer the chicken-wing or the drumstick side of the house, the choice is all yours.
But that's not all; the grandeur continues with the option for up to four bedrooms and two to three baths. And the icing on the cake?
It's a one-story wonder, meaning no upstairs neighbors tap-dancing on your ceiling – a reason worthy of celebrating with a bottle of champagne!
The journey begins each morning with a view that will awaken even the sleepiest souls – the expansive front porch topped with a sleek, modern metal roof. With such a view, who needs morning coffee?
Oh, and there's more! A delightful home office winks playfully from the sizable entryway, perfect for work-from-home maestros, gig economy whizzes, and enthusiastic hobbyists alike.
The open-concept design gracefully connects the dining area, kitchen, and great room, almost pirouetting between them.
And nestled in the rear wall, a fireplace stands proudly, flanked by built-in window seats.
Cozy evenings are beckoning – picture yourself with a good book, a roaring fire, and perhaps a playful squabble over who gets the window seat.
Now, for all the kitchen enthusiasts out there, prepare to be delighted by the massive kitchen island – a multitasking marvel!
It's not just extra seating; it offers abundant counter space for any culinary creation you dare to undertake.
And don't miss the nearby walk-in pantry, boasting more storage than a squirrel's tree hole and a lovely window overlooking the rear patio – who says you can't enjoy sunsets while searching for that elusive can of beans?
After a long day, retreat to the master bedroom, which doubles as your personal sanctuary. Imagine a corner fireplace, a built-in bar (yes, you read that right!), and all the comforts of your favorite five-star hotel. Staycation, anyone?
And let's not forget about the ensuite – complete with a freestanding tub for those indulgent bubble baths, a toilet room that's surprisingly classy, and a walk-in closet because we all know the struggle of a serial shopper and the importance of closet space.
Across the hall, the second bedroom awaits, featuring a spacious closet and easy access to a full bath.
It's perfect for visiting family, friends, or that cousin who always seems to "crash" for a month or two.
But this New American Farmhouse is more than just a house; it's a harmonious blend of rustic charm and modern convenience, singing in the key of comfort.
And don't forget about the roomy three-car garage – no more playing musical chairs with your vehicles; here, you can easily accommodate a small fleet!
To sum it all up, this house is the epitome of greatness, the pinnacle of perfection – the bee's knees, the cat's pajamas, and everything in between.
Whether you're starting a family, expanding your horizons, or simply have an insatiable passion for exceptional farmhouses, this New American Farmhouse is an open-concept revelation that will make your heart sing.
Every aspect, from the sneak peeks of the home office to the airy great room, has been meticulously curated to strike the perfect balance between functionality and style.
This isn't just a place to lay your head; it's a place to truly live, love, laugh, and yes, even dance around the kitchen island because, why not? There's space aplenty!
So, consider this your personal engraved invitation – come on in, kick off your boots, and stay a while.
This New American Farmhouse isn't merely a house; it's a home waiting to be filled with cherished memories, echoing laughter, and the scent of your favorite meal simmering on the stove.
And if that doesn't pique your interest, I'm not sure what will! There you have it, folks – a spectacular farmhouse ripe for the picking, as fresh and promising as that melon you've been eyeing at the market.
So why not take a slice out of the good life? After all, they say home is where the heart is – and this one's got a whole lot of heart.
Plan 365005PED