Plan Details:
2,044 Sq Ft
3 Beds
2.5 Baths
1 Stories
2 Cars
Hello there! Have you ever found yourself daydreaming about owning a house that wraps you in the warmth of a cozy hug, especially on those rainy days when all you want is a snug haven to call your own?
Well, today is your lucky day, because we're about to embark on a delightful journey through an exquisite Country Craftsman house plan that might just make you consider opening a savings account to turn this dream into a reality.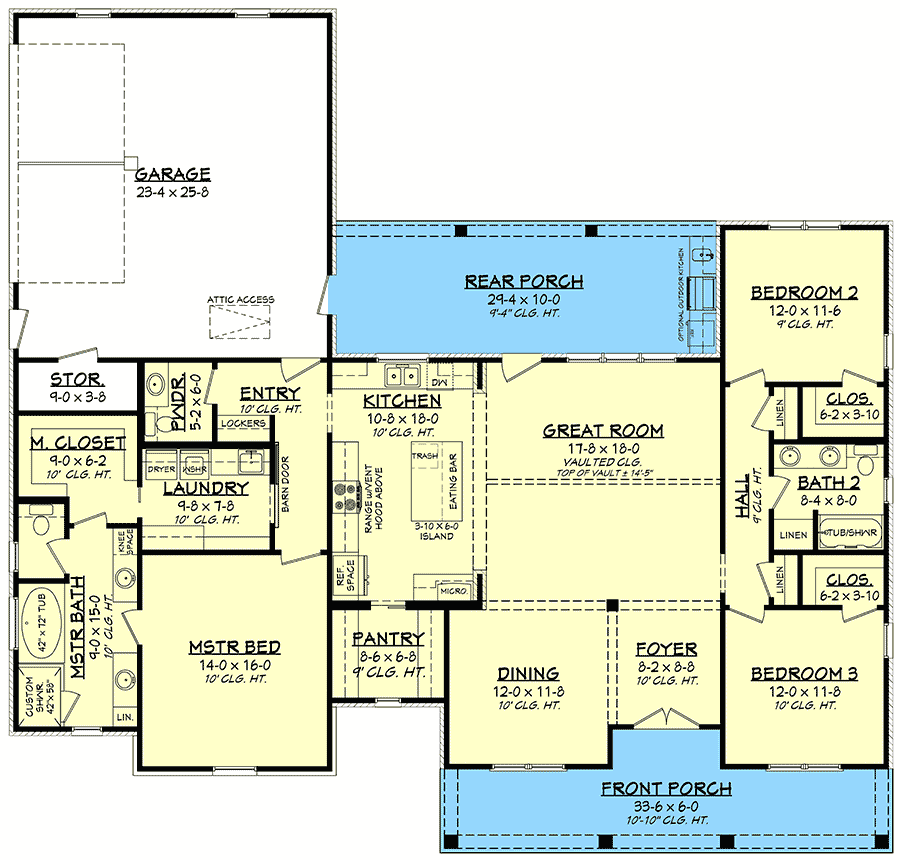 First impressions are everything, right? Picture this: an elongated front porch that's practically begging for those rocking chairs you've had your eye on.
And to make it even more charming, there's a single shed dormer that playfully peeks out like it's winking at everyone passing by.
But what truly sets this house apart is the harmonious blend of siding materials adorning its exterior – it's like a symphony for the eyes! Whoever claimed that love at first sight isn't real clearly hasn't had the pleasure of encountering this remarkable home.
Now, step inside, and you'll immediately notice something special: a deliberate lack of walls. No, it's not a design oversight; it's sheer genius! The moment you step into the foyer, your eyes are treated to a grand expanse that encompasses the great room and extends even further to the cozy rear porch.
If walls could talk, these would be humming, "Look at all this space!" And did I mention the vaulted ceilings? It's like living inside a cathedral of comfort, where the sky's the limit.
Let's talk kitchen, shall we? Have you ever experienced the frustration of running out of counter space right in the middle of preparing a delicious meal? Well, kiss those woes goodbye, because this kitchen boasts a spacious prep island complete with an eating bar!
And for those secret cookie stashes or perhaps your zombie apocalypse stockpile (we don't judge), there's a walk-in pantry that's roomier than some city apartments. It's a food lover's paradise and a meal prep enthusiast's dream come true.
Now, we all dream of having that one luxurious room, don't we? A room where you can retreat to after a long, tiring day.
Well, the homeowner's bedroom in this house is the stuff dreams are made of! It's the largest of all the bedrooms and features a 5-fixture bath because, honestly, who settles for just four fixtures these days?
The walk-in closet is so spacious it might just be Narnia's twin, and here's the cherry on top – it conveniently leads straight to the laundry room. That's right, no more hauling laundry across the house like a laundry sherpa. Convenience at its finest!
Now, let's flip things over, literally, to the other side of the house, where bedrooms 2 and 3 are cozily nestled. Both of them come equipped with walk-in closets because every room in this house deserves to feel like the main room.
And as for the shared bathroom? It's got double sinks, which means no more morning toothbrush tussles or a race to the sink.
Ah, storage – every homeowner's dream, right? Well, this beauty comes with a double garage that includes a storage room just begging to house your gardening tools, Christmas decorations, or that inflatable pool you bought on a whim.
Plus, there's a mudroom just inside the garage, complete with built-in lockers and a powder bath. Because let's be honest, muddy shoes and clean floors should never, ever mix.
So, there you have it – a home where elegance cuddles up with coziness, where every nook and cranny is thoughtfully designed to enhance your everyday living experience. It's a place that gently whispers, "Come in, put your feet up, and stay awhile."
So, the next time you find yourself daydreaming about your ideal abode, just remember this Country Craftsman gem. Who knows? One day, we might just be neighbors!
Plan 51817HZ