Plan Details:
3,897 Sq Ft
4 – 5 Beds
3.5 – 4.5 Baths
2 Stories
3 Cars
Imagine walking up to a house and feeling an overwhelming desire for it to embrace you in return. That's precisely the sentiment this enchanting Traditional house plan with Craftsman elements evokes. It's like that beloved cozy sweater, timeless, chic, and exuding comfort in every nook and cranny.
Spanning a generous 3,897 square feet with 4-5 bedrooms, this house isn't just a garment; it's more like an entire walk-in closet brimming with possibilities. As you approach it from the outside, the house beckons with an inviting charm that whispers, "Come on in, and yes, I am that beautiful."
The stonework and ornate wood trim harken back to the craftsmanship of yesteryears, reminiscent of the feel-good houses you see in classic movies. Yet, despite its classic design, this residence manages to be eternally fashionable—a bit like the George Clooney of houses, ageless, timeless, and always in vogue.
Step inside, and the first thing that strikes you is the vaulted great room, which, with its sheer expanse, makes you feel as though you've entered the abode of a gentle giant.
And those rear windows? They're akin to a colossal TV screen, broadcasting the best show on Earth—the view from your outdoor covered deck. It's an ideal setting for those who savor nature with a dash of comfort.
Then there's the dining room, strategically positioned at an intriguing angle. It's not merely trying to be trendy or unconventional; this unique design allows sunlight to pour in from three sides.
After all, why should chandeliers have all the fun? Your morning coffees here will be Instagram-worthy, and your evening dinners? Illuminated by the soft hues of the sunset!
Now, let's talk about the heart of every home, which, in this case, also happens to be the superstar. A colossal island takes center stage in the kitchen, proudly boasting not one, but two sinks. Because, let's face it, two is always better than one, right?
Whether you're a culinary virtuoso or someone whose idea of cooking is reheating takeout, this kitchen transforms every meal into a grand event. The amount of counter space might even make you misplace your coffee mug—or perhaps your cat.
Moving away from the hustle and bustle of the common areas, on the left side of the house lies the master suite. It doesn't just provide you with privacy; it offers a kingdom of its own.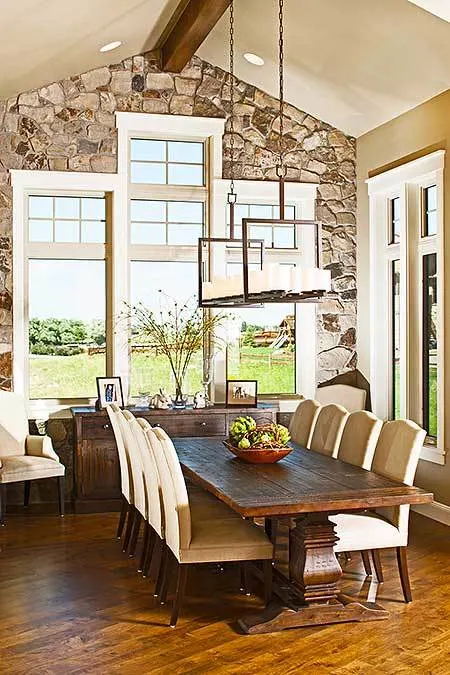 The master bathroom is so spacious that it might as well have its own zip code, with distinct sections for him and her, merging only at the two-entry shower—a perfect rendezvous point, especially for those "Did you use all the hot water?" mornings.
And the icing on this luxurious cake? A walk-in closet that accommodates a stack washer and dryer. Because nothing exudes opulence like doing your laundry just steps away from where you picked out your socks. Convenience? More like laundry nirvana.
Venture upstairs, and you'll discover four expansive bedrooms that feel more like private retreats. They share two bathrooms and even have their very own laundry room, ensuring that no sock ever goes missing again. If you're yearning for even more space, the lower level eagerly awaits your creative touch.
Whether it's a fifth bedroom for unexpected guests, a dedicated space for that hobby you've been meaning to pick up, a game room for Friday night fun, a recreation room for, well, whatever you 'recreate' there, or an exercise room to keep those New Year's resolutions intact—this house is all about saying, "Bring it on!"
In conclusion, this isn't just a house; it's a dream catcher. Every corner is designed with love, every feature crafted with care.
Whether you're a family of four or an aspiring home chef, a bookworm or a party planner, this Traditional house with Craftsman touches isn't just a place to live—it's a place to love. So, the question remains, when are you moving in?
Plan 95023RW