Plan Details:
2,321 Sq Ft
3 Beds
2.5 Baths
1 Stories
3 Cars
Step into the world of architectural charm and let me introduce you to a one-story Craftsman house plan that's simply enchanting. This house plan, spanning a generous 2,321 square feet, has so much to offer that it'll leave you breathless.
With three bedrooms, two-and-a-half baths, and a garage that could easily accommodate three cars or your prized collection of life-sized Star Wars figurines, it's a dream come true for any homeowner.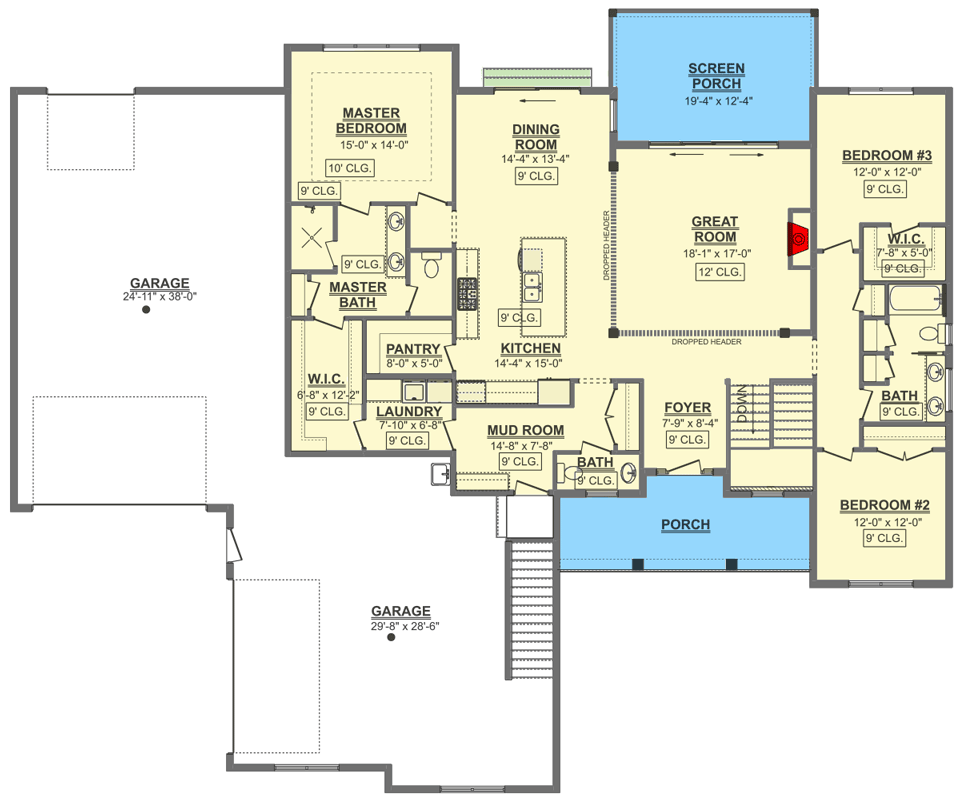 As you step inside this haven, you'll be greeted by an open-concept great room that will make you wonder if you've just stepped into a home catalog.
Yes, it's that picturesque! You might even half-expect to see a couple of animated birds tidying up the place.
The room is thoughtfully defined by elegant columns and a stunning four-panel glass door that leads to a delightful screened porch.
It's a space that exudes warmth and invites you to embrace the coziness of home.
Adjacent to the great room, the kitchen and dining room form the perfect duo for hosting unforgettable holiday parties or indulging in a wild Tuesday night taco fiesta.
The prep island, which I lovingly refer to as the 'culinary command center,' offers ample space for your culinary masterpieces.
And just a hop away, there's a walk-in pantry, your unsung hero for any last-minute dinner rescue mission.
Now, let's talk about the master suite – a true oasis that occupies a large portion of the left side of the house.
It's not just a master bedroom; it's your personal retreat. A place where you can escape the world, don a fluffy robe, and sigh in relief.
But that's not all; the adjoining walk-in closet is a marvel in itself.
Not only does it hold all your treasured clothes, including the ones you promise yourself you'll fit into again someday, but it also offers direct access to the laundry room. Convenience at its finest, don't you think?
On the other side of the house, you'll find bedrooms 2 and 3, comfortably separated by a shared bathroom that's been thoughtfully planned to ensure no more morning sibling fights over who gets the sink first.
With two vanities, there's double the sink space, bringing double the peace. Morning routines just got a whole lot smoother!
And now, for a part that might surprise you – the garage. It's not just any ordinary garage; it's a colossal, oversized four-car garage.
It's so spacious that you could turn it into your very own roller rink or transform it into the ultimate man cave or she-shed.
Plus, the rear-facing overhead door adds a touch of convenience, making it easy to access your lawn equipment without playing a real-life game of Tetris.
But wait, there's more! Inside the mudroom, you'll find a powder bath, ensuring you can freshen up quickly during those chaotic morning scrambles. Because who wants to sprint through the entire house when nature calls in the morning, right?
In summary, this one-story Craftsman house plan isn't just about architectural beauty; it's about creating a home for living, laughing, and loving. It's the perfect backdrop for family movie nights, backyard barbecues, and crafting memories that will last a lifetime.
This isn't just a house; it's your story, waiting to be written, one beautiful day at a time. So, go ahead, make yourself at home. This one's a keeper!
Plan 911000JVD