Plan Details:
5,050 Sq Ft
6 Beds
4.5 Baths
2 Stories
2 – 4 Cars
Imagine for a moment that you're not a prince or princess from a small European country, but you've got a home that might just make people think you are.
We're about to embark on a journey into a dreamy, luxurious, and captivating European house plan that's so extraordinary, it boasts more bonus rooms than most of us have socks. And trust me, I have a lot of socks.
This architectural masterpiece spans a grand total of 5,050 square feet, making it clear from the start that it's far from your average suburban dwelling. In fact, it's so spacious that you might consider investing in a scooter just to traverse from one end to the other.
Fancy a midnight snack? Well, by the time you get back from that massive kitchen to your bedroom, you'll have effortlessly burned off the calories from your cookie, creating a delightful win-win situation.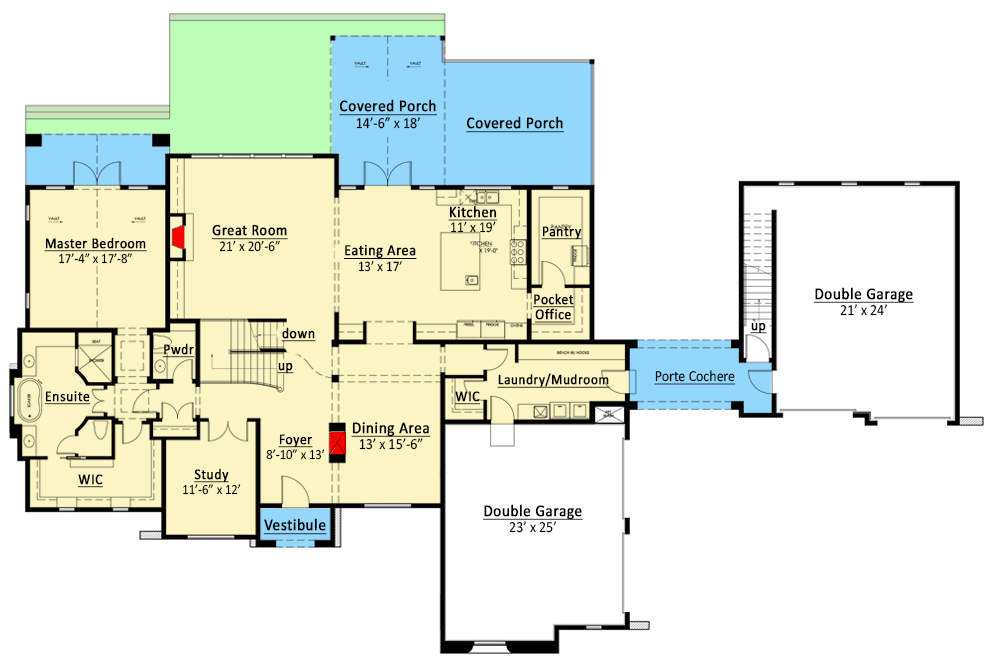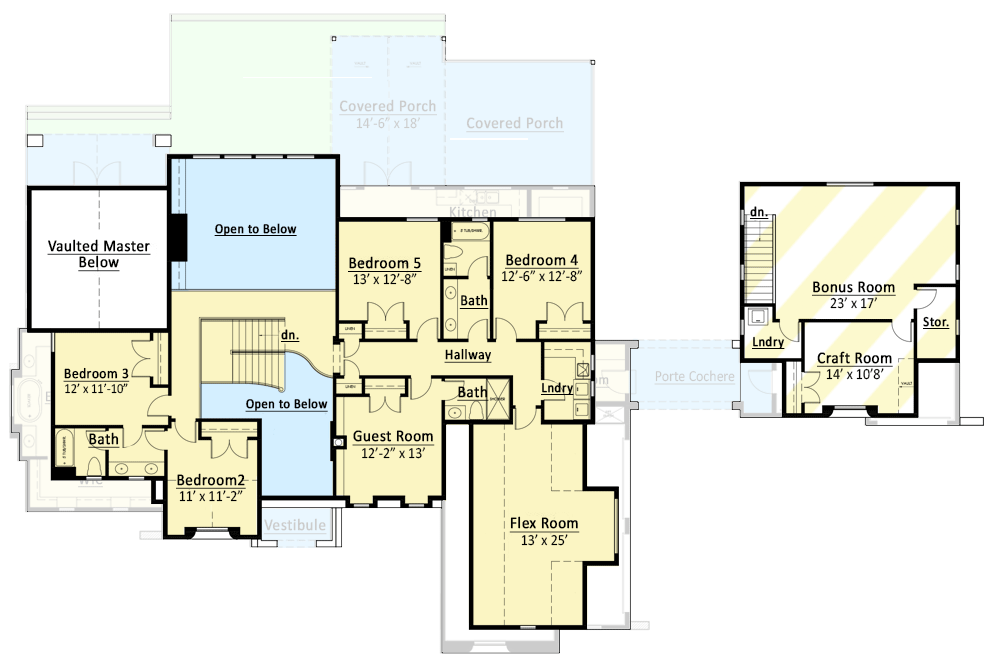 Now, let's talk bedrooms – six of them, to be exact. With this many bedrooms, you could play an epic game of hide and seek that lasts for days. The master bedroom is a true showstopper, not just spacious, but graced with its own vaulted ceiling.
Because, let's be honest, who doesn't want to wake up feeling like royalty? And, just when you think it can't get any better, it opens up to a private porch where you can sip your morning coffee while pretending you've stepped right into a classic European movie.
The upper level of this European gem holds five additional sizable bedrooms. It's as if it was designed to accommodate a small army of children, a multitude of guests, or perhaps even an extensive collection of plush toys.
And don't worry about bathroom queues here; with 4.5 baths, you'll never have to wait. In fact, you could have your own dedicated bathroom for each day of the week – Mondays, Tuesdays, Wednesdays, and so on.
But this two-story architectural marvel doesn't just look grand; it feels grand too. Picture towering ceilings in a two-story great room where sunlight streams in as if auditioning for a role in a Broadway show.
It's the heart of the home and offers a spectacular view of the rear – particularly handy if you're planning on having unicorns in the backyard (or perhaps just some lovely garden parties).
Have you ever found yourself elbow-deep in cake batter, desperately wishing for more counter space? Well, your wish has been granted with a massive prep island that comes complete with its very own bar sink.
And for those who have a secret stash of snacks (or seven), the adjacent pantry is there to have your back. Additionally, there's a nifty built-in computer nook that's perfect for those Pinterest recipe fails.
Parking is no issue here – there's room for 2-4 cars with ease. But the real treasure trove lies in the multiple bonus rooms above the garages. One sits above the main garage, and another above the second, together offering a whopping 768 square feet of potential.
Perhaps you've always dreamed of having a dance studio, a mini cinema, or your very own personal arcade – the sky's the limit (well, the ceiling is, but it's pretty high up).
Step out onto the sizeable covered porches, and you'll feel like you've entered a true relaxation zone. It's perfect for pretending you're in the South of France, sipping on some fancy drink and basking in the warmth of the sun.
Or, you know, just watching your pet tortoise race gracefully across the garden – it's that kind of place.
Let's not forget the extra touches that add to the overall elegance. The lavish en suite in the master bedroom is a sight to behold, complete with its own room just for the toilet (because, why not?) and an Oprah-worthy walk-in closet that's sure to delight any fashion enthusiast.
And then there's the second laundry room upstairs – because let's face it, one laundry room is never quite enough.
This European house plan, exclusively available through Architectural Designs, is more than just a house; it's a statement.
It's about living large, dreaming big, and finding that one place in the world where every room, nook, and cranny speaks to you (or, at the very least, gives you more excuses to indulge in home decor).
So, why settle for the ordinary when you can embrace the captivatingly European? Here's to living the luxurious dream!
Plan 270007AF