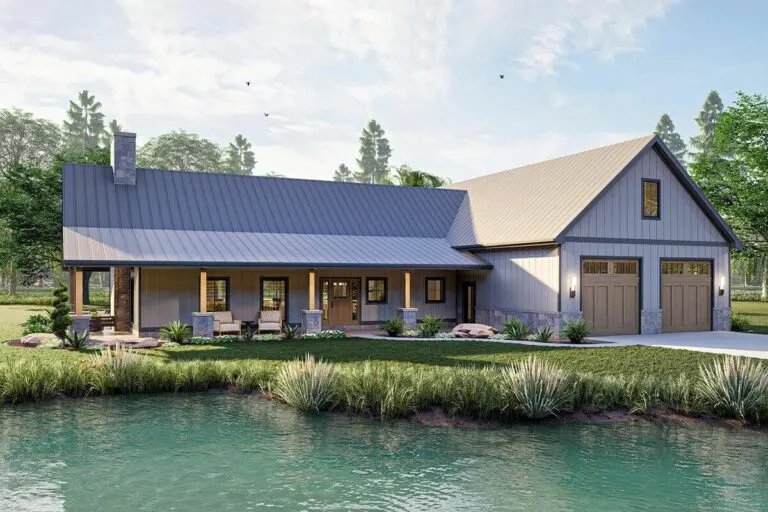 Plan Details:
2,758 Sq Ft
3 Beds
2.5 Baths
1 Stories
2 Cars
Embark on a journey with me, one that unfolds through the enchanting allure of a one-story barndominium – a unique blend of barn and condominium, where simplicity meets sophistication in a seamless dance.
Picture yourself in a realm where the tranquility of country living meets the elegance of modern design. Let's explore this magical fusion together.
Imagine, if you will, a quaint yet striking abode nestled in the heart of nature. Picture a sprawling, serene landscape stretching out before you, where the gentle rustle of leaves and the sweet melody of birdsong are your closest neighbors.
Here lies a home not just built, but lovingly crafted to be a haven, a retreat from the relentless pace of city life.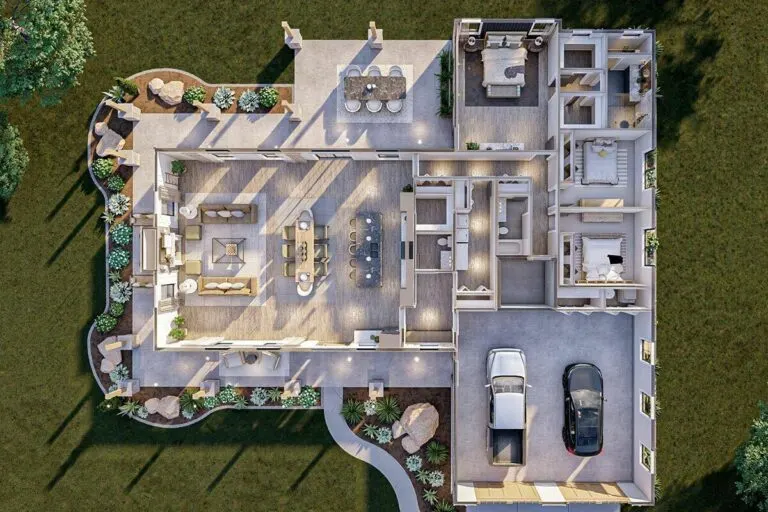 This isn't just a structure of wood and stone; it's a canvas where every stroke paints a story of comfort, warmth, and familial love.
With its expansive 2,758 square feet, this barndominium is an architectural marvel, blending functionality with artistic flair. Its exterior, a harmonious blend of board and batten siding with a sleek metal roof, speaks volumes of its understated elegance.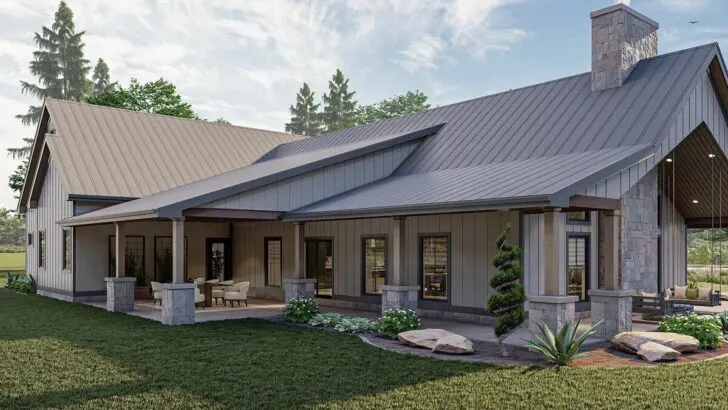 Step onto the wraparound porch, an architectural hug that offers not just a vantage point to admire the beauty of nature but also a cozy nook to create lasting memories.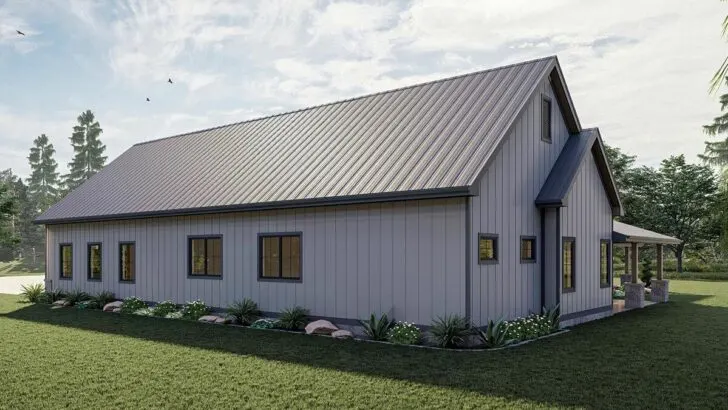 Here, time slows down, allowing you to savor every sunset, every cool breeze, every moment of peace. This porch isn't just a part of the house; it's a gateway to the soul of the home, inviting you to relax, to reflect, to be.
As you step inside, the interior welcomes you with open arms. The layout, an open plan design, fosters a sense of togetherness, blending the great room, dining area, and kitchen under a magnificent cathedral ceiling.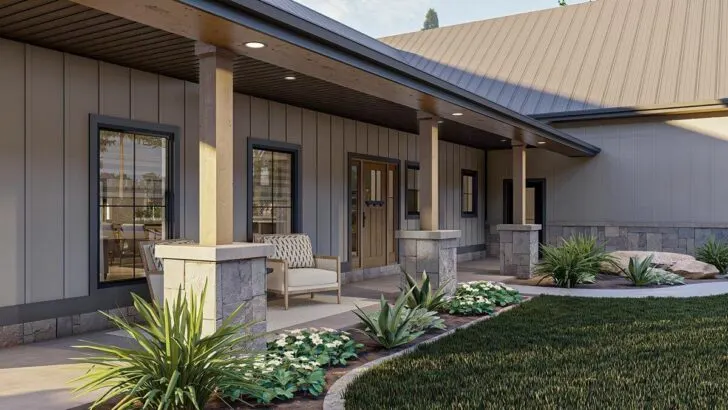 This heart of the home is not just a place to gather; it's a sanctuary where laughter and love intertwine, where stories are told, and memories are made.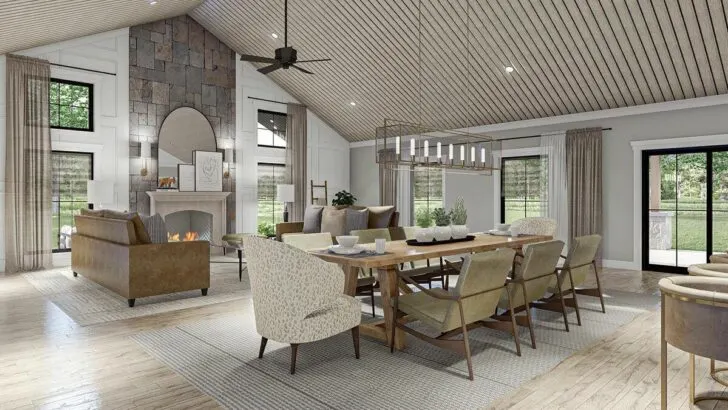 The kitchen, the beating heart of any home, is more than a culinary workspace. It's a place of warmth and welcome, boasting a large island and a walk-in pantry, ready to host your family and friends for meals, conversations, and those cherished midnight snacks.
Venture further, and you'll find the bedrooms, each a serene haven promising rest and rejuvenation. The master suite unfolds like a dream, with its own cathedral ceiling and direct access to the rear patio, offering a private escape into luxury and comfort.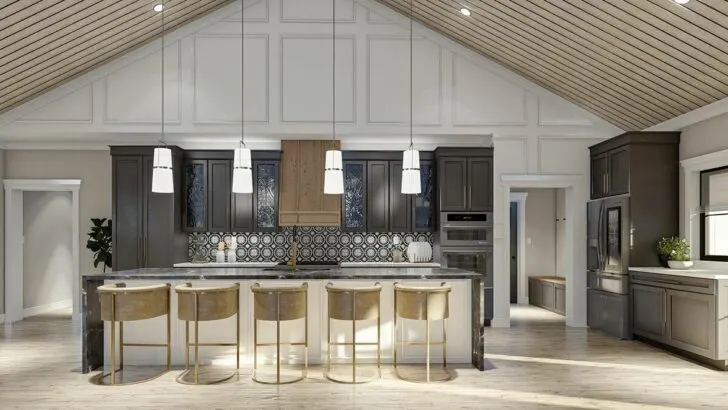 Safety, a paramount concern in any home, is subtly addressed here. The safe room, strategically placed yet unobtrusively designed, offers peace of mind, ensuring that in times of need, security is but a few steps away.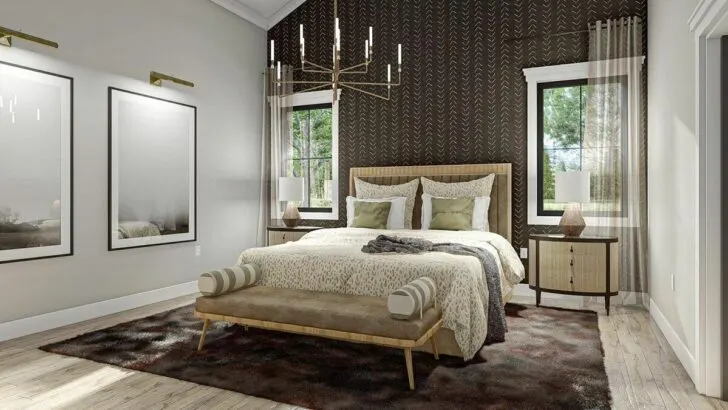 This barndominium is more than a house; it's a guardian of moments – of lazy Sunday mornings, whispered declarations of love, and joyous laughter shared over family breakfasts. Its walls, sturdy and reliable, are not just physical barriers but emotional fortresses, safeguarding your most precious memories.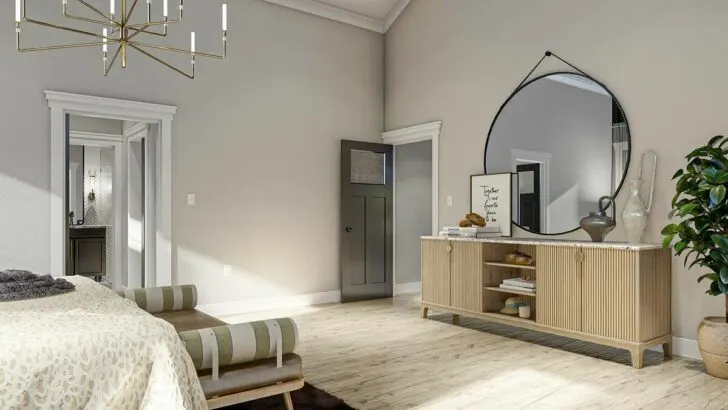 As we wander through this captivating space, every corner speaks of attention to detail, every room a testament to the art of living well. From the expansive porch to the solid walls of the safe room, each element is a thread in the rich tapestry that weaves together not just a house, but a home.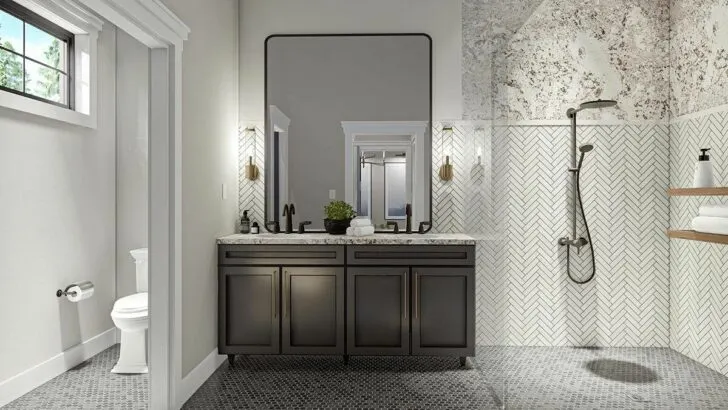 So, here we are, at the end of our journey through this magnificent barndominium, a place where every dawn welcomes serenity and every dusk is a gentle reminder of the safety and warmth within. This house, this dream carved into reality, is more than a dwelling. It's a celebration of life, a sanctuary of joy and love.
Take a moment, linger a while, and let the rustic charm of this barndominium envelop you. Perhaps, in its sturdy walls and graceful arches, you'll find not just a house but a home, whispering to you, ready to become not just a part of its story but a part of yours, etched forever in the annals of time.