Plan Details:
2,953 Sq Ft
4 Beds
3 Baths
1 Stories
3 Cars
Hello there, my adventurous comrades!
Prepare to embark on a grand adventure from the comfort of your cosy couch as we venture into the mesmerising world of Mediterranean marvels.
Fear not, there's no need to scramble for your passport or face the airport's chaos. All you require for this trip is a sprinkle of imagination and a heart brimming with an appreciation for luxurious living.
And our destination? A splendid Mediterranean abode, a cosy haven nestled in under 3000 square feet, beautifully marrying stylish elegance and enchanting rustic charm.
So, fasten your seatbelts, my friends! We're in for a ride of pure luxury and allure.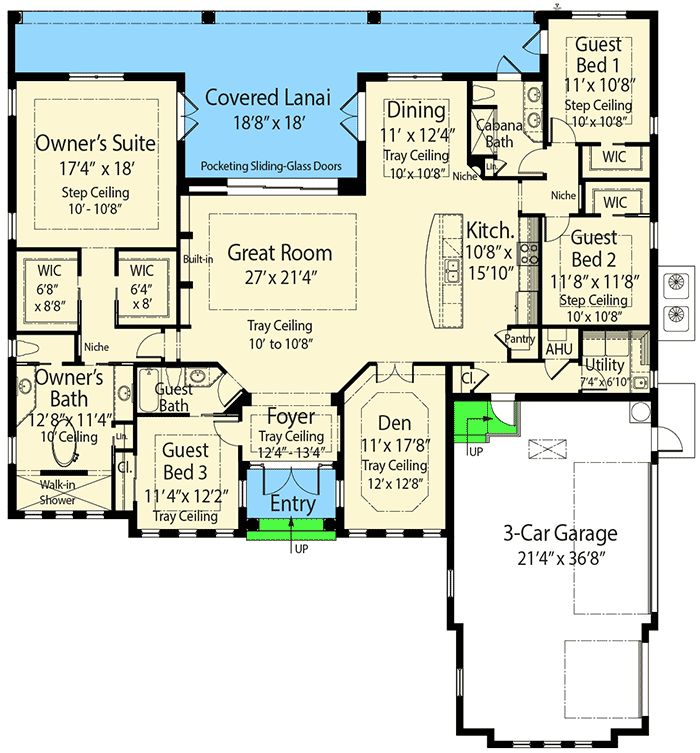 Our exciting journey commences with a majestic, awe-inspiring facade of a Tuscan-inspired paradise, stretching a handsome 2,953 sq. ft. With three commanding gables, this grand abode virtually hums with chic style and grandeur. And what greets your eyes first, you wonder?
A gracefully elevated entrance, guarded by exquisite columns that even the Greek Pantheon might covet, finds itself perfectly positioned amid grand Palladian windows. So, what lends this Tuscan sanctuary its authentic Mediterranean appeal?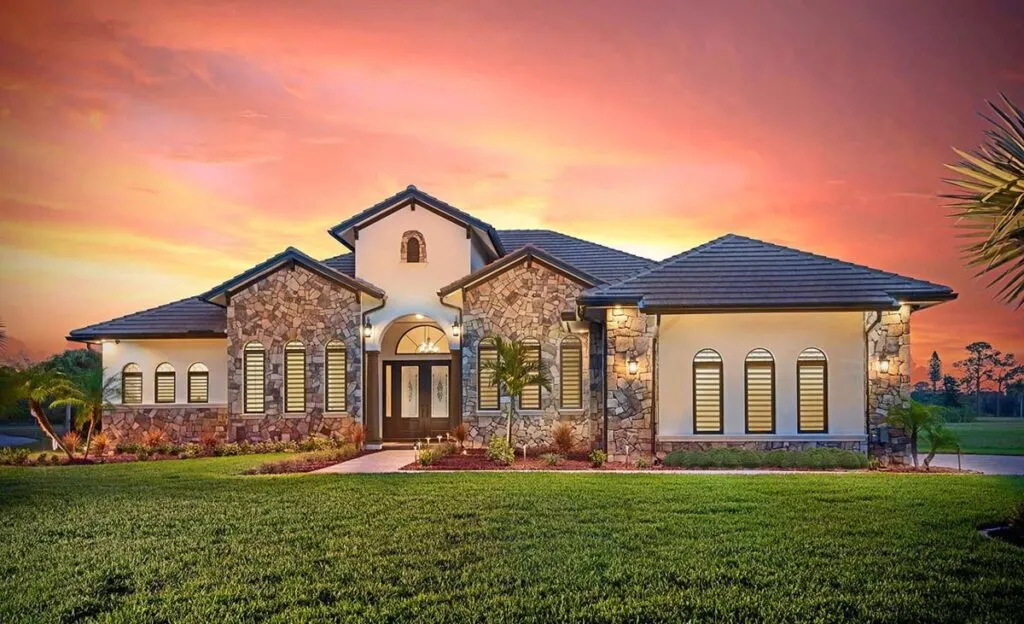 Behold, the rustic stone, gently cradled against the cream-hued stucco, under the terracotta tile roof's stern yet loving gaze. It's almost as if the great Michelangelo guided its very creation!
Exquisite double glass doors, crowned by a captivating fan-light transom window, beckon you into this architectural masterpiece. Trust me, the drama doesn't halt at the doorstep!
Step into a lavish foyer, boasting a soaring 13'4″ tray ceiling, leading your eyes to a view so majestic, it gives the Sistine Chapel a run for its money. Well, that might be a bit of a stretch, but the sight is undeniably captivating!
On one flank of this grand entrance, you'll find a cozy guest bedroom and bath. After all, every Mediterranean haven must be ready to host unexpected guests, or that meddlesome brother-in-law.
On the opposite side, a sprawling den awaits, designed for those tranquil Sunday afternoons curled up with a riveting novel and a soothing cup of coffee.
Now, let's venture towards the heart of the home, where life truly thrives. The great room, kitchen, and dining area luxuriate in the gorgeous view of the rear lanai.
Imagine a spacious great room, tenderly bound by a wall of bespoke built-ins and a grand glass wall of retractable sliders. Here, the transition from indoors to outdoors isn't a mere action; it's a delightful spectacle!
And the kitchen? Ah, we haven't forgotten! A gourmet kitchen awaits your culinary experiments, armed with a central island. Fresh groceries? Store them in a flash in the handy corner pantry right by the garage door. Who needs a sous-chef when you've got such a thoughtful layout?
But the crowning glory, my friends, is the master wing. Accessed via a private entrance, it's akin to a secluded sanctuary within your own home. The master bedroom and bath, featuring a walk-through shower peeking behind a free-standing soaker tub, brags more than 12' of his-and-her vanity space.
The 470 sq. ft. master suite even boasts two walk-in closets, collectively offering a generous 110 sq. ft. of space. Forget a walk-in closet; this is an elegant dance-in closet!
And the guest wing? It houses two rooms, both furnished with walk-in closets, sharing a bath. It's essentially a compact suite within your home.
And who could ignore the generously-sized utility room, nestled near the garage, equipped with a sink and ample countertop space? Because, even in a dream house, the laundry demands attention!
And so, my friends, we present a piece of Mediterranean sunshine, warmth, and sophistication compactly fitted under 3000 square feet. This is more than a house; it's a living experience!
A home that narrates tales of grandeur yet subtly offers everyday comforts. The cherry on top? No passport needed! Just a passion for grand living!
Plan 33198ZR