Plan Details:
3,965 Sq Ft
4 Beds
3.5 Baths
2 Stories
3 Cars
Step right up, ladies and gentlemen!
Get ready to embark on a journey through a domicile that even Queen Victoria herself would envy.
Welcome to a world of sophistication, elegance, and class—a palatial Victorian abode where luxury reigns supreme.
Close your eyes and imagine a majestic mansion with mullioned windows, ornate wood trim, and sweeping bays that exude a regal charm that's simply irresistible.
Now, let's hop aboard for a rollicking tour of this architectural gem.
Buckle up, because it's going to be an extraordinary ride!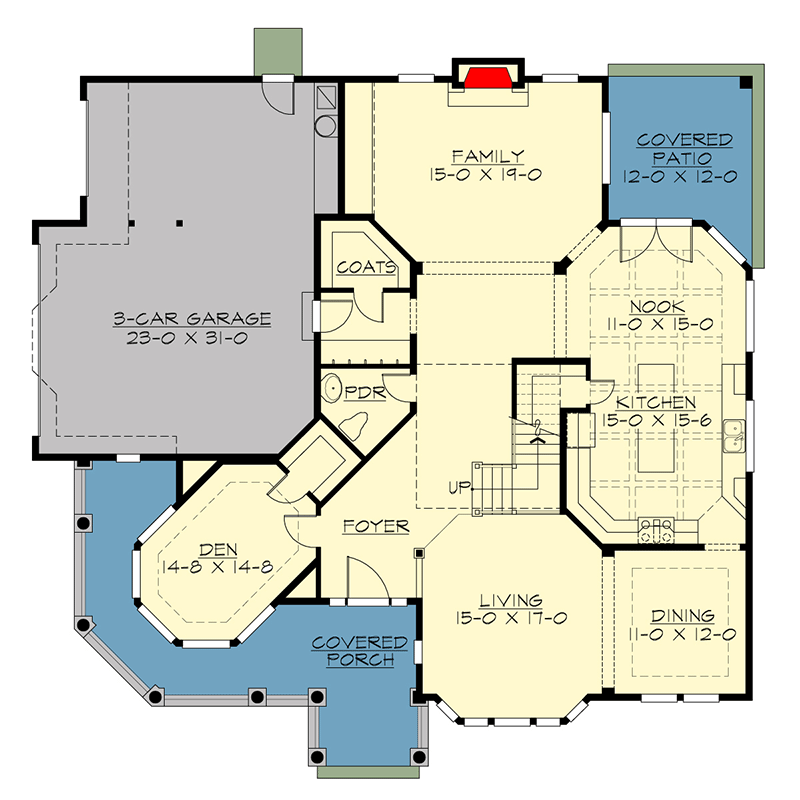 This house is no shrinking violet; it proudly stands at a whopping 3,965 square feet. It's not for the faint-hearted or the minimalist. This mansion boasts four grand bedrooms, 3.5 opulent baths, and space for not one, not two, but three cars—fit for any modern monarch.
Rising over two stories, this home transports you into a fairytale. But before we step inside, let's bask in the intricate exterior details that showcase the Victorian era's dramatic flair.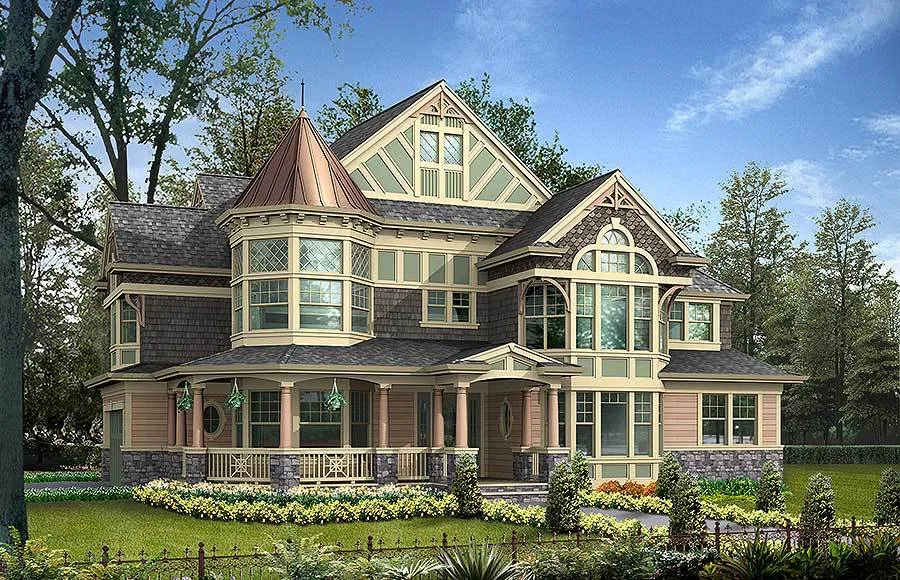 Those mullioned windows, decorative wood trim, and bountiful bays are a testament to the craftsmanship of yesteryears. You can almost envision Charles Dickens himself emerging from the front door with quill in hand.
The front porch is a jaw-dropper, wrapping around a den that's so breathtaking, it could make the most indifferent person's heart skip a beat. With a tray ceiling and a walk-in storage closet that's practically a room in itself, this den is a daydream come true.
Step inside, and you'll be equally mesmerized. The living room, adorned with a bay window, opens gracefully to the formal dining room. It's a space where stories are shared, feasts are savored, and memories are etched into the walls.
Feeling overwhelmed by the grandeur? Take a moment by the window, sipping your favorite brew while enjoying the view. Now, let's talk kitchens. Often overlooked in house plans, but not in this Victorian haven.
The kitchen is as elegant as a royal dining hall, complete with a coffered ceiling, walk-in pantry, and double doors leading to the rear covered patio. Alfresco dining takes on a new level of splendor here. Oh, to be the lord or lady of such a manor!
But that's not all—there's more grandeur to uncover. A family room awaits, perfect for cozy winter evenings by the fireplace. And what a fireplace it is! An impressive centerpiece that adds warmth, charm, and conversation to the opulence of the Victorian era.
Venturing upstairs, prepare to be wowed by four sumptuous bedrooms and a bonus room with a vaulted ceiling that seems to reach for the sky.
These rooms are private sanctuaries, blending Victorian luxury with modern comfort. Each one is spacious and inviting, ideal for rulers of their household kingdom to unwind and relax.
Now, the pièce de résistance—the master suite. It's no ordinary bedroom; it's an experience in itself. Imagine a vaulted sitting room in an octagonal shape, perfect for introspective evenings with a good book and a glass of wine.
But the luxury doesn't stop there. The suite boasts a luxurious, vaulted master bathroom that rivals a spa. Every morning will feel like a pampering escape.
In conclusion, this impressive Victorian house plan is more than just a home—it's a statement. An ode to elegance, sophistication, and an unapologetic celebration of the opulent Victorian era.
It harkens back to a time when architectural design was an art form, and homes were masterpieces of both aesthetics and function.
This house is not for the ordinary; it's a haven for dreamers, romanticists, and lovers of grandeur. Are you ready to put on your top hats, adjust your monocles, and embark on the journey of planning your own Victorian dream home? Let's make it a reality!
Plan 23167JD