Plan Details:
4,354 Sq Ft
2 Units
64′ 0″ Width
50′ 4″ Depth
2 Cars
Welcome, dear readers, to an enchanting journey through the captivating world of the modern farmhouse duplex house plan. So, take a deep breath, settle into your favorite spot, and get ready to be awed by the perfect fusion of rustic charm and contemporary flair.
Picture it – an architectural marvel that seems to have leaped out of the pages of a glossy magazine, with its elegant board and batten siding, striking black exterior, and charming wood accents.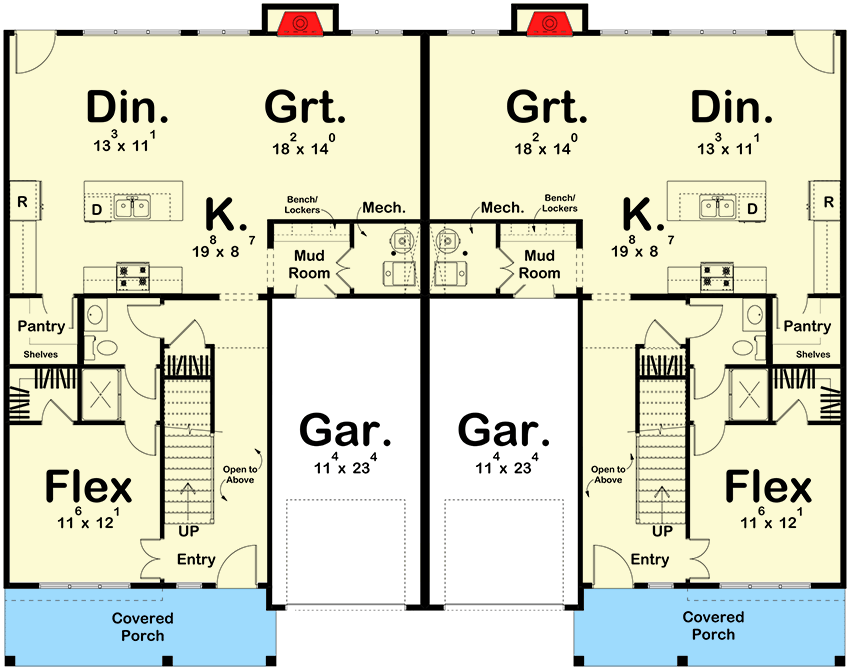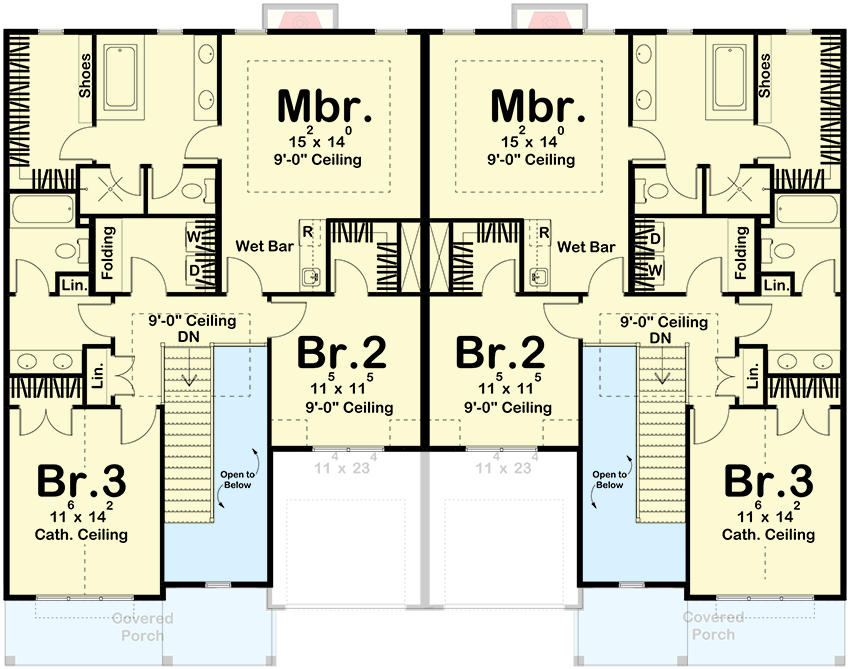 But this beauty isn't all about looks; it's a practical haven, offering comfort and functionality within its cozy 2,177 square feet of living space, nestled under a 4,354 sq ft roof.
Let's step inside and explore the wonders that await. Imagine yourself on the covered porch, bathed in the gentle morning light, a warm cup of coffee in hand. It's a tranquil corner where you can embrace each day or bid it farewell while being serenaded by the quiet hum of nature.
Venturing further, you'll encounter a hallway that stretches long enough to host a mini bowling league. The inviting staircase leads you to the upper level, where the dream continues with a blend of privacy and togetherness.
Three bedrooms, including a master suite worthy of applause, await at the top of the stairs, offering a personal sanctuary for the lucky inhabitants.
The master suite is a true indulgence, boasting more amenities than a circus has bells and whistles. The en-suite bathroom welcomes you with a wet bar, adding a touch of luxury and convenience.
And let's not forget the double vanity, a tranquil soaking tub, and separate toilet and shower areas that prioritize your privacy and relaxation.
As you explore the master bedroom, you'll find a generous walk-in closet with a built-in shoe rack, every fashion lover's delight. Plus, it connects seamlessly to the laundry room, putting an end to the days of lugging heavy laundry baskets up and down stairs.
Bedrooms 2 and 3 are not to be outdone, sharing a well-appointed bathroom that might just teach the younger ones valuable lessons in cooperation and negotiation. It's a perfect haven for families or roommates, promoting harmonious living.
Now, let's rewind a bit and return to the heart of this dream house—the shared space on the main level. The kitchen, dining room, and great room blend together in harmony, creating the ultimate gathering spot.
It's where a world-class chef meets a top-tier party planner, offering a delightful space to entertain and create lasting memories.
With its expansive island and walk-in pantry for those late-night treats, the kitchen is an ideal setting for culinary adventures. And the mudroom connecting to the garage ensures a seamless flow, keeping daily routines organized and efficient.
In essence, this modern farmhouse duplex house plan is a gift that keeps on giving. From the moment you pull into one of its two one-car garages until you retire to your sumptuous bedroom under the 2200 sq ft roof, you'll experience a space meticulously crafted for comfort, practicality, and style.
Who wouldn't want to call this place home?
So, dear friends, if you're yearning for a harmonious blend of rustic allure and contemporary comfort, this modern farmhouse duplex is the dream you've been waiting for. Embrace the charm, revel in the warmth, and imagine the memories waiting to be created within these walls.
With its thoughtful design and inviting aura, this house plan is poised to turn your dreams of a perfect home into an enchanting reality.
Plan 623179DJ