Plan Details:
4,738 Sq Ft
4 Beds
4.5 Baths
2 Stories
3 Cars
Step into a world of grandeur and comfort, where luxury and sunshine blend seamlessly in this captivating Florida house plan.
Get ready to be wowed by the sheer expanse of this extraordinary home that leaves other houses feeling like snug jeans after a hearty Thanksgiving dinner, while this one is more like the stretchy sweatpants you adore.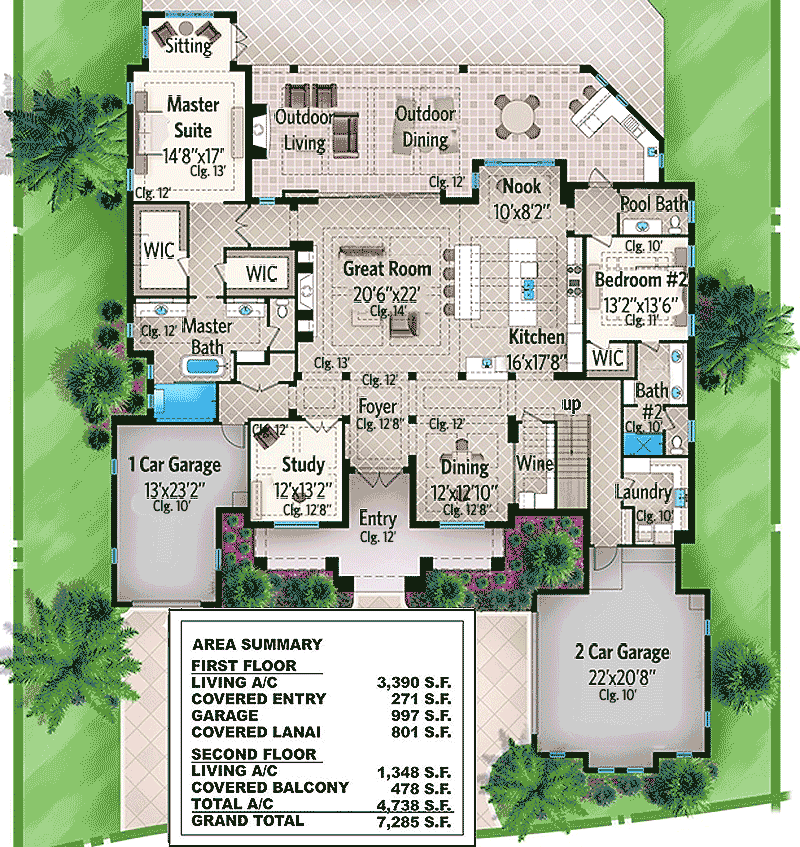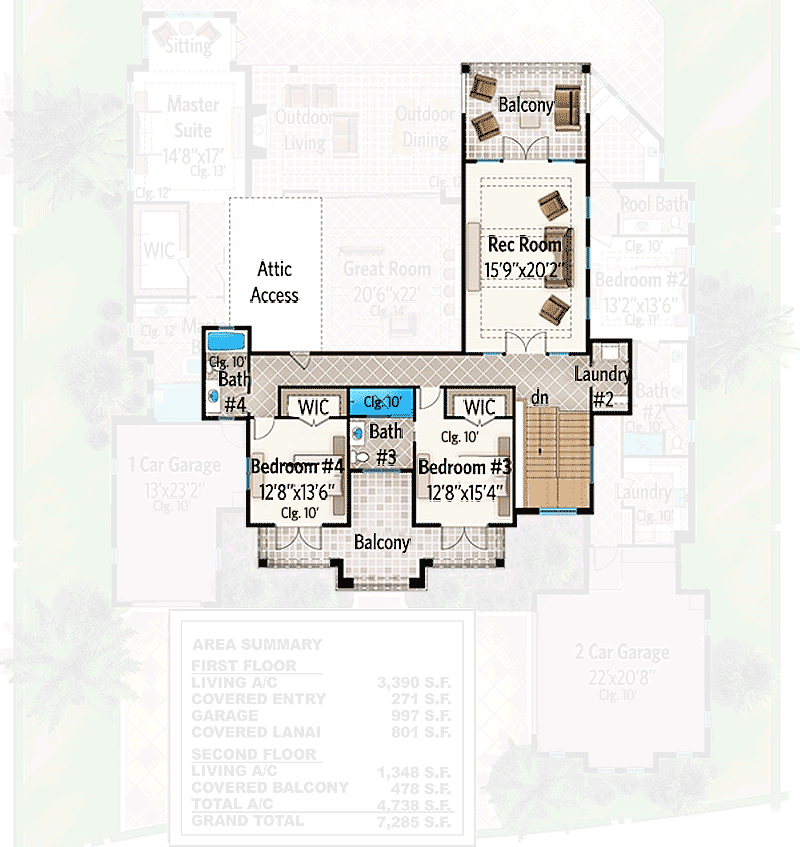 At nearly 5,000 square feet, this dwelling is a haven of open, welcoming space that spans two stories and boasts a generous 4,738 sq. ft.
Imagine the freedom to move and explore, unrestricted by walls, as you revel in the seamless flow from room to room.
It's so open that you could indulge in a game of frisbee without worrying about grandma's precious vase, thanks to the cleverly designed layout.
And the ceilings? They are more than just an overhead covering; they are masterpieces of architectural finesse, including beamed, tray, and coffered styles that will leave you spellbound.
Be prepared to find yourself frequently gazing upward in admiration, although watch out for any furniture in your path!
The heart of this magnificent residence lies in its open living area on the main floor. A space that fosters connection and togetherness, where conversations flow seamlessly, and laughter echoes merrily.
This is where you'll create beautiful memories with your loved ones.
Fear not, car enthusiasts! There's ample space for your beloved vintage car collection in the impressive 3-car garage. From your sleek summer convertible to your sturdy winter SUV and even that whimsical Vespa you couldn't resist, they all have a cozy home here.
Step into the master suite, and you'll feel like you've discovered a hidden oasis. Tucked away for ultimate privacy, it even features a separate sitting room – your personal retreat for indulging in late-night reading or catching up on your favorite Netflix series. In this chaotic world, having a sanctuary like this is priceless.
For those who cherish the great outdoors, prepare to be amazed by the vast outdoor living area that perfectly complements Florida's long summers.
With a summer kitchen to whip up mouthwatering meals, an outdoor fireplace for cozy evenings, and a sparkling pool to cool off in, you'll feel like you've stepped into your own private resort. Who needs to go on vacation when you have paradise right in your backyard?
Bid farewell to the days of lugging laundry up and down the stairs during those late-night squabbles with your partner. This house boasts not one, but two laundry rooms – one on each floor. A thoughtful feature that ensures convenience and harmony within the household.
Now, let's explore the crown jewels of this Florida gem – the balconies. Bedrooms 3 and 4 open up to a breathtaking front-facing balcony, where you can savor your morning coffee while watching the sun paint the sky with its hues.
On clear nights, stargazing from here will be a mesmerizing experience, a gateway to tranquility amidst the bustling world.
And there's more! Brace yourself for the pièce de résistance – a second-floor rec room that comes with its own spacious covered balcony.
This is where the magic happens – game nights, watch parties, or simply unwinding on lazy afternoons while soaking in the view. It's like having a living room in the clouds, where the sky becomes your canvas of relaxation and joy.
This is no ordinary house; it's a statement, an embodiment of a lifestyle that celebrates the essence of Florida living.
When you seek the perfect blend of luxury, space, and comfort, sprinkled with a generous serving of Florida sunshine, this house stands tall, waiting to embrace you in an architectural bear hug that you won't be able to resist.
So, next time you dream of a place that's more than just a dwelling, remember this Florida gem – a place where luxury, warmth, and the charm of the Sunshine State come together in perfect harmony.
Come, let's make this house your home, where every moment is a celebration of life's most treasured moments.
Plan 86012BW