Plan Details:
2,330 Sq Ft
4 Beds
3 Baths
1 Stories
2 Cars
Are you ready to bid adieu to the endless flights of stairs? Your search ends here, for an exquisite one-level haven awaits! This architectural masterpiece isn't just about luxury; it's a symphony of opulence and convenience that will leave you spellbound.
Imagine those leisurely Sunday mornings when the sun gently bathes everything in a golden glow. Instead of wandering through a labyrinth of rooms, you'll find yourself in a central living space that forms the beating heart of this abode.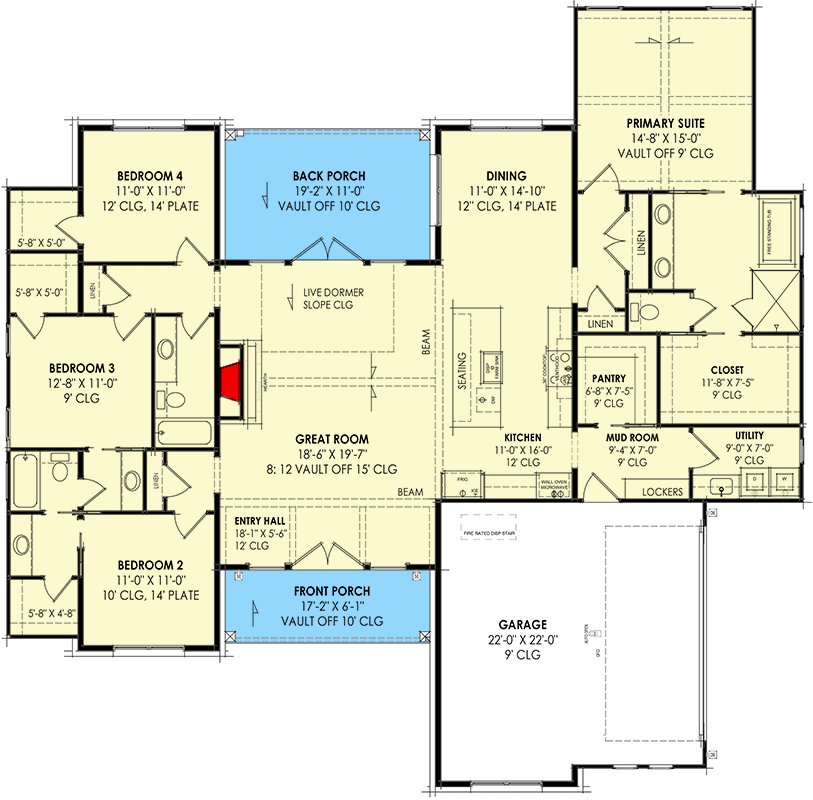 But wait, there's more! This isn't your ordinary living space. It boasts both front and rear porches, perfect for sipping your morning coffee at dawn or indulging in a glass of wine as the sun sets. These porches offer you the ideal retreat for your cherished 'me-time' moments.
At the heart of this central living space stands a majestic vaulted ceiling, presiding regally over a fireplace in the great room. Picture yourself with a fanciful British accent, basking in the ambiance. And did you catch that delightful aroma?
It's the sizzle of bacon, beckoning you from the open design into the kitchen, seamless and inviting. Breakfast has never been this enticing! And if your breakfasts tend to evolve into grand affairs, the adjoining dining room is ready to host your champagne-infused brunches.
Let's talk about the primary suite, your personal haven. It's the modern-day equivalent of the separate chambers that kings and queens enjoy in fairy tales, offering you the utmost privacy and comfort. The ensuite bathroom?
Prepare to be awed by its five fixtures – a touch of lavishness that promises a touch of everyday luxury. And oh, the pièce de résistance: the walk-in closet. Because let's face it, we all have those days when choosing an outfit becomes a daunting task. This walk-in closet might just be your salvation.
Now, shift your gaze to the left of this masterpiece, where three bedrooms await. Whether they're for the kids, guests, or simply as that corner where clutter seems to vanish, these rooms are versatile and welcoming.
Two of these rooms even share a Jack-and-Jill bathroom – a diplomatic solution to childhood bathroom wars. And yes, you guessed it right, each bedroom comes with its very own walk-in closet. Go ahead, indulge in that extra pair of shoes.
Remember the days of returning from grocery runs, only to engage in a real-life Tetris challenge with your pantry? Well, those days are over.
A spacious walk-in pantry stands opposite a well-thought-out mudroom, complete with built-in lockers. No more muddy footprints and drenched jackets invading your pristine living space.
Parking woes? They're a thing of the past. A side-entry garage, spacious enough for two cars, beckons you.
Whether your vehicle is a beloved classic or something that wouldn't look out of place in a superhero movie, it has a home here.
This 2,330-square-foot gem effortlessly marries modern aesthetics with unparalleled functionality. With four bedrooms and three baths, it's more than just a house; it's a canvas for creating unforgettable memories.
If homes had personalities, this one would be the witty, impeccably dressed individual who's the life of every party.
In the exhilarating journey of house hunting, you might just have stumbled upon the ultimate winner. And unlike infomercials promising endless extras, this is pretty much the extent of it. But isn't it truly magnificent?
Plan 818050JSS