Plan Details:
2,554 Sq Ft
3 – 4 Beds
3.5 Baths
1 – 2 Stories
3 Cars
Hello there, my fellow aficionados of all things home-related!
Today, I am thrilled to take you on an enchanting expedition through an absolutely captivating Mountain Ranch Home Plan, featuring a twist that's sure to get your heart racing: an Upstairs Bonus!
Let's explore!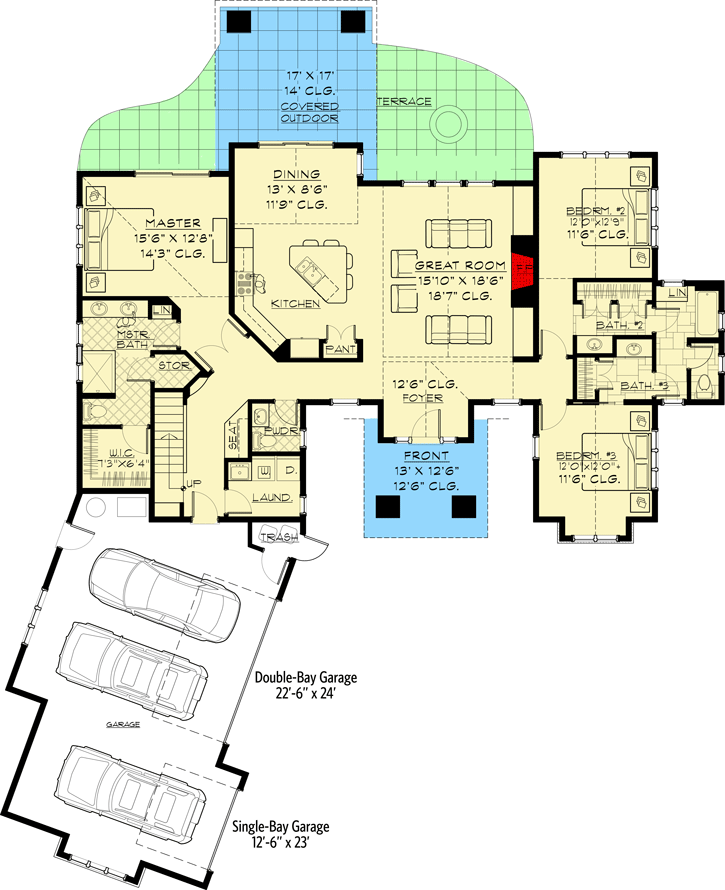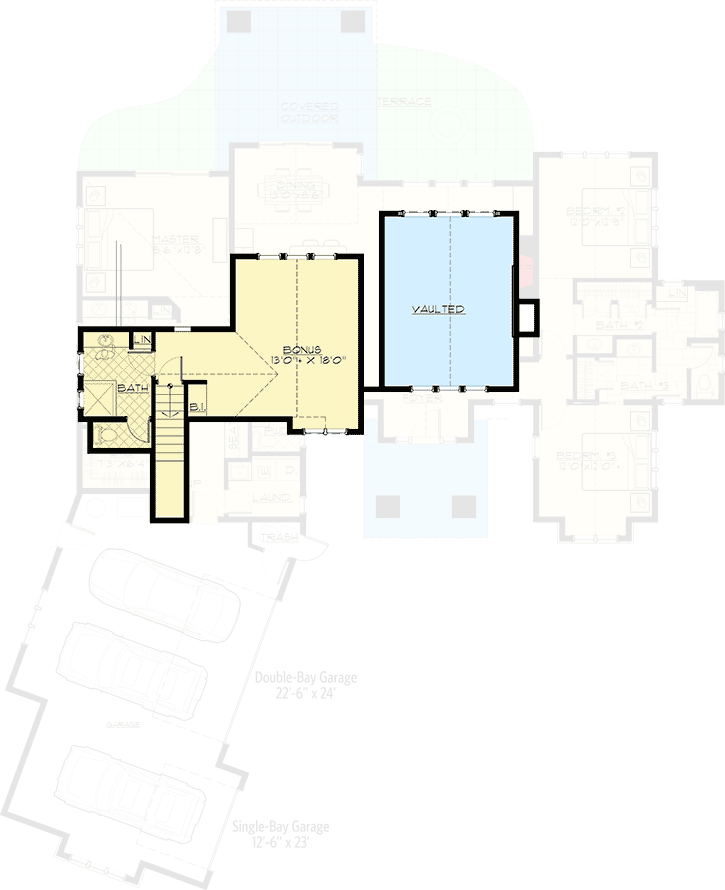 Picture this: 2,554 square feet of sheer coziness, boasting 3-4 bedrooms, 3.5 bathrooms, and a three-car garage. Are you ready to embark on this delightful journey? I promise, your expectations will not only be met but exceeded!
So, go ahead and grab your favorite beverage, settle into a comfortable spot, and let's dive into the mesmerizing aspects that transform this mountain abode into an absolute jewel.
There's something undeniably magical about mountain living, and this exquisite house plan captures that essence flawlessly.
As I stepped through the front door, my senses were instantly enveloped by the majestic vaulted ceilings that graced each of the three main-floor bedrooms.
Imagine, if you will, the sensation of residing in your very own snug castle—a feeling that's simply irresistible.
But that's just the beginning! The exterior of the house exudes an air of strength and resilience, as though it stands ready to embrace nature's challenges with open arms.
Stepping into the foyer, adorned with 11-foot ceilings, was akin to entering the land of giants—albeit a land of giants where warmth and welcome abound!
Continuing my exploration of the interior, my gaze was magnetically drawn to the grandeur of the great room that lay ahead.
Natural light cascaded in through the generously sized front windows, casting a warm glow that seemed to infuse the room with life.
And oh, the views that stretched beyond those windows! It was as though I were peering into a slice of paradise, albeit without the celestial clouds and cherubs.
The vaulted ceiling, arching gracefully overhead, added an element of grandiosity that made the room even more inviting and spacious.
Now, let's turn our attention to the heart of any home—the kitchen! With its 9-foot ceilings and a spacious central island crowned with a raised bar, this kitchen was the embodiment of dreams come true.
Imagine the joy of casual dining or crafting culinary wonders upon that island, all while basking in the company of loved ones.
And can we pause for a moment to appreciate the beauty of multiple sinks? A blessing for those of us who relish cooking but cringe at the thought of cleanup!
Naturally, living amidst mountains beckons us to embrace the great outdoors, and this home plan ensures that we do just that.
The covered living area and the open-air terrace at the back seemed like an ode to nature itself.
Whether your fancy is sipping morning coffee while the sun paints the sky with hues of dawn or hosting a barbecue under the vast expanse of the open sky, these spaces were designed to cater to your every desire.
Now, brace yourselves, because we're about to soar to new heights—the thrilling "bonus" second floor! This extraordinary space, encompassed within the living area statistics, is a treasure trove of possibilities.
A versatile additional room, accompanied by a full bathroom, opens the door to the potential of having up to four bedrooms. Alternatively, envision transforming this space into a media hub, a play haven for the kids, or even a sanctuary for the discerning man in your life.
Honestly, the concept of a personal man cave had my imagination running wild—endless movie nights and cheering on my beloved sports teams without a hint of external judgment!
In summation, dear companions, this Mountain Ranch Home Plan featuring an Upstairs Bonus is a work of sheer genius. With its seamless layout, awe-inspiring vistas, and the perfect marriage of indoor and outdoor living, it encapsulates every desire and aspiration.
I trust this journey has been as enthralling for you as it has been for me to guide you through it. If your quest is for a mountain retreat that seamlessly melds luxury, comfort, and adaptability, search no further.
This house plan stands ready to embrace you, metaphorically speaking, of course! Happy hunting for your dream abode, and may your vision of home come to vibrant life sooner than you dare to imagine!
Plan 54236HU