Plan Details:
4,856 Sq Ft
3 – 4 Beds
2.5 – 3.5 Baths
2 Stories
5 Cars
Greetings, fellow aficionados of the perfect abode!
Have you ever found yourself lost in reverie, picturing a home so splendid that it fulfills every single requirement on your "absolutely essential" checklist?
Let's dig in!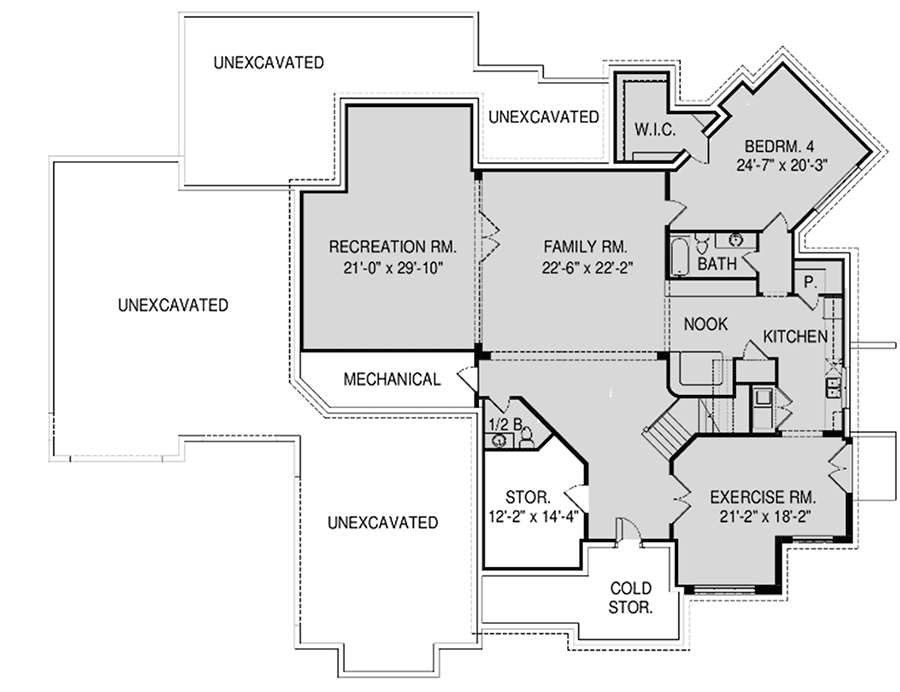 Well, brace yourself, because we're about to embark on a journey through a house design so majestic that it might just give Buckingham Palace a run for its money. Okay, perhaps I'm stretching the truth a tad, but hear me out.
Prepare to be amazed, as this architectural marvel boasts an expansive 4,856 square feet, transcending the realm of mere housing and venturing into the domain of a true mansion!
Encompassing 3 to 4 bedrooms, this haven accommodates you, your offspring, those daring in-laws, and maybe even that cousin who frequently crashes on your couch.
Imagine a vast open-concept great room so capacious that you might be tempted to yodel and hear the echoes reverberate from one end to the other. Visualize this: ceilings that stretch a soaring 20 feet high.
If ceilings could speak, these would boast of a growth spurt. And let's not underestimate the dining area and kitchen, which also flaunt a respectable 12-foot ceiling.
Just envision the soirées, the impromptu dance-offs, and the sheer marvel of abundant space and unmitigated comfort!
But the excitement doesn't stop there. Behold the oversized walk-in pantry! Ever thought of playing hide and seek within a pantry? If not, now's your golden opportunity!
Set off from the foyer, a charming den awaits. It's perfect for those Zoom meetings or simply as a cozy nook for indulging in some reading. But here's where things heat up: behold the master suite.
With a fireplace beckoning for cuddly evenings, a tray ceiling that adds a touch of sophistication, and a five-piece bathroom reminiscent of a personal spa, this sanctuary oozes opulence.
As for the walk-in closet? Let's just say it's a realm where you might need to up your shopping game to adequately fill the space.
Fantasize about dining in the open air? This residence has you covered with an expansive patio and a covered porch custom-made for al fresco feasting.
Outfitted with a fireplace and barbecue setup, it transforms into the quintessential location for summer cookouts. And why not throw in some marshmallow roasting during winter? Count me in!
Venture upstairs to discover two bedrooms, ideal for siblings or, let's be real, the setting of midnight pillow fights. After all, sharing is indeed caring, and these rooms come with a Jack-and-Jill bathroom in tow.
As a bonus, a vaulted room featuring an 11'6″ ceiling leads to a covered deck. Picture this space as your personal game room, a canvas for your artistic endeavors, or quite possibly, the world's most luxurious storage area. The options are boundless!
Now, for those occasions when you're seeking to dazzle your discerning relatives (we all have a few of those), the lower level is your ace in the hole.
A guest or in-law suite equipped with a full bathroom, walk-in closet, and a kitchenette is bound to render them utterly speechless. Add to this a recreation room, a spacious family room, and even an exercise area, and you might just find them extending their stay. Consider yourself forewarned!
In conclusion, let's tip our hats to the unsung hero of this splendid abode: the 5-car garage. A true haven for car enthusiasts, collectors, or those faced with the dilemma of choosing the car that best complements their attire for the day.
From top-notch extravagance to utmost functionality, this sprawling three-level home plan encompasses it all. Whether you're hosting grand soirées, basking in the serenity of a tranquil evening by the fireside, or orchestrating an epic game of hide and seek, this residence has every angle covered.
So, embrace your boldest dreams, relish in the grandeur of living large, and always remember: the essence of a home isn't solely defined by its dimensions, but by the cherished memories it cradles within its walls.
Here's to discovering the place where your heart truly belongs! Cheers to finding your forever haven!
Plan 290101IY