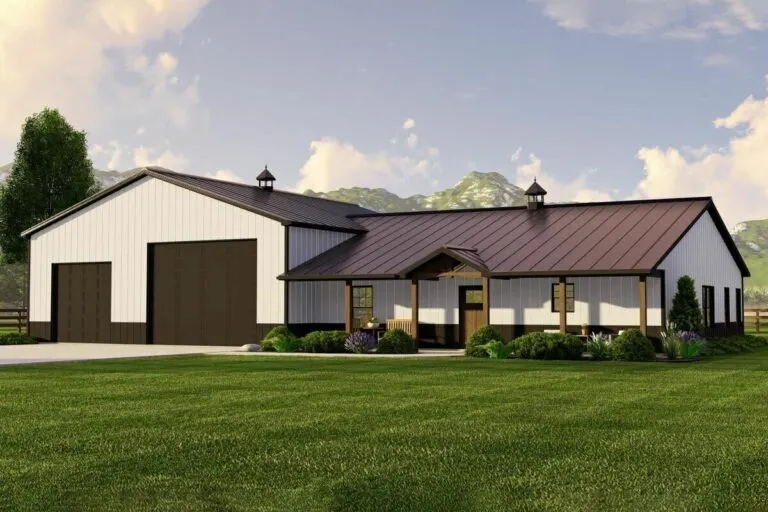 Plan Details:
1,783 Sq Ft
2 Beds
2 Baths
1 Stories
2 Cars
Embarking on a journey to transform a house into a haven for dreams, let's dive into the world of a 2-Bed Barndominium.
This unique home design seamlessly blends the functionality of a spacious garage/workshop with the comfort of stylish living spaces, creating a perfect balance for both work and relaxation.
Imagine stepping into a home that's not just a shelter but a part of your life's story. Picture a generous 1,783 square feet of living space, thoughtfully planned to accommodate both your practical needs and your aesthetic desires.
The star of the show is undoubtedly the massive 1,734 square-foot garage. It's not just a space; it's a realm where your creative projects—from vehicles to sculptures—aren't just stored but celebrated.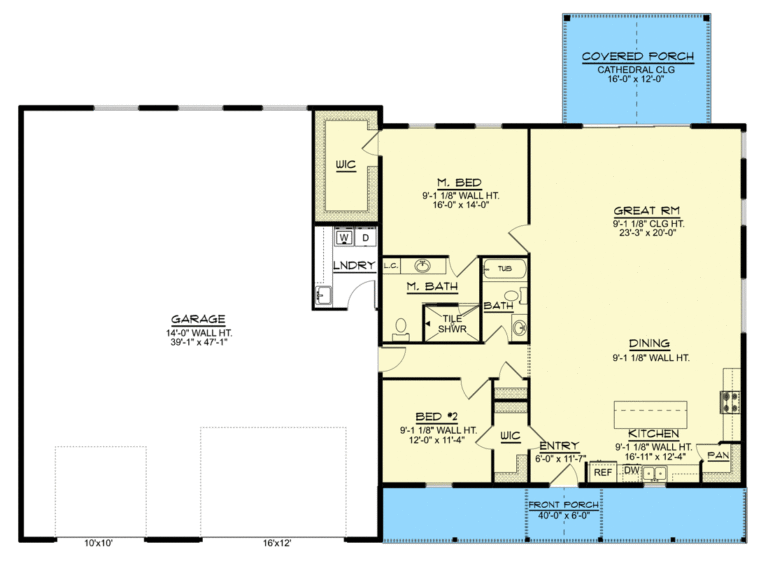 Now, let's marvel at the truly oversized garage doors, measuring an impressive 10′ by 10′ and 16′ by 12′. These aren't mere entryways; they're grand invitations to a world where your creativity knows no bounds.
Moving beyond the garage, the main residence welcomes you with a cozy 6′-deep front porch, setting the stage for warm welcomes and heartfelt farewells.
Step inside to the kitchen, a space that does more than just cooking. Here, culinary arts intermingle with laughter and shared stories, making it more than just a kitchen—it's the heart of the home.
The home's layout thoughtfully leads you through a multi-panel glass door, a threshold between the coziness inside and the tranquility of a covered porch outside.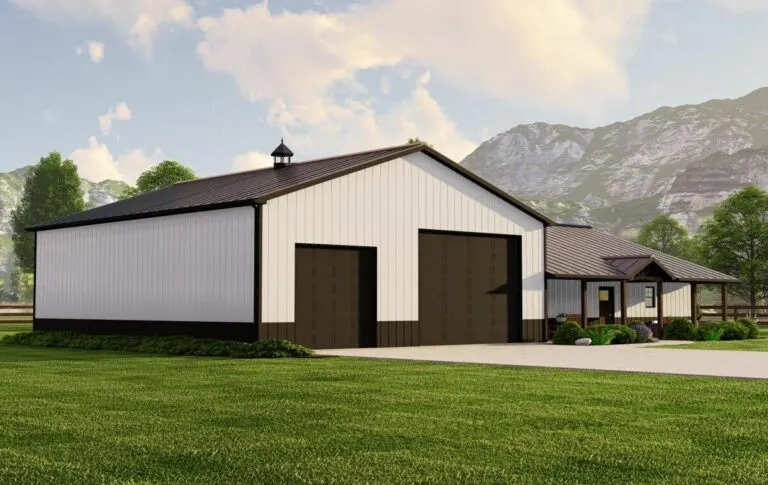 This outdoor space offers a serene escape, perfect for enjoying nature's beauty in comfort.
The master bedroom is a sanctuary of relaxation, complete with a spacious walk-in closet and an attached bath featuring a sleek tile shower.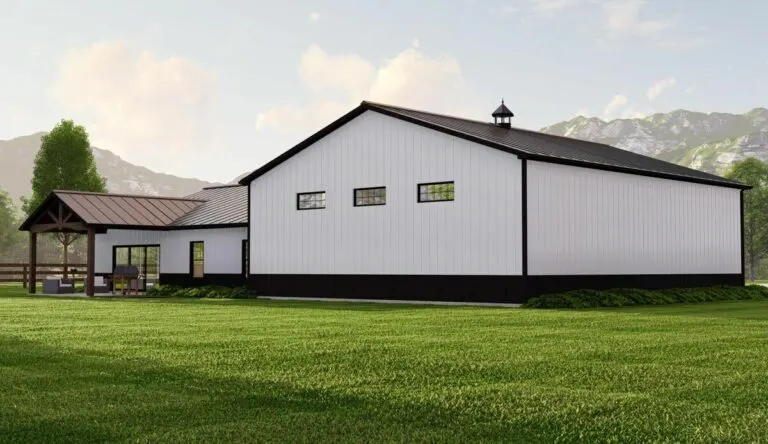 This is your private retreat, away from the hustle of daily life or the remnants of your creative workshop.
Across the home, the second bedroom offers its own comfort and convenience, including a generous walk-in closet and easy access to a full bathroom.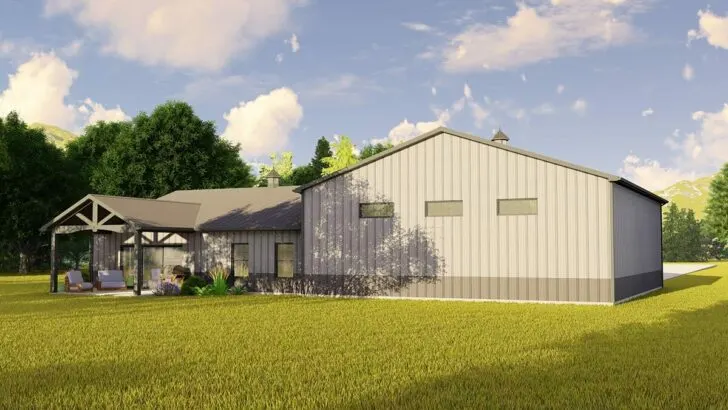 The exterior of this home is just as impressive, wrapped in durable, aesthetically pleasing corrugated metal siding.
This choice symbolizes the blend of strength and elegance that defines the entire barndominium.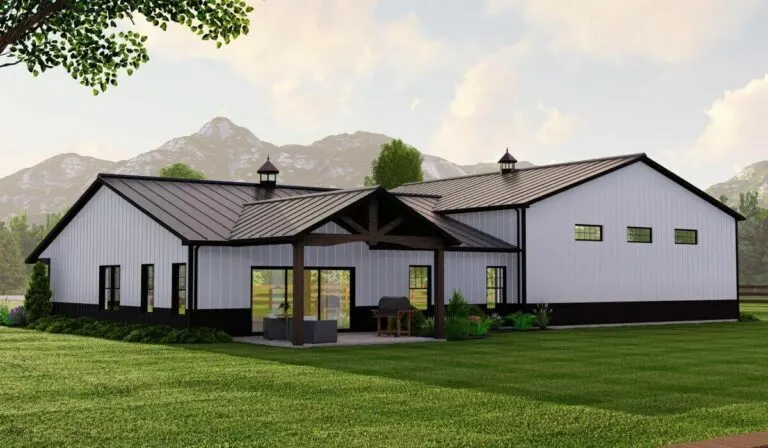 This 2-Bed Barndominium is more than just a structure; it's a canvas for your life's dreams and adventures.
From the welcoming embrace of the oversized garage to the fluid elegance of the living spaces and the serene bedrooms, every corner of this home invites you to weave your story.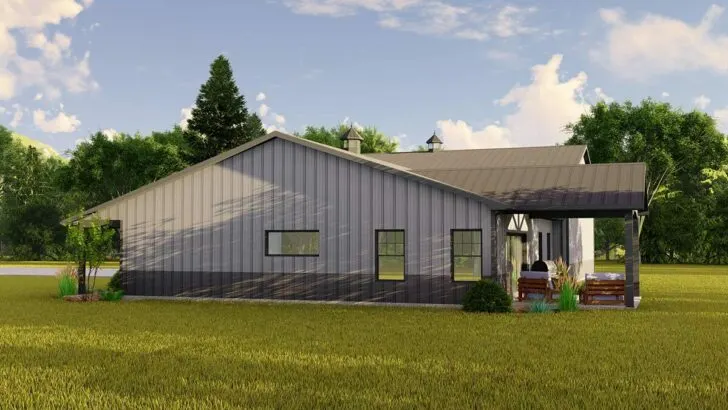 A barndominium is not just a style of house; it's a lifestyle. It's a declaration that work and leisure, creation and relaxation, can coexist and enhance one another under one roof. In this space, every tool and trinket, every memory and dream, finds its rightful place.
In this home, your dreams don't have to wait for "one day." Here, "one day" is beautifully woven into your daily life, allowing the dreamer and doer within you to coexist in harmony.