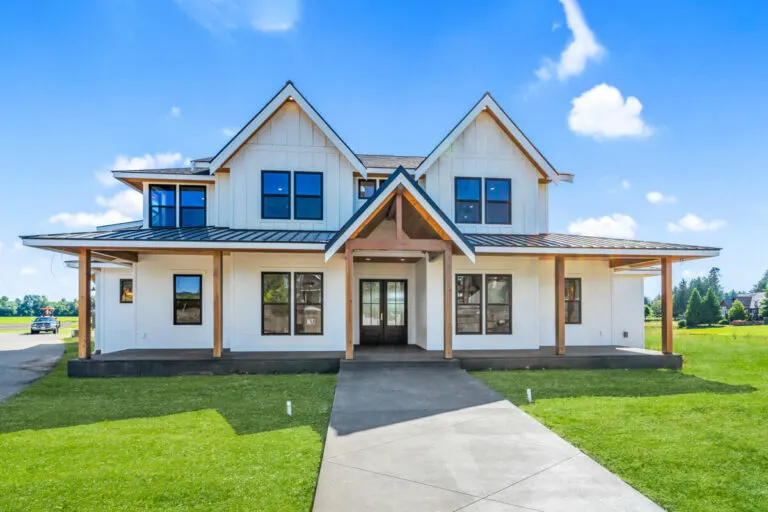 Plan Details:
3,864 Sq Ft
5 Beds
3.5 Baths
2 Stories
2 Cars
Embarking on a journey to discover the perfect home, one often dreams of a place that seamlessly blends traditional charm with modern elegance.
Picture a farmhouse that does just that – a delightful fusion of the old and the new, creating a living space that's both nostalgic and refreshingly contemporary.
Imagine a picturesque farmhouse adorned with the timeless beauty of board and batten in the gables, set against the classic appeal of clapboard on the lower level.
This striking combination instantly captures the eye, offering a design that's both familiar and innovatively fresh.
As you step onto the porch, supported by sturdy timber, you're welcomed into a world where the rustic and the modern find a harmonious balance.
The entrance ushers you into an open-concept interior that defies conventional boundaries, creating a unified space for dining, cooking, and living. This layout encourages a communal lifestyle where every activity feels connected.
Consider the grandeur of a living room with a soaring 19'5" ceiling. It's a space that inspires awe, reminiscent of the grand halls of old, but without the medieval fanfare. This expansive area ensures that whether you're hosting a grand party or enjoying a tranquil night with family, the experience is seamless and memorable.
One of the highlights of this farmhouse is the fluid transition from indoor comfort to outdoor tranquility. Picture sliding doors in the dining area leading to a vaulted covered porch, complete with an outdoor fireplace. It's the perfect setting for storytelling, marshmallow roasting, and intimate gatherings under the stars.
Moving to the master suite, you find a sanctuary that perfectly blends peace and practicality. With direct access to the back porch, imagine enjoying quiet, moonlit conversations or savoring your morning coffee amidst the gentle caress of the sun.
The journey from the bathroom to the walk-in closet is like a passage through luxury, surrounded by the warmth of shower steam and the elegance of dual vanities. This isn't just a place to sleep; it's a haven for experiences.
Ascending the stairs near the mudroom, you discover that each level of this house has its own unique story.
The second floor houses four bedrooms and a massive bonus room hovering above the garage, offering personal sanctuaries for each family member. An overlook to the living room below keeps you connected to the vibrancy of life in the communal spaces.
Even the garage is a marvel, uniquely positioned and offering ample space for cars or cherished possessions. With convenient access from both the rear and front, it exemplifies how every element in this farmhouse is designed with thoughtfulness and care.
This 3,864 Sq Ft farmhouse, a blend of classic design and modern sophistication, stretches across two stories. It provides cozy corners in its 5 bedrooms, luxury in its 3.5 bathrooms, and ample space for vehicles or storage in the garage.
As you ponder this house plan, with its unique features and welcoming aura, it's easy to envision a life filled with vibrant gatherings and peaceful moments of solitude. It's a place where architectural elements don't just create a structure, but weave together a tapestry of memories waiting to be made.
Our visual exploration concludes, leaving behind a collage of potential memories and futures, all nestled under one exquisitely designed roof.
The story of this farmhouse isn't just told through its physical features, but in the life it's ready to embrace. A life where every corner, every expansive room, is an unwritten chapter in your story.
This might just be the place where your dreams not only take root but flourish.