Plan Details:
1,967 Sq Ft
3 Beds
2.5 Baths
1 Stories
2 Cars
Well, let's get ready to embark on a journey through a home that's about to redefine your idea of dream living. Imagine a Split Bedroom Modern Farmhouse that's not just a house but a sanctuary for your aspirations. You're in for a treat!
Now, when you hear "1,967 sq ft," it's like that exhilarating moment when you realize you've remembered your phone charger for a weekend getaway – a sense of pure relief.
It's the affirmation that, yes, you can have it all! With 3 bedrooms, 2.5 baths, a single-story layout, and garage space that not only accommodates your two cars but welcomes them with open arms, this house effortlessly ticks boxes you didn't even know you had.
First things first, let's talk about the exterior because it's the first impression that counts. Board and batten siding is like the comfort food of home design – timeless, with a side of "heck yes, I'm home."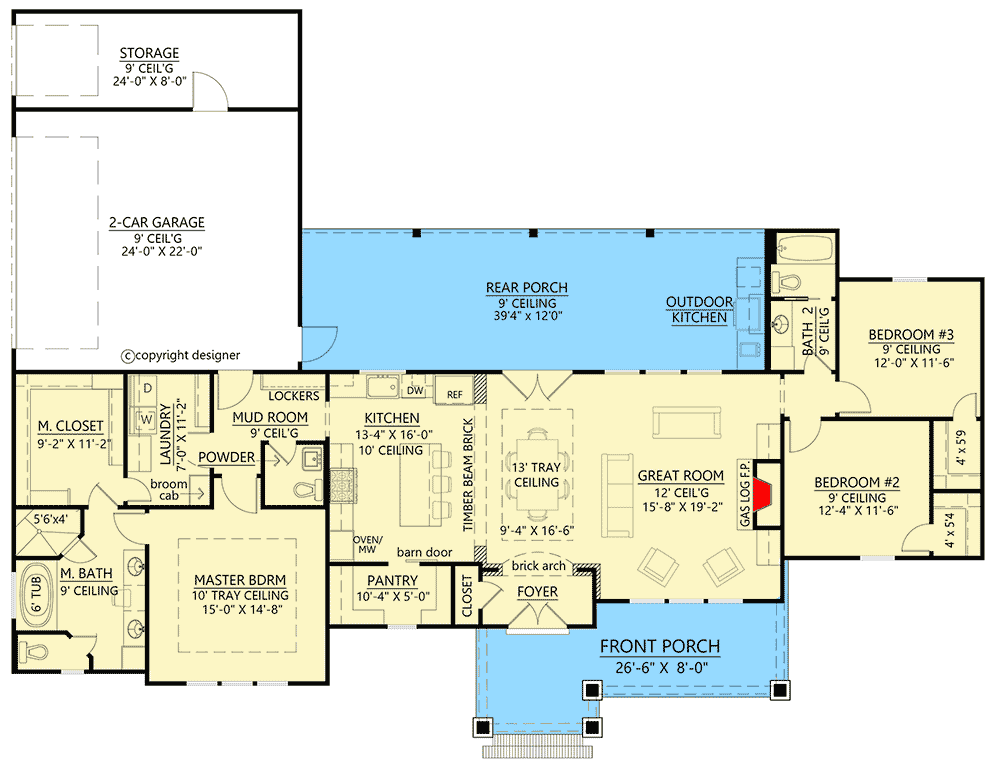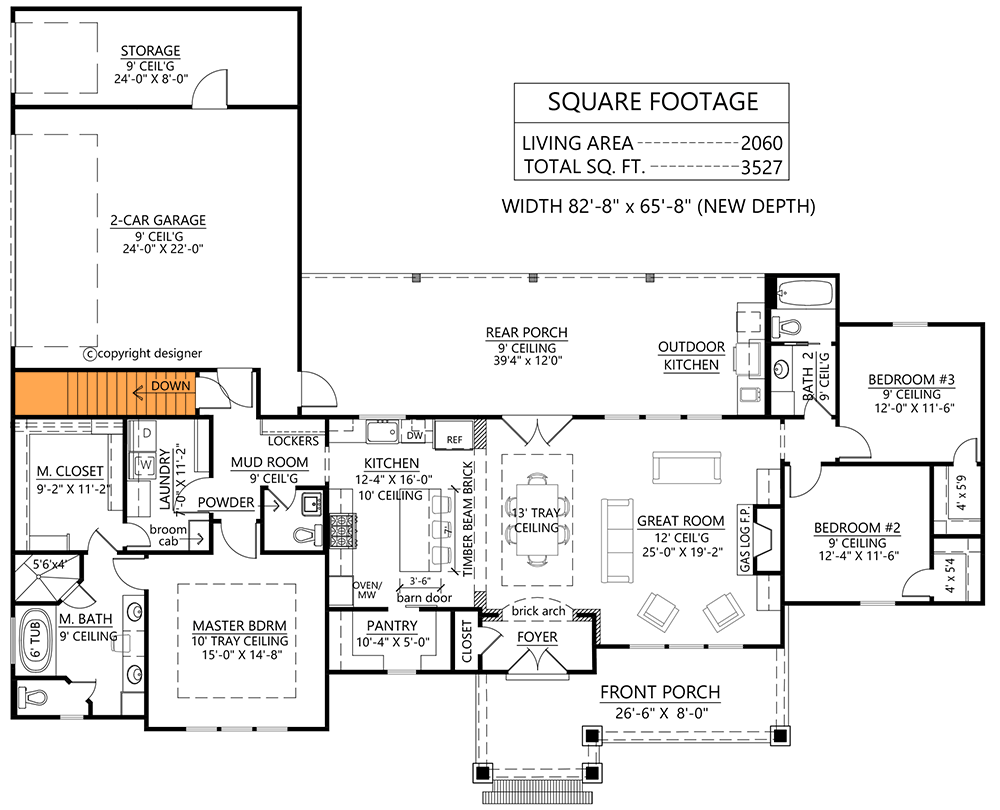 The covered entry is like a warm embrace for your future guests, conveying, "Welcome, I'm sophisticated but not stuffy."
You know what's truly frustrating? Having to park your car where your living room should be. Fortunately, this plan totally gets you.
The side-entry garage isn't just a garage; it's a two-car wonder with a special nook for your not-so-big-but-equally-important rides, like maybe that vintage Vespa you impulse-bought during a quarter-life crisis. And storage? Absolutely.
Your lawn equipment, Christmas decorations, and even those forgotten New Year's resolutions – they all have a space to call their own.
As you gracefully step through the French doors, you find yourself in the foyer, and bam! There's a brick arch that's basically architectural jazz hands, welcoming you to the heart of the home.
The open floor plan here isn't just open; it's like "we need to talk about boundaries" open, seamlessly combining the kitchen, dining area, and living room.
Let's talk about the kitchen – hold onto your oven mitts because this one's got a large walk-in pantry that could double as a command center for world domination (or, you know, snacks).
The prep island isn't just a space; it's an experience, offering seating for those heart-to-heart conversations during meal prep or those "You taste this; what does it need?" moments.
And then there's the living room. The gas log fireplace isn't just for show; it's a beacon of coziness, calling out to you like a siren to a sailor, but without all the crashing-on-rocks drama. It's perfect for those "let's stay in tonight" vibes when going out requires too many layers of clothing.
Now, let's dive into those French doors again. They open to a rear porch that's so spacious at 12 feet deep, you'll start pondering outdoor furniture with the same enthusiasm typically reserved for choosing a Netflix series.
Imagine an outdoor living room where fresh air is on the guest list. And an outdoor kitchen? Al fresco dining just sent you a friend request.
Now, let's take a stroll to the master bedroom, which is positioned in the left wing like it's plotting a political career. It's not just a room; it's a sanctuary. The master bath scoffs at spa brochures, boasting a freestanding tub that's worthy of sonnets.
Dual vanities declare, "Yes, we can both brush our teeth at the same time, and we enjoy it." And the walk-in closet isn't just a closet; it's a realm unto itself, with direct access to the laundry room because, let's face it, convenience is the ultimate luxury.
But wait, there's more! Bedrooms 2 and 3 are hanging out on the other side of the house, sharing a hall bath and possibly plotting midnight snack raids. They offer the perfect space for kids, guests, or even an elaborate hobby room because, hey, you're a complex individual with diverse interests.
This house isn't just a structure; it's a high-five to good living. It's an architectural embodiment of "where have you been all my life?" And it's waiting for you to step inside and start envisioning the life you could lead within its brilliantly-designed walls. So, let's transform this house plan into a "home plan," shall we?