Plan Details:
3,321 Sq Ft
3-6 Beds
3.5-5.5 Baths
2 Stories
3 Cars
Ready to puzzle your brain? Picture a space that boasts 3,321 square feet, oozes trendy European vibes, and can comfortably accommodate the Brady Bunch – with room left over.
Forget about the newest IKEA spectacle, let me introduce you to a remarkable, European-inspired architectural marvel that offers as much versatility as a Cirque du Soleil performer.
This isn't just some standard blueprint; it's a stunning exemplar of architectural elegance with a practical twist, all neatly enveloped within a 3500-square-feet abode.
So, get ready to don your most fashionable beret and let's take a voyage into this European-inspired design wonderland.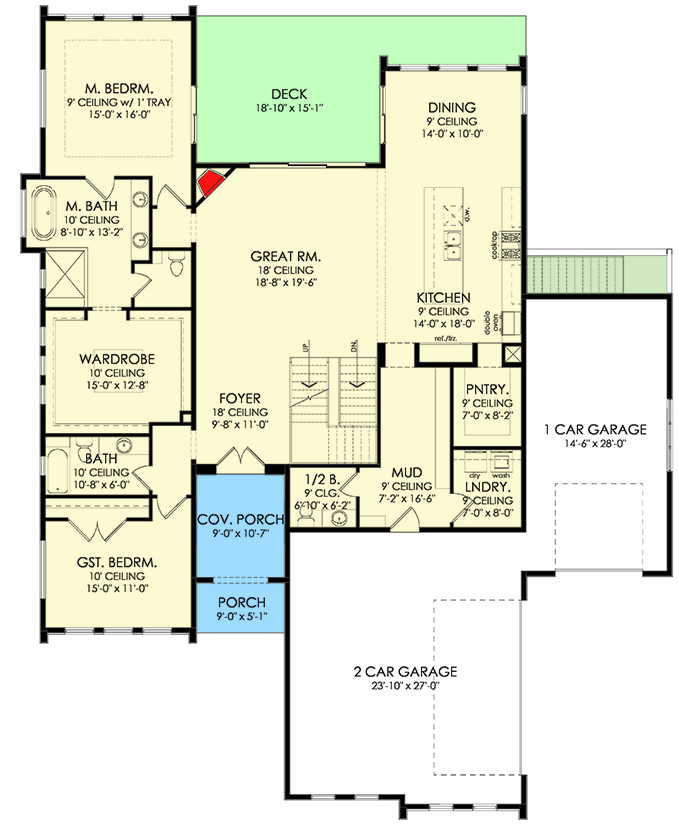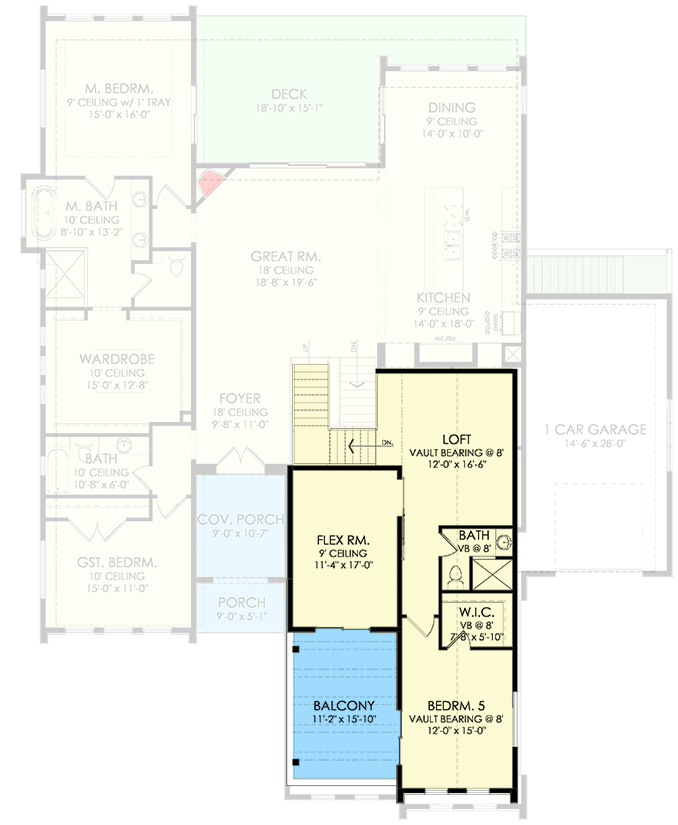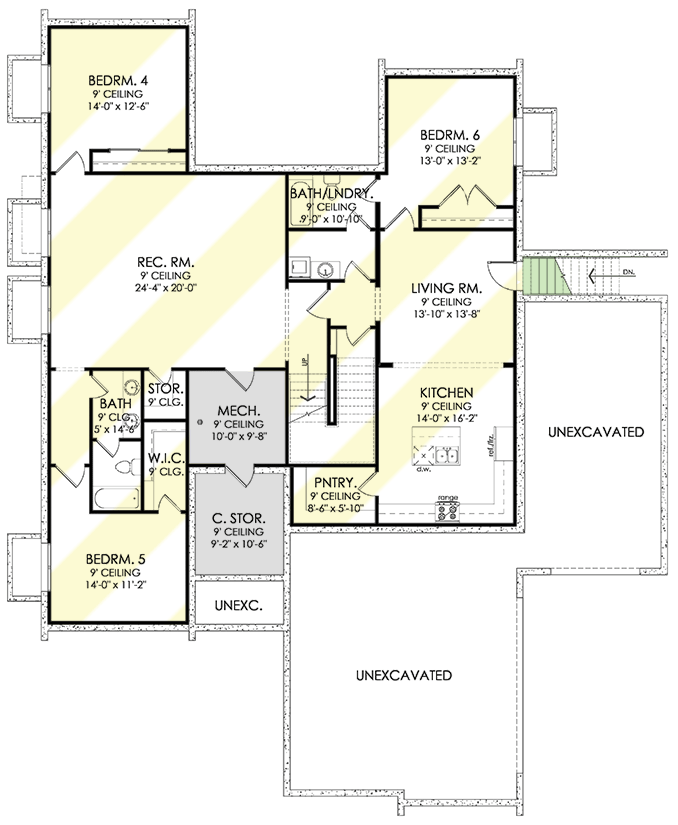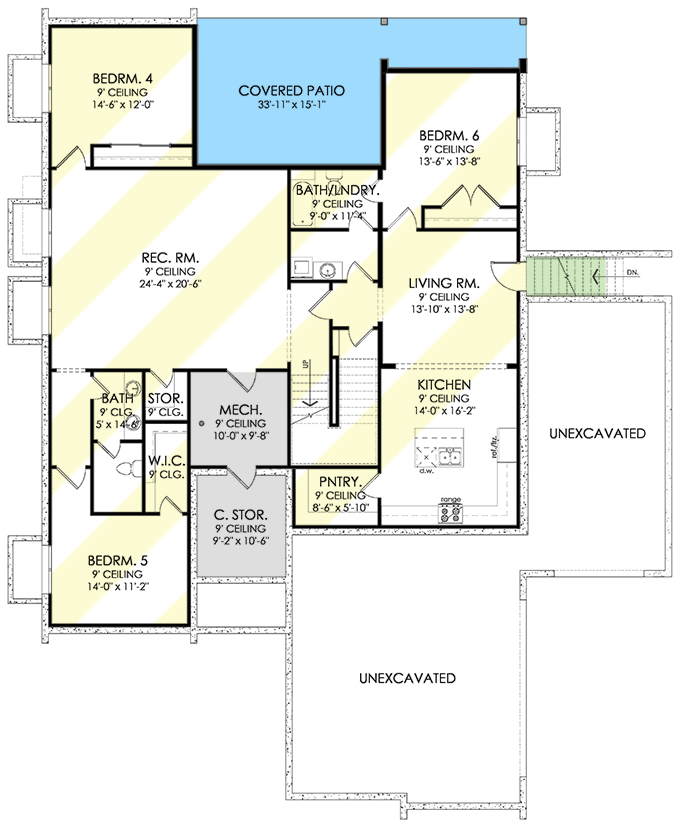 The façade of this contemporary Euro-styled house is akin to a supermodel sashaying down the runway at Paris Fashion Week. Its striking flat metal roofs seamlessly merge with a tantalizing blend of stone, smooth stucco, and metal paneling.
This composition oozes an undeniable "Oh la la!" charm, turning heads in any locale. And the final touch? A cozy porch upfront and a generous deck at the back, providing the ideal spot to enjoy your morning coffee or savor a bottle of Bordeaux as the sun fades.
Step inside, and you're instantly captivated by an open concept design that's a dream for socialites and experienced hosts.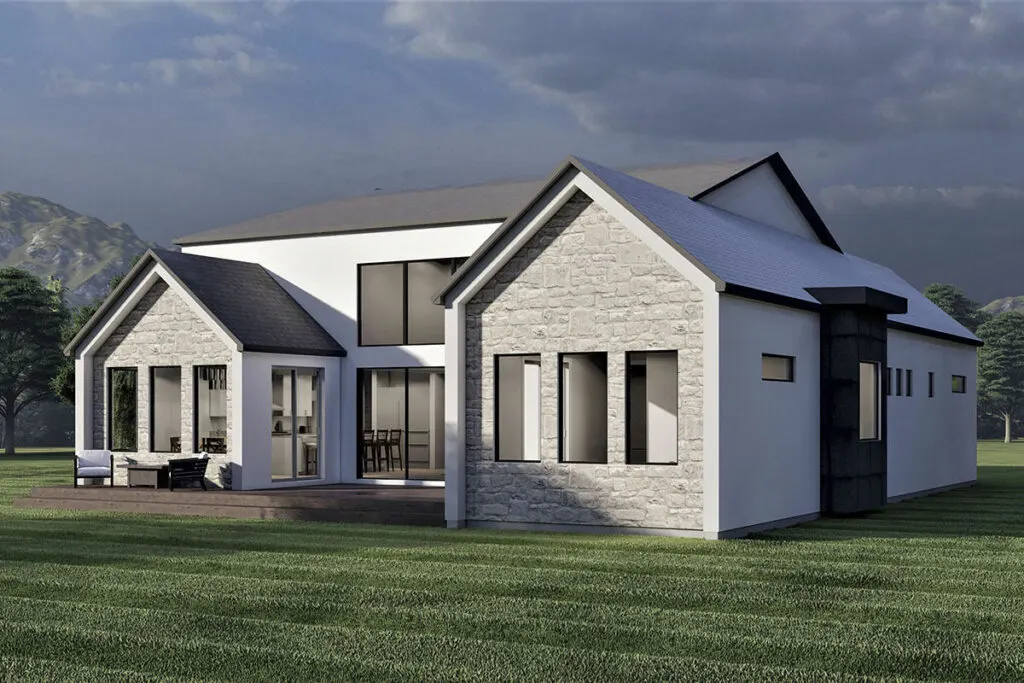 Centered in the heart of the home is the kitchen, sitting conveniently opposite the great room. Here, you can awaken your culinary skills, thanks to a spacious island and a pantry big enough to cater to a feast for hundreds.
A few steps away is the dining room, ready and waiting to be the backdrop to your foodie festivities.
Let's pause to appreciate the master suite – it certainly deserves its own spotlight. Nestled away from the bustling great room, this space offers more than just a place to sleep—it's a retreat.
Paired with a bathroom equipped with a standing shower and a full-size tub for ultimate relaxation, the walk-in closet is so roomy, it might as well be its own mini fashion show. And double vanities? Because everyone deserves their personal space for grooming, right?
Next stop, the second floor! Here we find another bedroom and a flex room that can effortlessly transform to meet your needs.
Longing for a home office? Sorted. Craving a private gym? No problem! Want a secret base for plotting global supremacy? Your secret is safe with us. Plus, a balcony to enjoy a serene evening under the star-studded sky.
Just when you think we've exhausted all surprises, there's more to explore! The basement offers a universe of opportunities. It offers a colossal 1,158 square feet of heated living space for the main home, plus an additional 857 square feet for a self-contained apartment.
Imagine a spacious rec room, two extra bedrooms, plenty of storage, and an apartment featuring its own kitchen, bedroom, living room, bathroom/laundry room, pantry, and exterior access.
It's the perfect space for extended family, your grown kids, or that buddy who just can't seem to leave.
In a nutshell, this house is a real-life Fabergé egg—exquisitely crafted and brimming with delightful surprises. It combines the old-world charm of a European chateau with modern elements for a 21st-century lifestyle.
And it achieves all this within a 3500-square-feet footprint, proving that while size does matter, it's what you do with it that really counts.
So, if you're hunting for a home that's brimming with more personality than a peacock at a fashion show, your search ends with this contemporary Euro-styled house plan. Now, pardon me while I work on my French. Au revoir!