Plan Details:
2,546 Sq Ft
4 – 5 Beds
2.5+ Baths
1 – 2 Stories
3 Cars
Hello there, fellow home enthusiast!
Have you ever envisioned a home that effortlessly blends the timeless allure of vintage charm with the adaptability of modern living? If that notion has you nodding in agreement, then you're in for a delightful journey as we explore this charming farmhouse.
This residence is an exquisite fusion of nostalgia and contemporary living, offering a spacious canvas for you to paint your unique story. Covering a sprawling 2,546 square feet, this house embodies not only space but also style.
Whether your household includes a bustling brood of kids, a menagerie of furry companions, or an ever-expanding collection of sneakers, fear not—there's ample room for everyone and everything.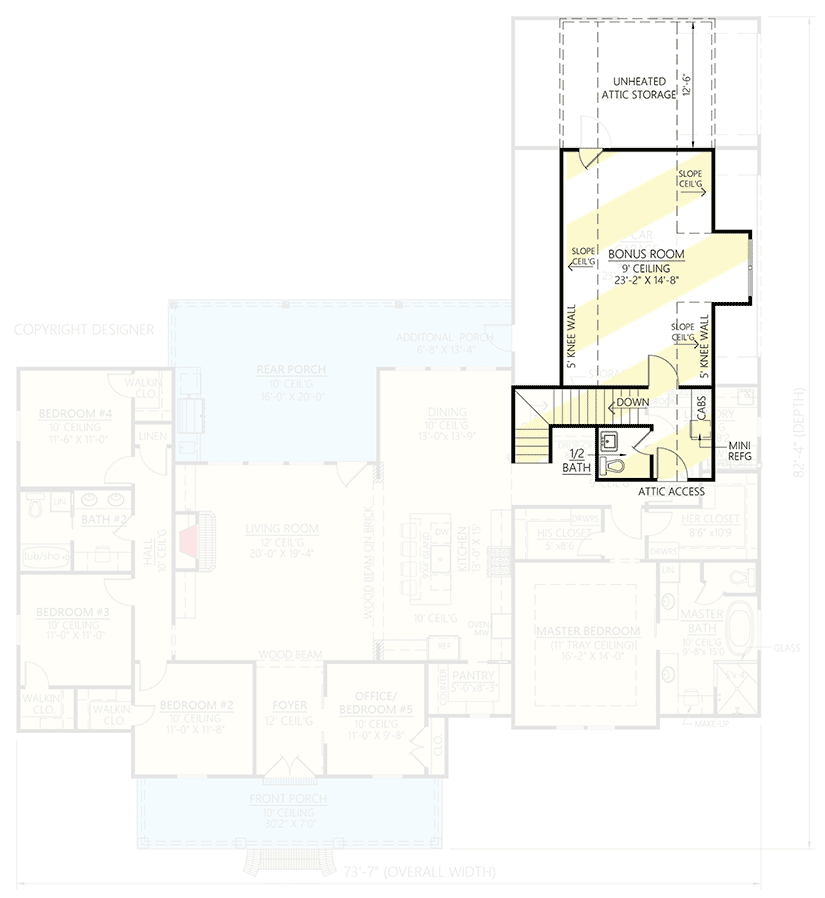 With the option to configure 4 to 5 bedrooms, this house provides an elegant solution to the timeless sibling dilemma: "Mom! He's in my room again!" Say goodbye to the days of delineating territories with masking tape.
Better yet, consider transforming one of these rooms into a clandestine dance studio or an enticing 'do not disturb' reading sanctuary!
Imagine the bliss of having 2.5+ bathrooms at your disposal. No more frantic morning bathroom traffic or passive-aggressive notes on the door. Everyone can luxuriate at their own pace, emerging from their private sanctuaries looking like the rockstars they truly are.
Now, let's talk layout. You have the choice of a single cozy story or two enchanting tales of comfort. Each level unfolds its own narrative, one filled with cherished memories, joyous laughter, and perhaps a few exhilarating games of hide-and-seek.
And what's this? Three parking spots! Yes, you read that correctly—three whole spaces to house your trusty vehicles. Don't own three cars? No problem! Now you have additional storage space or a makeshift stage for your garage band to rock out.
As you gaze upon the house, you'll notice its symmetrical front elevation—a visual treat that feels like a warm embrace from the house itself.
The porch, measuring an impressive 30 feet and 2 inches in width and 7 feet deep, beckons your guests to linger there, capturing Instagram-worthy snapshots even before they ring the doorbell.
Natural light does more than just illuminate your rooms; it brightens your spirits too! Large windows in the living room ensure that your home is perpetually bathed in sunlight, keeping your indoor plants—and you—radiantly content.
The open layout seamlessly connecting the kitchen, dining area, and living room guarantees two things: easy conversations and an unobstructed view of the action.
And with an oversized island, impromptu brunches just got an upgrade. Let's not forget the walk-in pantry, a haven for both snack aficionados and meticulous organizers alike.
Step outside onto the spacious covered porch complete with a BBQ station, and you'll feel the urge to host summer soirées, grill delectable veggies, and perhaps even indulge in a late-night sing-along beneath the starry sky.
With two access points, food can flow effortlessly, and you'll have convenient escape routes in case your vocal prowess doesn't quite hit the high notes!
The master bedroom isn't merely about space; it exudes character with its elegant tray ceiling, adding a regal touch to your personal haven. The en-suite bathroom spares no luxury, boasting double vanities to ensure you feel like royalty each morning.
Located on the opposite end of your royal chamber are three generously sized bedrooms. Whether they're for your kids, cherished guests, or anyone in search of a serene retreat within this lively home, these bedrooms offer comfort and serenity.
But wait, there's more! This home is thoughtfully equipped with practical touches that make everyday life more convenient.
A drop-off bench for your daily essentials? Check. A powder room for guests? Check. And a laundry room that streamlines your chores? Double check. These amenities are seamlessly integrated, all wrapped up in a style that elevates your daily living experience.
In closing, this isn't just a house; it's a vibrant canvas waiting for you to infuse it with your stories, dreams, and those secret BBQ recipes you've been perfecting.
Whether you intend to put down roots or simply savor a temporary stay, this farmhouse is bound to leave an indelible impression, making you hum that timeless refrain: 'There's no place like home!'
Plan 56444SM