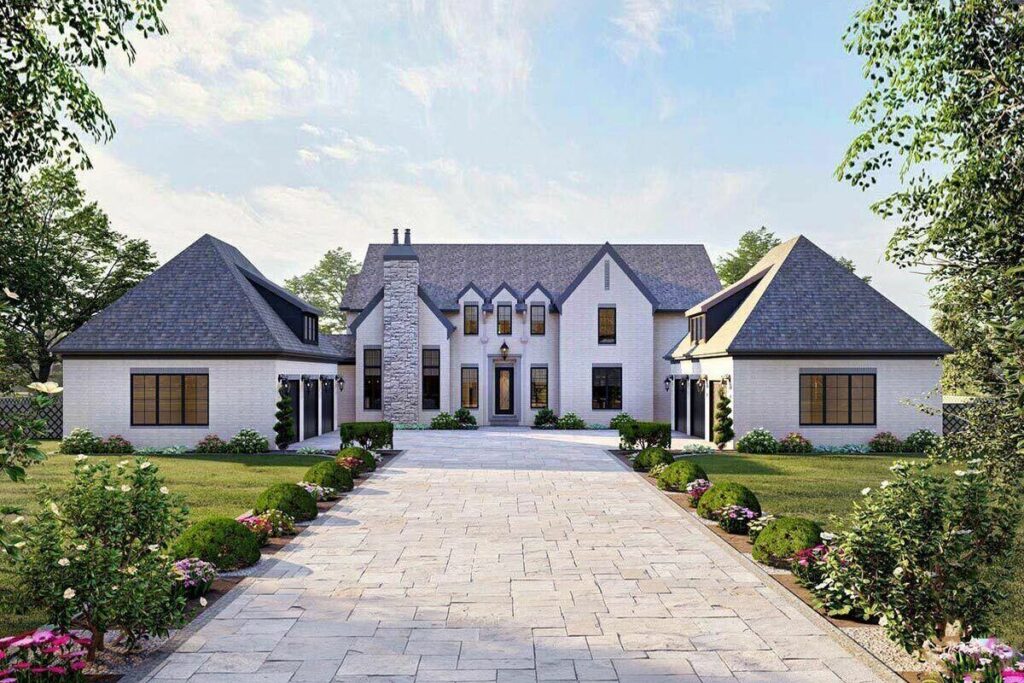 Plan Details:
5,388 Sq Ft
5 Beds
4.5+ Baths
2 Stories
6 Cars
Ah, the allure of a dream, a dream so grand that it stretches across 5,388 square feet of pure possibility.
If you've ever wondered what it's like to bask in opulence without the turrets and drawbridges of a castle, then my friend, settle in comfortably (preferably on one of those plush cushioned chairs) as we embark on a whimsical tour through a home plan that redefines the concept of luxury living.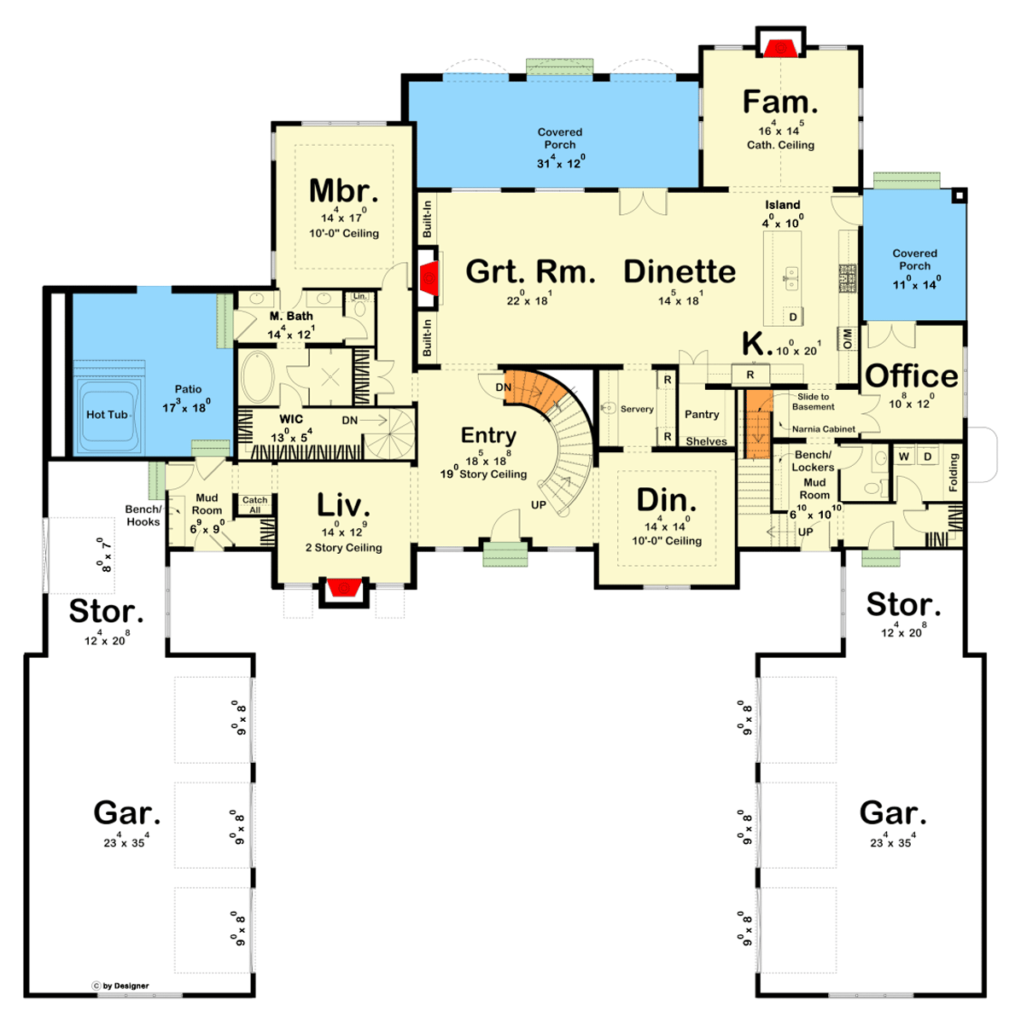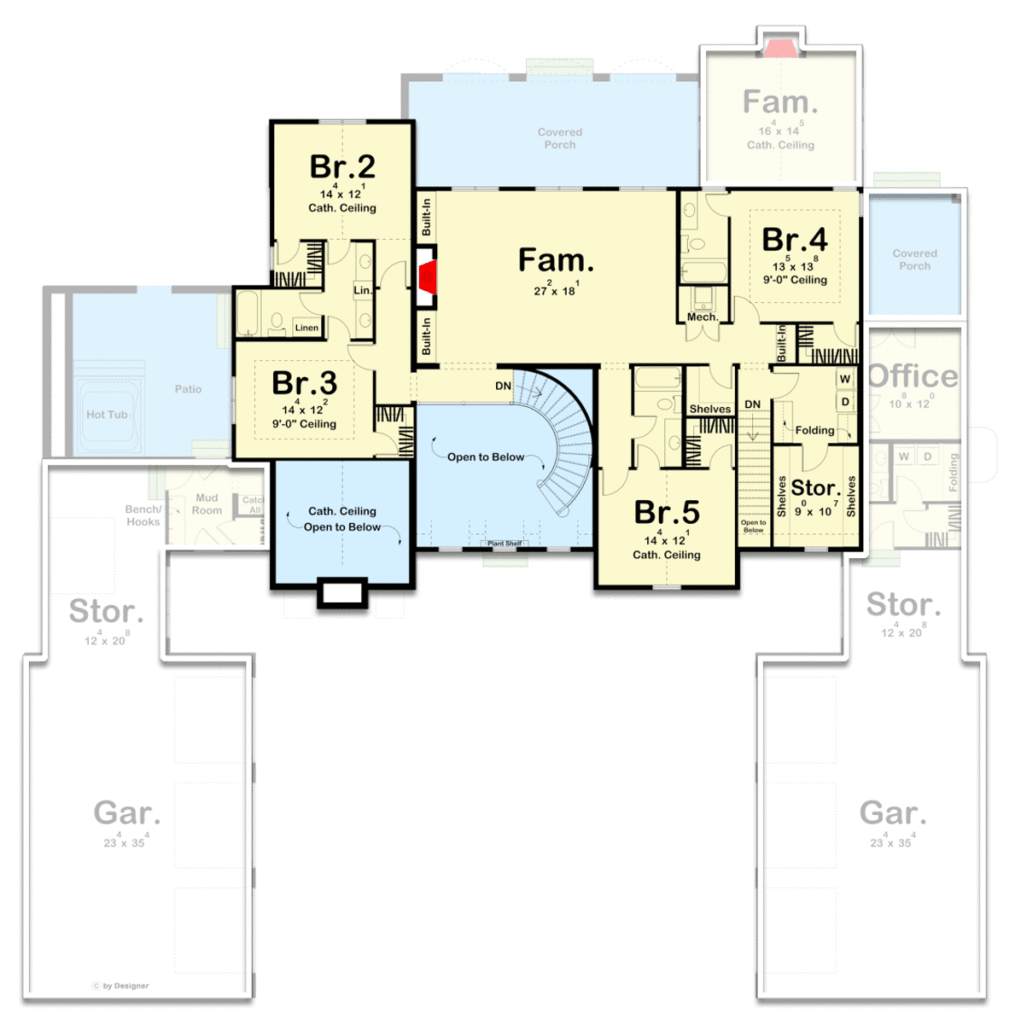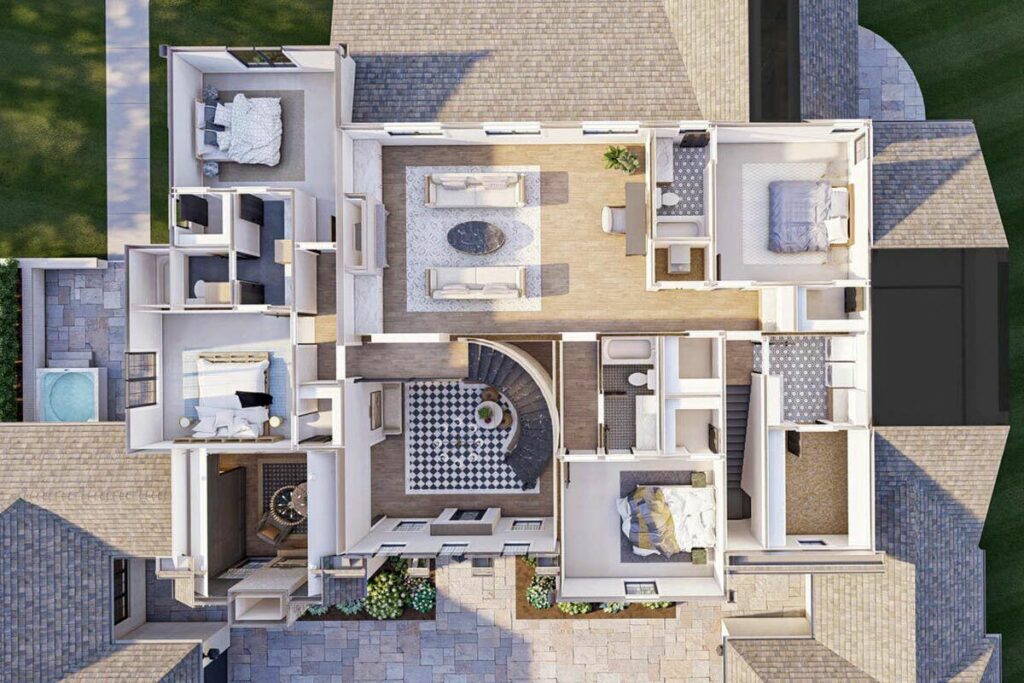 Picture yourself arriving at your abode, not through an ordinary driveway, but via a welcoming courtyard that casually flaunts, "Oh, these? Just my matching 3-car garages."
It's the kind of entrance that not only exudes sophistication but also whispers modestly, "Yes, I've got room for all my cars…and maybe even that spontaneous boat purchase I've been daydreaming about."
And just as you're soaking in this grandeur, take a moment to appreciate those gable roofs gracefully perched atop three majestic window sets. They offer a contemporary nod, inviting you to step inside.
As you enter, a curved stairway beckons, reminiscent of the grand staircase you've seen in countless romantic movies.
To the left? A cozy living room, complete with a fireplace ready to create those Instagram-worthy winter moments.
To the right? A dining room that eagerly anticipates laughter, clinking glasses, and the presence of that one relative who always seems to have one glass too many, spilling family secrets with gusto.
Now, behold the great room – it's called "great" for a reason.
Adorned with yet another fireplace, this space is the perfect backdrop for heart-to-heart conversations, game nights, or simply unwinding.
The adjacent kitchen boasts a robust island, ideal for hosting brunch spreads or a laid-back wine and cheese night. And here's the kicker – this kitchen comes with not one, but two fireplaces. Yes, you can craft a sandwich while basking in the warmth from both sides. Talk about multitasking!
Need a spot for those Zoom meetings or to nurture your side hustle of writing about quirky home features? The home office, with its French door access to the side porch, ensures you're not confined to staring at blank walls.
Wave to your neighbors, soak in some fresh air, and perhaps subtly let the world know that you occasionally wear pajama bottoms beneath that formal shirt.
Now, brace yourself for the master suite, the pièce de résistance of this dream home. Featuring a tray ceiling and a bathroom adorned with five fixtures (count 'em!), it's opulence at its finest.
But here's the cherry on top – a spiral stairway leading to the basement (perfect for those stealthy midnight snack runs) and a door that opens to a private patio with a hot tub. Had a stressful day? Simply soak it all away.
As you ascend to the upper floor, you'll discover four bedrooms symmetrically flanking the family room. They're perfect for kids, guests, or even that extensive hat collection you've never quite known where to store.
Oh, and don't forget the laundry room. After all, even in the realm of fantasy homes, clothes have a tendency to remain unwashed if left to their own devices.
But wait, there's more! An optional basement beckons, offering an additional 2,614 square feet of pure amusement.
Fancy a home theater? Consider it done. A playroom equipped with a slide for the young (or young at heart)? Absolutely. And as for 'more'? Well, that's limited only by your imagination (and perhaps your budget).
In conclusion, this 5-bedroom transitional home is the stuff dreams are made of – a harmonious blend of luxury, comfort, and style that transcends ordinary living. And if anyone ever questions the necessity of six parking spaces, simply respond, "Someone who's living life to the fullest." Here's to dreaming big!
Plan 623157DJ