Plan Details:
3,597 Sq Ft
4-5 Beds
5.5 Baths
2 Stories
3 Cars
We've all indulged in the fantasy of the perfect home – a haven that seamlessly blends spaciousness with coziness, a fusion of contemporary design and rustic allure.
But what if I told you that you could own a farmhouse that's not just a dream, but a reality akin to the grandeur of the Taj Mahal? Allow me to introduce you to the latest gem in the best-selling farmhouse collection, a residence that's about to redefine your idea of luxurious living.
All of this, neatly wrapped within a 3,597 sq ft package, spacious enough to accommodate your family and even that ever-present friend who somehow always ends up "crashing for a couple of days."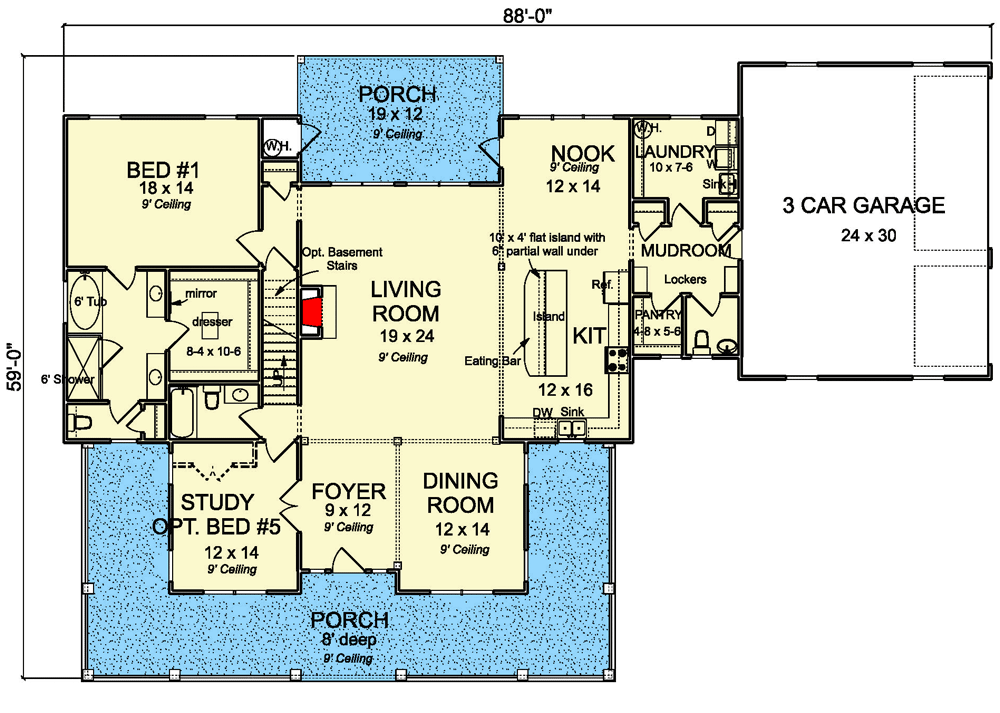 Picture it: a residence that beckons with an inviting 8′-deep front porch, the perfect spot to savor your morning coffee or unwind with evening cocktails. Yet, it offers so much more than a mere entrance.
This house is a narrative that unfolds as you wander around its inviting wraparound porch – a cocoon-like embrace that whispers of comfort and hospitality.
As you trace the contours of the porch, it leads you to a rear haven, a 19′ by 12′ expanse that sets the stage for barbecues beneath the stars, where you can savor delectable bites while soaking in the tranquil vistas that stretch before you.
Stepping beyond the threshold, a foyer welcomes you, flanked on one side by an elegant study, an ideal retreat for those moments when you yearn to immerse yourself in the craft of writing, perhaps finally penning that novel you've so often imagined.
On the other side, a dining room awaits, both spaces graced by ceilings soaring to 9 feet.
This detail doesn't just provide vertical volume; it sets the stage for more considered contemplation, perhaps reminding us to ponder a little longer before jumping to conclusions – all with an air of sophistication that's hard to ignore.
The interplay between the dining room, living room, nook, and kitchen is reminiscent of the camaraderie shared by the best of high school friends – an inseparable quartet, always in sync.
Speaking of the living room, it's graced by a ventless gas fireplace, a warm embrace that beckons you to gather around its glow, to lose yourself in its flickering dance. It's more than a mere hearth; it's a statement, a centerpiece that claims its rightful throne as the Beyoncé of the living space.
For those who seek the union of luxury and solitude (and who can blame them?), the main bedroom holds a secret sanctuary. Tucked away as though sharing a confidential whisper, it boasts a five-fixture bath that's a testament to opulence.
And let's not forget the walk-in closet – a kingdom of space where your attire might just consider signing a lease for a permanent residence.
For the family members who mistake the abode for a concierge laundry service, fret not. There's a dedicated laundry room that beckons alongside a walk-in pantry, a tandem that transforms chores into something closer to indulgent rituals.
And then there's the mudroom, an area seemingly born from your wishes. With built-in lockers and a powder room, you can finally bid farewell to the concerns of muddy cleats or damp umbrellas on rainy days.
It's a practical haven that preserves the pristine while allowing you to embrace the outdoors without the aftermath.
As we ascend to the upper echelons of the house, the fun unfurls with abandon. Three ensuite bedrooms beckon, cocooning you in comfort and convenience. And the pièce de résistance – a game room that echoes with the laughter of possibilities.
Will it be transformed into an arcade, a mini-cinema, or perhaps a hideaway where you can steal fleeting moments of tranquility away from the enthusiastic embrace of youthful exuberance? The canvas is yours, a space brimming with potential limited only by imagination.
But this modern farmhouse is more than the sum of its architectural marvels; it's a bold declaration of style. It caters to the souls who yearn for the embrace of pastoral tranquility without bidding adieu to contemporary luxuries.
With its four to five bedrooms, it extends its arms to embrace everyone who enters its threshold, even the friend who might overstay their welcome – because this house, above all, is about hospitality without bounds.
And let's not even start on the three-car garage, a testament to modern convenience that gently nudges the past into the shadows. Why ride horses when you can effortlessly park cars, each vehicle ensconced in its own sanctuary?
So, whether you're a modern family with an insatiable hankering for rustic charm or an individual who craves to embody their farmhouse reverie, this house emerges as the answer to your aspirations. It's more than a dwelling; it's a symphony of design and comfort that invites you to script your story within its walls.
Just remember, when the time comes to christen this sanctuary with a housewarming celebration, an invitation to revel in its splendor would be most welcome!
Plan 52304WM