Plan Details:
2,514 Sq Ft
4 Beds
3.5 – 4.5 Baths
1 – 2 Stories
3 Cars
In an era where the boundaries between dream and reality seem to blur, there exists a remarkable architectural masterpiece that effortlessly marries the cozy embrace of a cherished grandmother's home with the sleek elegance of a magazine cover model.
Welcome to the world of the exclusive modern farmhouse, a dwelling that exudes style, comfort, and unmistakable personality.
Stay Tuned: Detailed Plan Video Awaits at the End of This Content!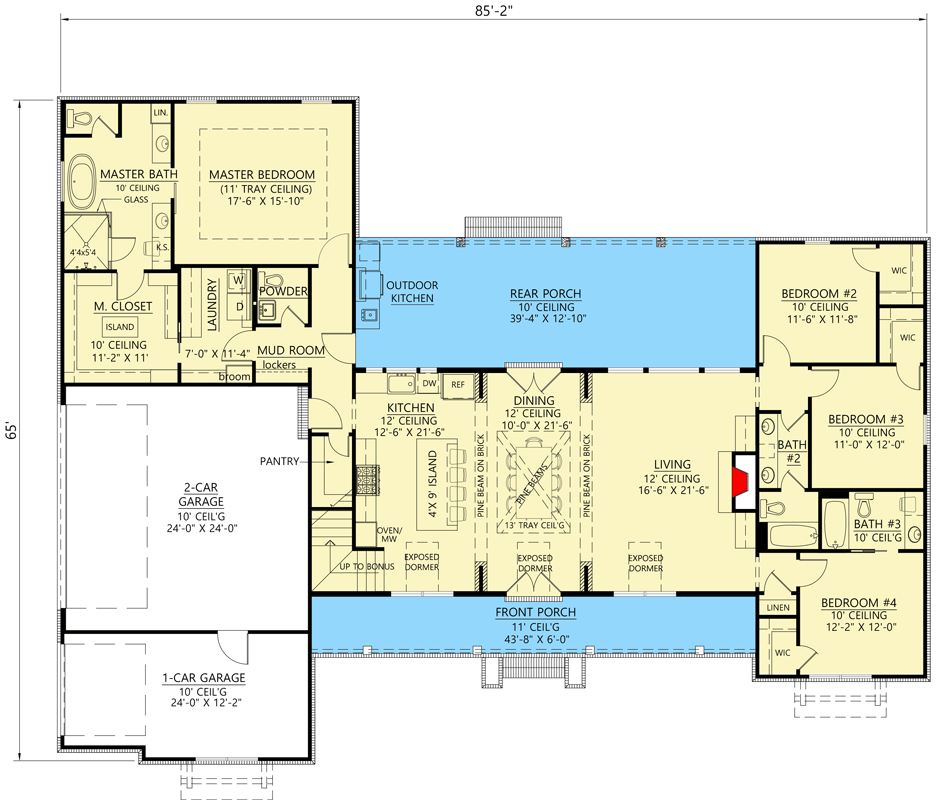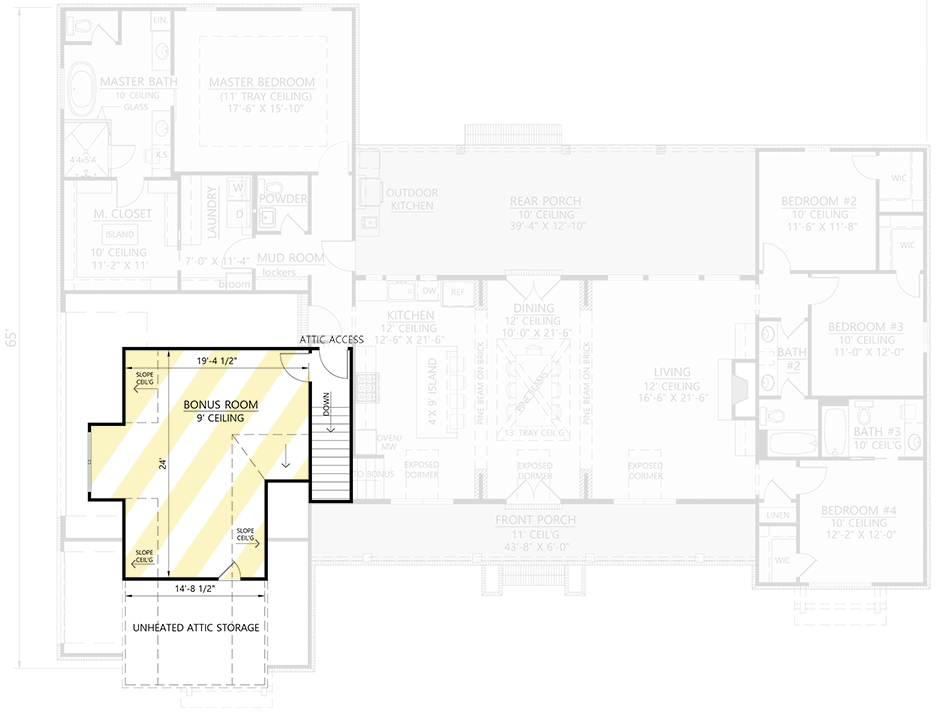 As you approach this modern farmhouse, you can't help but be captivated by its timeless allure. With three shed dormers, this architectural gem bathes in natural sunlight, casting a warm and inviting glow.
The exterior pays a respectful homage to classic farmhouses, invoking cherished memories of days gone by.
The expansive front porch, extending 6 feet deep and spanning 43 feet and 8 inches wide, beckons you to fill it with rocking chairs and lose yourself in lazy afternoons. And when you swing open the French doors, it's as if the home itself extends a warm, welcoming embrace.
Step inside, and you'll find yourself transported to a rustic chateau, thanks to the front-to-back beams that exude a sense of timeless grandeur.
The dining room is a study in sophistication, boasting a 13-foot tray ceiling that practically begs for an exquisite chandelier and elegant dinner parties. The beams artfully crisscrossing the room add that extra touch of character.
For those who've ever yearned for more counter space, prepare to have your culinary dreams fulfilled. The kitchen island is not merely large; it's 'invite-your-friends-over-and-show-off' large.
With seating for four, it sets the stage for breakfasts, lunches, dinners, and even midnight ice-cream binges in unparalleled style.
And should you ever grow tired of admiring your delectable creations or engaging conversations with your beautiful friends, a mere lift of the gaze reveals a stunning view extending all the way to the living room fireplace.
Just when you thought this modern farmhouse had revealed all its secrets, a rear porch comes into view. Those charming French doors?
They're back, and this time they lead to an outdoor haven that's 12 feet and 10 inches deep, complete with an outdoor kitchen. Imagine lounging on cushy furniture, perhaps swaying in a hammock, or even sunbathing in the winter – the possibilities are endless.
The master suite is no ordinary bedroom; it's a mini palace unto itself. Occupying the entire left side of the home, this haven of tranquility boasts a tray ceiling that adds grandeur without an ounce of stuffiness.
The walk-in closet is so spacious that even your cherished wardrobe will feel pampered. And here's a delightful surprise – direct access to the laundry room. Bid farewell to the days of lugging laundry across the house; this suite has thought of every convenience.
On the opposite side of the modern farmhouse, there's no shortage of space or style. Three bedrooms, each equipped with its own walk-in closet, cater to the unique needs and desires of every resident.
Two well-appointed bathrooms, including a classic Jack and Jill arrangement, seamlessly blend the charm of a farmhouse with the conveniences of modern design.
In summary, this exclusive modern farmhouse isn't merely a house; it's a dream realized. Spanning 2,514 square feet, this abode offers four bedrooms and the potential for 3.5 to 4.5 baths spread across one or two stories.
With parking space for up to three cars, it seamlessly balances spaciousness, style, and functionality, all while eagerly waiting for someone like you to transform it into a true home.
So, whether you envision hosting spirited Sunday brunches, languishing on the inviting porch, or simply relishing every moment of life, this modern farmhouse provides the perfect stage.
It's a place where you can almost hear the approving nod of your beloved grandmother, for in its timeless charm and modern comfort, it encapsulates the essence of 'home.'
Plan 56442SM