Plan Details:
4,629 Sq Ft
4 Beds
4.5 Baths
2 Stories
4 Cars
Brace yourself for a whole new level of grandeur, with this gem of a residence that'll make you exclaim "oui oui" quicker than your next speedy Google translation.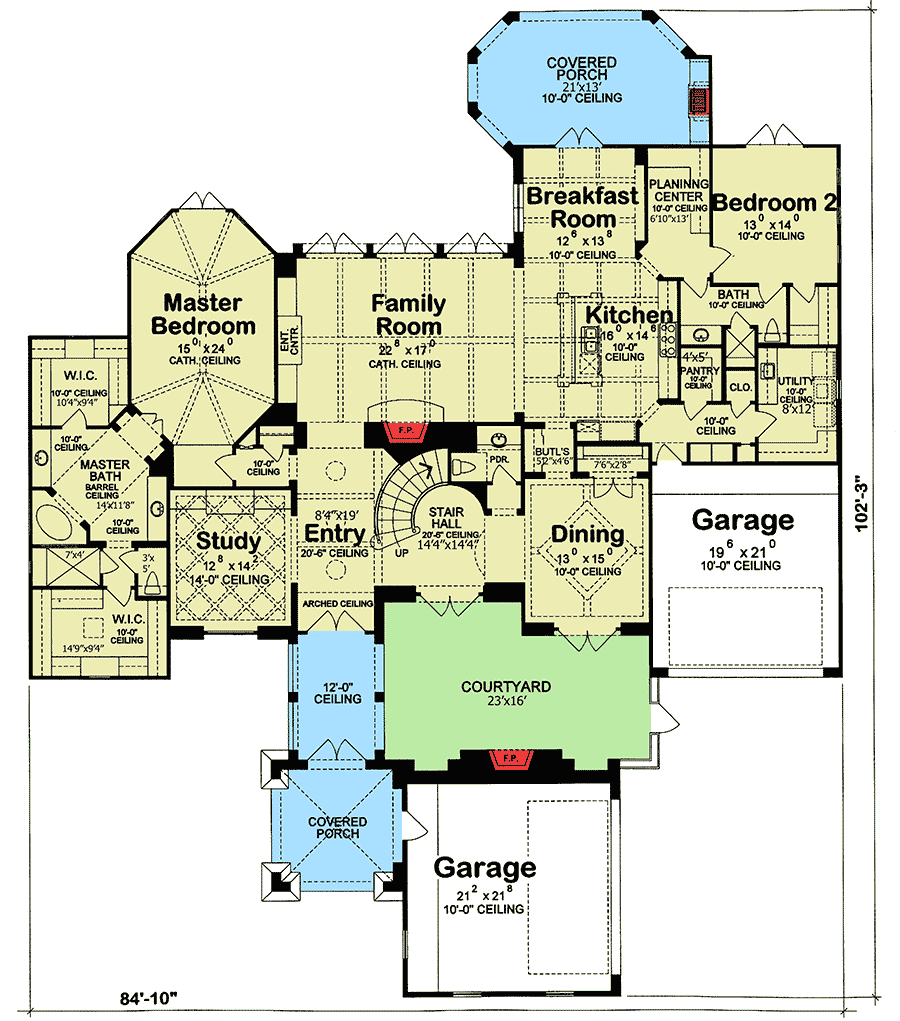 Imagine this: sauntering towards your majestic abode, the unrivaled French Country Manor, which spans an extravagant 4,629 square feet.
You're not merely entering a dwelling; you're immersing yourself into a mesmerizing masterpiece. With four bedrooms, four and a half baths, and an expanse that's too big to believe, this beauty has it all.
Let's clarify things upfront – yes, it's a duplex and yes, there's a four-car garage. Talk about being pampered! The French, in their characteristic style, leave ample space for your swanky Tesla and your indulgent weekend convertible.
Ready for an expedition inside? Just ensure your jaw doesn't drop. The entryway, a comfortable 8'4″ by 19′, greets you with a majestic double-height curved staircase, dwarfing even the Kardashians' mansion.
This might be your stairway to heaven or a regular fitness grind, but it's only a glimpse of the grandeur that's about to unfold. And for those geometrically inclined, the stair hall measures a neat 14'4″.
Venture into the family room. "Massive" would be an understatement. The twenty-foot-high cathedral ceilings, garnished with robust beams, provide an airy yet impressive ambiance.
Take in the stunning sights of three pairs of French double doors, a custom entertainment center, and a welcoming fireplace, perfect for snug movie nights. It's a space that says, "Kick off your shoes, settle in, and dive into your Netflix spree."
Feeling peckish? Stroll into the open-concept gourmet kitchen and breakfast room, where you can whip up your renowned Beef Bourguignon without missing a beat of your guests' impressed chatter.
And how can we omit the elegant dining room? It boasts a tray ceiling and double doors leading to a secluded courtyard with a fireplace. Picture a starlit, candle-lit romantic dinner right in your own backyard.
Next up: the magnificent master suite. This is more than a bedroom; it's a haven. A splendid 17'6″ cathedral ceiling, adorned with lavish beams, adds to the room's majesty.
Two spacious walk-in closets will satisfy even the most discerning fashion aficionados, and the opulent spa bath is a dream come true, offering all the luxuries your heart desires.
The grandeur doesn't stop here. Ascend to the second floor, where two bedrooms, each with a private bath, flank a game room with a balcony. This spot provides a bird's-eye view of your kingdom below.
Step onto the expansive covered porch, showcasing an 11′ raised ceiling, perfect for unwinding with a novel or a glass of your favorite champagne.
We'd be remiss to overlook the basement. A staircase replaces the foyer's powder room, maintaining the house's semi-circular shape – a dramatic display of this home's overall opulence.
Residing in the extraordinary French Country Manor is a symbiotic fusion of refinement and homeliness, of fashion and functionality.
Here, your home is more than a living space; it's a declaration to the world: "I've made it, and I've done so with remarkable panache!" So, don your beret, mon ami; your chateau is ready for occupancy!