Plan Details:
7,799 Sq Ft
6 Beds
4.5+ Baths
1 Stories
3-5 Cars
Well hello there, everyone!
Ever caught yourself drifting into a fantasy of a home where snugness meets sophistication, where every day has a taste of a mini holiday, and where practicality is more than just a buzzword?
Strap yourself in and prepare for the ride!
I'm about to whisk you away on an exclusive journey through a residential marvel that is the epitome of luxury: an expansive 7,799 square feet house plan brimming with features so extensive it practically needs its own postal code!
Let's dive in!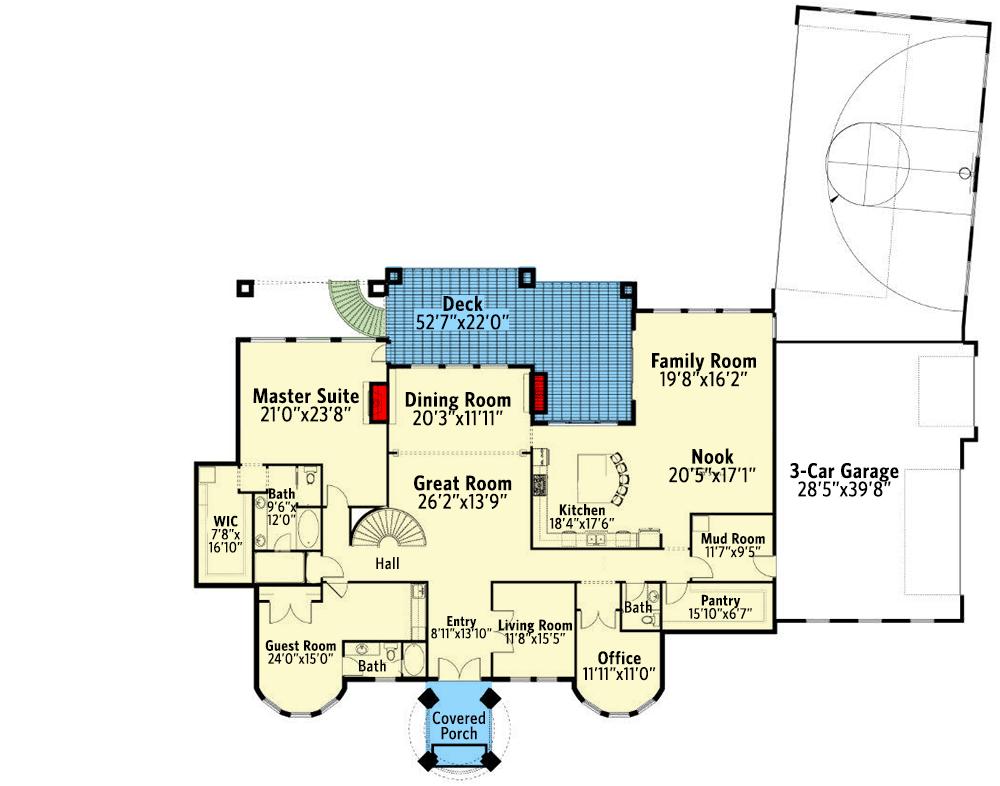 This regal domestic haven comes with six warm bedrooms, perfect for your family, a handful of guests, and yes, even for that cousin who has overstayed his welcome!
Of course, we can't leave out the four and a half baths, guaranteeing that no one has to pace outside a door, anxiously awaiting their turn.
Now let's talk about the floors. This architectural jewel is a one-story wonder, ensuring you'll never have to pant your way up a staircase after a demanding day.
And the garage? It's colossal! With enough room for a fleet of five cars – your cherished sedan, your partner's sports car, the kids' first cars, and yet there's still space for that dreamy boat you've been coveting!
Talking about boats, this plan even caters for boat storage. So if you've snagged some lake-front property, this house is an absolute dream come true.
But wait, it gets even better! Allow me to unveil the icing on the cake – a versatile indoor/outdoor sports court.
Regardless of whether you're an NBA star or not, this feature is a true gem. Picture leisurely Saturday afternoon basketball games, moonlit badminton bouts, or simply a safe haven for the kids to let loose – and let's not forget it's weather-proof!
The living areas are thoughtfully designed to optimize the picturesque rearward views, transforming every sunset into a moment worth capturing.
And the kitchen? It's more than sizable – it's a haven for food lovers. The colossal island, seating six, is perfect for group cooking, late-night chatter, and for tackling those school projects that your kids only remembered late Sunday evening.
Craving some tranquility after a hectic day? Escape to the peaceful home office or the serene living room located off the foyer, a world away from the familiar family chaos.
The luxury doesn't stop there – the master suite is a lavish escape complete with oversized windows, a cozy fireplace, and a bathroom that mimics a day at the spa. Across the corridor, the guest suite even spoils your visitors with a wet bar and full bath. Hospitality? You've got it down to a T!
As you descend the grand staircase, you're led to the heart of the home – a spacious family room and a games room that opens up to a patio, a hub for indoor amusement! Plus, four additional bedrooms cleverly tucked away across the lower level like Easter eggs.
Hold on, there's still more! You'll find a dedicated home theater for those binge-watch sessions and an exercise room to burn off the guilt of extra popcorn munching.
In a nutshell, this luxurious and spacious house plan is literally what dreams are made of, striking the perfect balance between extravagant living and practical convenience.
A home that fulfills every whim and fancy of your lifestyle – doesn't that sound enticing? So, why not swap dreaming for doing, and start plotting your future abode? Your dream home is waiting for you!