Plan Details:
3,163 Sq Ft
4 Beds
3.5 Baths
1 Stories
Hey there, everyone! Come on over, we've got an enchanting tale to tell today. It's all about the wonder of house plans, but hold onto your hats, because these aren't just any house plans.
Get ready to explore a heavenly open courtyard dream home so plush and posh, you'd swear it was crafted by an architect who moonlights as a fairy godmother!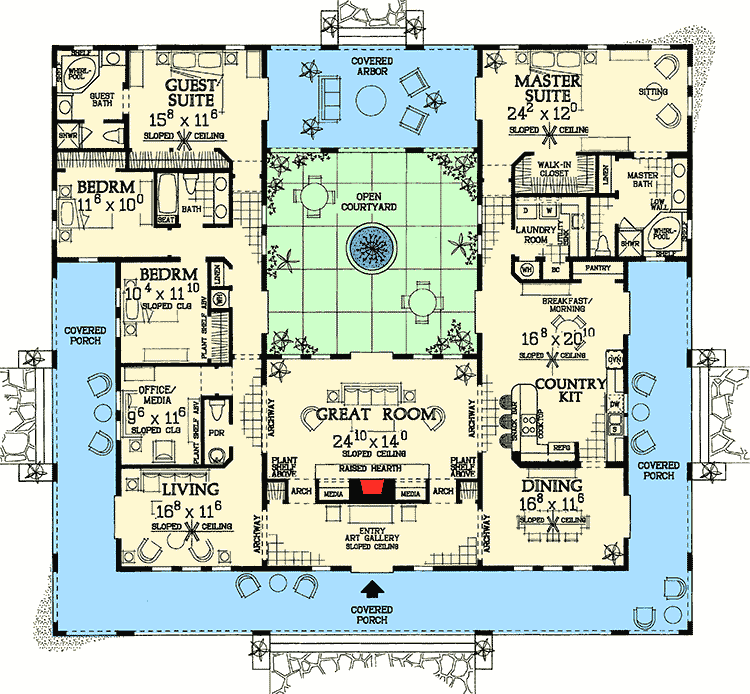 This gem, sprawling over an expansive 3,163 square feet, is a one-story marvel that's all about spacious living. It boasts four bedrooms, three and a half baths, and an array of fantastic features that make a Swiss army knife seem plain. So, put on your imaginary adventure boots and follow me on this journey!
Our first stop is the open courtyard, the dazzling star of the show. Think of it as the Beyoncé of home features – bold, gorgeous, and always in the limelight.
This beautiful courtyard expertly marries the inside and outside world, reminiscent of a mouthwatering mango smoothie on a sweltering summer day – two elements creating an irresistible treat.
Imagine savoring your morning coffee or having intimate conversations under the starry sky, right in your very own home.
Upon entering, you're met with a striking gallery, providing the perfect platform to show off your art collection. Be it Renaissance masterpieces, contemporary abstracts, or your child's charming fridge doodles, this space serves as a veritable banquet for the senses.
So, it's time to bring out your cherished paintings, prints, and sculptures; they've just discovered their dream backdrop!
Next, we venture into the dining room, a versatile space that transitions seamlessly from high-end soirées to laid-back Sunday brunches. The nearby rustic kitchen, armed with an island snack bar and spacious pantry, epitomizes style and convenience.
You could swear this kitchen was the love child of a foodie interior designer and a meticulous professional organizer.
The great room, akin to the heart of this dream home, pulses energy into every nook and cranny. This multitasking superstar can host a swanky cocktail party just as easily as a relaxed Netflix marathon.
Its crowning glory? A raised-hearth fireplace, flanked by built-in media centers, perfect for creating a cozy atmosphere on chilly winter nights. It's like starring in your very own Hallmark movie, just without the predictable plotlines.
Our final stop is the master suite. But let's be clear, it's more than just a bedroom. It's a secluded sanctuary where 'me time' is not just permitted, it's the order of the day.
A snug sitting area tempts you to unwind with a favorite book, while the private bath offers the allure of rejuvenating dips in the corner whirlpool tub. Imagine having your own exclusive spa, sans the annoying need for appointments and the repetitive drone of ambient music.
And there you have it, our grand tour of this open courtyard dream home concludes. It's clear to see, this isn't just a home, it's a lifestyle, a sanctuary, an experience. If house plans were Broadway productions, this one would be a sellout hit with critics and audiences alike.
But why just take my word for it? Put on your creative hat and journey through this house plan in your mind's eye. You may just discover that it's the home of your dreams – and the best part? No fairy god-architect needed!