Plan Details:
2,989 Sq Ft
3 – 4 Beds
3.5 Baths
2 Stories
2 Cars
Imagine this: A modern farmhouse that transports you into the world of your favorite romantic comedy, but with a delightful 21st-century twist. Now, throw in a charming tower, and suddenly, you're not in Kansas anymore!
The modern farmhouse, a captivating fusion of timeless allure and sophisticated contemporary designs, is more than just a passing trend. It's a lifestyle choice, a statement of comfort and style that speaks to the soul.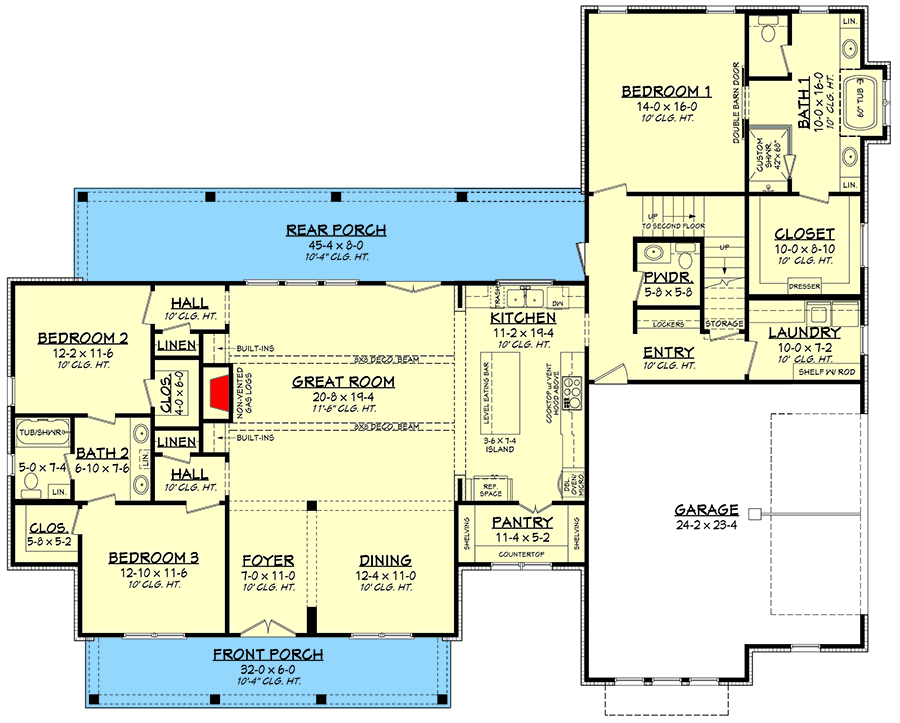 Today, we're embarking on a journey through a farmhouse that isn't your run-of-the-mill, cookie-cutter house; it's a 2,989-square-foot masterpiece of pure enchantment. So, grab your virtual hard hat, and let's embark on this captivating exploration.
With up to four spacious bedrooms at your disposal, you're not just securing a place to rest your head after a long day; you're securing a sanctuary. Gone are the days of squabbles over who gets the larger bedroom – this expansive layout ensures everyone reigns as the king or queen of their own domain.
Now, let's talk about storage. Bid farewell to those cluttered bedroom corners filled with items you've promised to find a place for "someday." In this house, someday is today! You'll discover an abundance of storage space, ensuring that everything has its own designated home.
Have you ever dreamt of a kitchen that could rival those in cooking shows, perhaps one that bears the title "Cooking with Mom in a Super Awesome Kitchen"?
Well, your dream kitchen has arrived! With an impressive number of cabinets, you could play an epic game of hide and seek and still struggle to locate your opponent.
The walk-in pantry is reminiscent of Narnia, minus the snow and fauns, of course. If you've been searching for a reason to showcase your mixology prowess, the eating bar at the prep island is your stage. Invite friends over, and let the good times roll!
Front porch or back porch? It's akin to choosing between chocolate and vanilla ice cream – why not have both? Whether you relish sunny morning coffees or wind down in the evening with a captivating book, these porches have got you covered.
And for those unpredictable days when the weather isn't on your side, the centrally located fireplace in the great room is your warm, cozy haven. Picture this: snow gently falling, a steaming cup of cocoa in your hand, and a roaring fireplace – it's a scene straight out of a heartwarming holiday movie.
In every home, there's a crown jewel, and in this modern farmhouse, it's undoubtedly the primary suite. A generously sized bedroom ensures that your "Me Time" is an indulgent experience. And the bathroom? It's like having your very own spa day, every day.
Not to mention the oversized closet – you might need a map to navigate it without losing your way amidst your myriad wardrobe choices. Finally, a space where your summer and winter wardrobes can coexist in harmony!
Now, for the pièce de résistance – the flex space above the garage. A kid's playroom? Absolutely. A home office? Of course. A fourth bedroom? Why not! This space is akin to your trusty friend who's always up for anything, morphing effortlessly to cater to your every whim.
This one-and-a-half story modern farmhouse is much more than mere walls and beams; it's a harmonious blend of charm, space, and boundless possibilities.
It's a place where classic meets contemporary, where every room whispers its own unique story, and where your cherished memories will discover a welcoming home.
So, as you embark on this new chapter, surrounded by the comforting embrace of a house as unique and fabulous as you are, remember that when someone asks if your house has a tower, you can confidently and cheekily respond, "Why, of course, darling. Doesn't yours?"
Here's to new beginnings in a home that's a true reflection of your distinct style and personality!
Plan 51860HZ