Plan Details:
1,999 Sq Ft
3 Beds
3.5 Baths
2 Stories
2 Cars
Picture this: you're strolling down a charming street, and your eyes lock onto a home that immediately speaks to you.
You can almost hear it saying, "Come in, I'm the one." If you haven't experienced this yet, hold onto your excitement because I'm about to introduce you to a true gem – a home that's not just a house, but a masterpiece of design and comfort.
Let's begin our journey with a glance at the exterior. This house exudes character with its vertical siding that doesn't just blend in – it demands attention.
Stay Tuned: Detailed Plan Video Awaits at the End of This Content!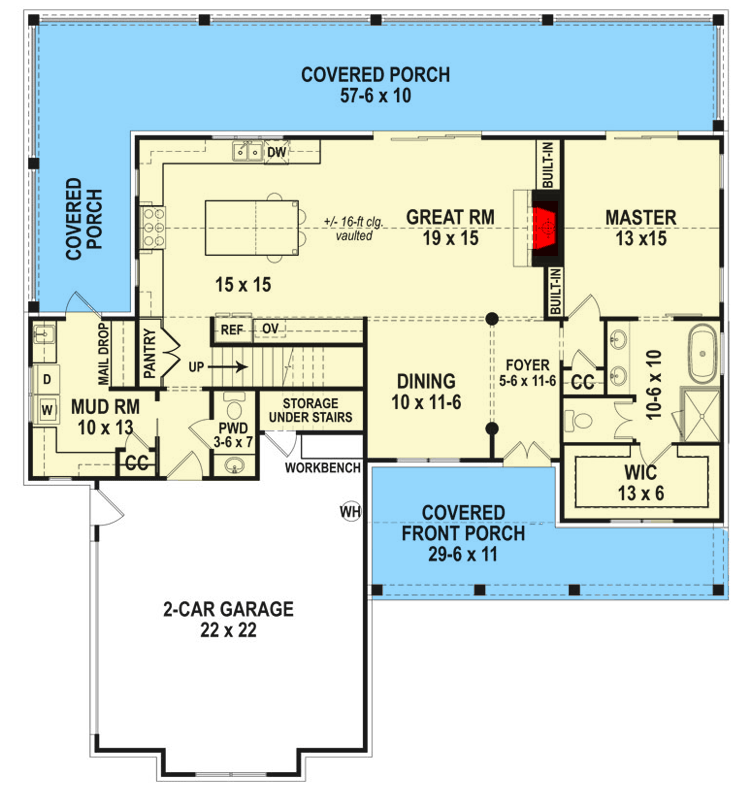 The peaks of the gabled roofline add a touch of elegance, like a crown gracing the top of a majestic structure. If houses had social media accounts, this one would undoubtedly be an influencer, gaining followers for its undeniable charm.
Now, let's talk about the porch. But this isn't just any porch; it's a rear wrap-around porch that embraces you with warmth and space.
Whether you're practicing morning yoga, sipping tea in the afternoon sun, or indulging in a midnight snack, this porch has your back. It's like the embrace of a dear friend, always there to welcome you. And let's not forget the view – a breathtaking garden panorama that's a feast for the eyes from every angle.
Stepping inside, the open layout of the main floor instantly draws you in. If you're no fan of walls cramping your style, this is the dream layout you've been waiting for.
From the living room to the dining area, the spaces flow effortlessly, ensuring everyone feels connected during family gatherings or those spontaneous dance parties that only seem to happen at home.
Speaking of cozy vibes, imagine a fireplace in the great room that isn't just about warmth; it's a centerpiece surrounded by built-ins that tell stories of cozy evenings and heartwarming moments. And oh, the kitchen – it's not just about cooking; it's a hub for connection.
With a central prep island and seating for four, it practically begs you to gather 'round, have a heart-to-heart, or simply indulge in some good old-fashioned gossip.
Now, let's talk practical luxury. A double garage is always a win, but this one comes with a delightful surprise – a workbench! DIY enthusiasts, rejoice! No more makeshift repairs on the kitchen table.
And the storage room? Consider it a sanctuary for all the seasonal gear you promise yourself you'll put away, year after year.
As you enter from the garage, the house has your back with a combined mud and laundry room, plus a powder bath. Mud on your shoes? No problem here – just another thoughtful touch that makes this home a haven of convenience.
Heading upstairs feels like stepping into a private retreat. Bedrooms 2 and 3 await, promising tranquility and relaxation. And not just one, but two full baths – say goodbye to waiting in line or those passive-aggressive notes about shower time!
But hold on, there's more. Remember that optional bonus room above the garage? It's a paradise for the young and young-at-heart. Whether it's video games, art projects, or simply lounging around, this space is a haven of fun and creativity.
And the magic doesn't stop above ground. Venture below, and you'll discover a hidden treasure – the lower level, which you can choose to finish, offering an additional 1,392 sq ft of living space. It's a canvas waiting for you to transform it into your dream sanctuary.
Now, if you're on the hunt for a new place or just have a penchant for swooning over incredible house plans, this one's a must-see. It's the kind of home that sparks daydreams and imaginations. And perhaps, if dreams really did come true, it might even come with a friendly butler offering freshly baked cookies.
Imagine a media room where you can binge-watch your favorite shows, a playroom that's a paradise for kids, a home gym for working off those midnight snacks, and a covered patio that lets you savor fresh air without leaving your haven.
And for all those "one day" items you've been holding onto, there's plenty of storage to keep them neatly tucked away.
In essence, this house isn't just a building; it's a canvas for your dreams. It's where modern aesthetics meet the warmth of home, where every corner whispers stories of comfort and joy. So, if you're ready to turn this dream into reality, this house is waiting with open arms to welcome you home.
Plan 12319JL