Plan Details:
2,509 Sq Ft
4 Beds
2.5 Baths
1 Stories
2 Cars
"Welcome, ladies and gentlemen, to a remarkable journey through the magnificent palace of your dreams, tucked into a delightful 2,509 square feet.
Prepare yourselves for an exhilarating adventure that awaits!"
Now, let's drumroll, please.
Introducing… your future haven, a stunning Northwest, New American-style gem, strutting down the street with an air of audacious modernity. This is no ordinary home.
No, indeed. It is a sanctuary, a luxurious retreat, a secret lair for superheroes, and, of course, the perfect stage for your captivating interpretive dance routines.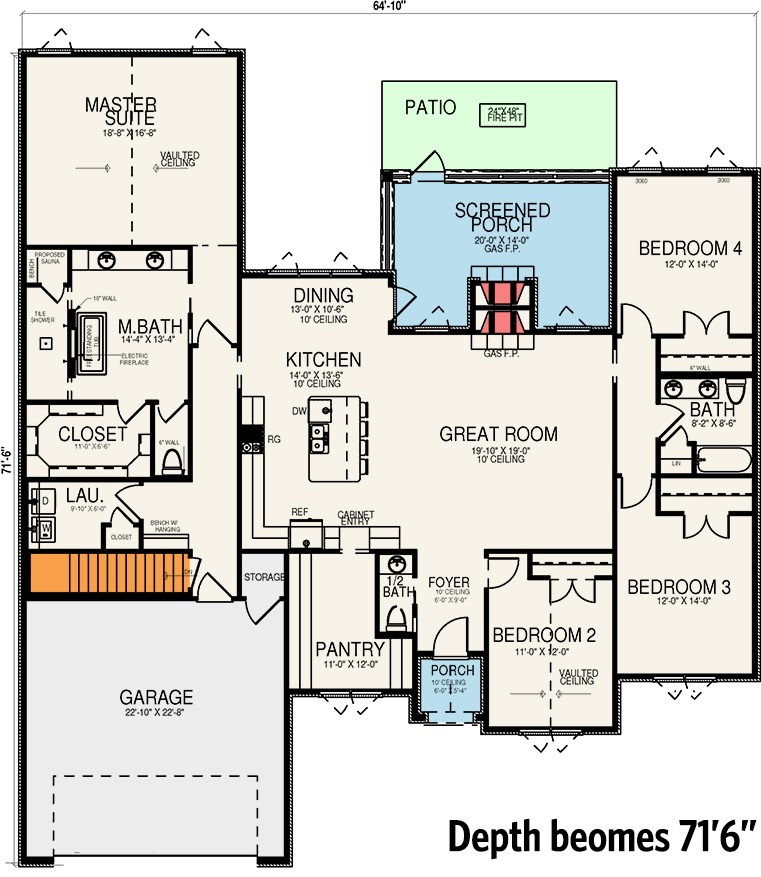 As we swing open the front door, a modest foyer gracefully greets us, leaving a lasting impression. Glance to your right, and there it is—the second bedroom. Ideal for guests, in-laws, or, if you're anything like me, an elaborate space dedicated to your collection of obscure 80s memorabilia.
Now, let's journey further, for the foyer seamlessly unfolds into the great room. Envision yourself here, curled up with a captivating book or indulging in a guilty pleasure reality TV show. The cozy gas fireplace warms the room like your favorite pair of fuzzy slippers.
The great room seamlessly transitions into the kitchen, like a majestic river flowing into a gourmet ocean. Imagine creating culinary wonders or whipping up quick five-minute noodles at the inviting bar island, where your guests are welcomed like a skilled bartender, minus the cringe-worthy jokes.
Ah, the pantry. It's not just any pantry; it's a pantry with a view. Two windows bring in ample natural light, and there's enough space to hoard your grocery store conquests. Bulk shopping? Absolutely. Oversized kitchen utensils? You've got room for those too.
Now, let's discuss the dining area, which gracefully flows from the kitchen like a fine wine. It overlooks the picturesque backyard, and once you've relished in gastronomic delights, it leads you to your screened porch.
The perfect spot for a post-dinner nightcap, a romantic rendezvous, or even a midnight tête-à-tête with a captivating novel.
Now, you may be wondering, "Where can I find some privacy in this oasis?" Fear not, for the ingenious split-bedroom design ensures that everyone has their own personal fortress of solitude.
The master suite is nestled away, almost as if it possesses its own private wing – because who wouldn't want to feel like a billionaire? When it's time to unwind, the master bedroom awaits, adorned with vaulted ceilings that reach for the stars, making even the shortest among us feel ten feet tall.
And let's not forget the ensuite bathroom – yes, you heard correctly – featuring a luxurious freestanding tub.
Picture this: you, surrounded by bubbles, a glass of your favorite beverage in hand, and a warm fireplace casting a cozy glow. If that's not the perfect way to end a day, then what is?
And there you have it, ladies and gentlemen, a grand tour of your future abode. Four bedrooms, two and a half baths, a beautifully designed single-story layout, and ample parking for two cars (or perhaps even one car and a group of rollerblading monkeys, if that's your fancy).
This is more than just a house; it is a 2,509 square foot slice of the American dream, elegantly packaged in a contemporary, enticing ensemble.
I eagerly await your presence at the housewarming celebration, where we'll raise a toast to this remarkable haven!"
Plan 70691MK