Plan Details:
4,891 Sq Ft
4 Beds
4.5 Baths
1 Stories
3 Cars
Hello, soon-to-be homeowner! Welcome, take a seat, and let's journey together through a vision of your future dream home.
Imagine the comfort and elegance of a classic European-style abode, complete with the charm of a wrap-around porch for those lazy afternoon sangrias, and a game room that could set the stage for epic Monopoly face-offs. Intrigued? Then buckle up, we're diving in!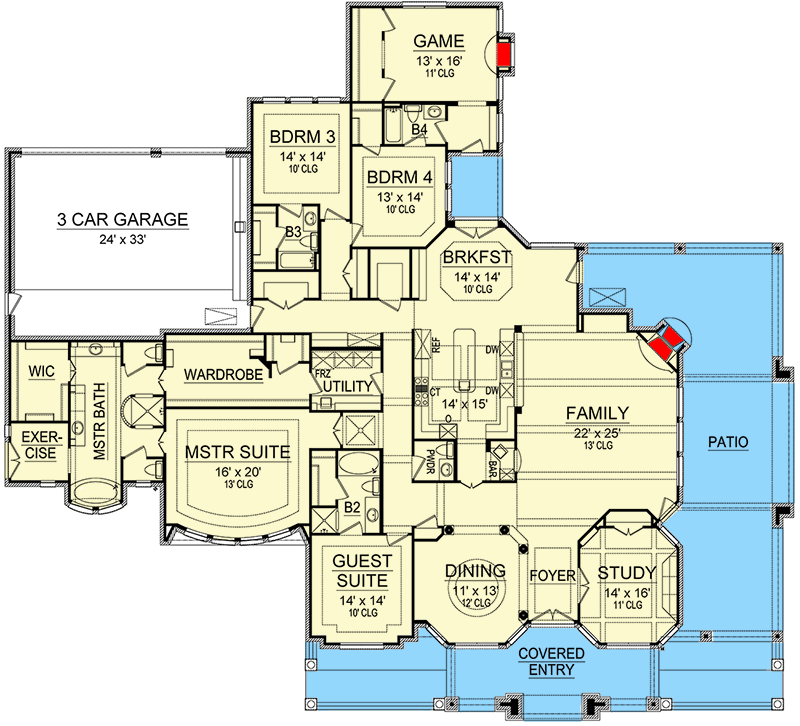 Here's a peculiar fact about me – I'm a sucker for ceilings. Funny, isn't it? But then again, aren't we all closet interior designers in our own quirky ways?
As you step into this architectural beauty, you're instantly greeted by an array of stunning and unique ceiling designs and heights. It's like entering a symphony of shapes and patterns, captivating your eyes from one exquisite form to another.
Word of advice though, don't let your gaze stray too much upwards, you don't want to stumble over your own feet like I did once – it wasn't my most graceful moment.
Venture a bit further and behold the heart of your social gatherings – a generously proportioned dining room. A space ready to host everything from festive holiday dinners to impromptu Tuesday night celebrations.
Can you already picture Aunt Mildred's gasp of admiration as she toasts to your impeccable decor? Right across, a serene study awaits, a haven for your inner writer or the go-to spot for sorting out that nagging tax paperwork.
Then comes the jewel in the crown – the family room. This space embodies the essence of your home. Picture curling up by a quaint fireplace with a mug of hot chocolate, lost in a captivating book or catching up on the latest binge-able series.
Overhead, exposed beams add a touch of rustic charm, amplifying the cozy hygge feeling. And the view from the large windows – a glorious panorama of your wrap-around porch – makes you feel as if the outdoors are an integral part of your living room. Listen carefully and you may just hear the symphony of chirping birds and whispering leaves.
Next stop, the kitchen. It's not just any kitchen, it's a gastronomical playground.
Picture an elegant coffered ceiling, a sprawling island perfect for everything from preparing homemade pizza to hosting impromptu wine and cheese soirées, and a pantry that could easily accommodate a small army's worth of snacks. This, my friends, is where culinary dreams come to life!
As dusk settles, retreat to your spacious master suite. A sanctuary of peace, complete with a garden tub to fulfill your bubble bath dreams, a ceiling that evokes images of a wine barrel (may even inspire you to crack open that bottle of Pinot), and his-and-her walk-in closets so expansive, they might as well come with their own navigation system.
The best part? Direct access to the laundry room – say goodbye to the tedious chore of hauling laundry across the house and hello to convenience.
But we can't forget our guests, right? At the back of the house, the guest bedrooms await. Each equipped with private baths and walk-in closets, they offer a level of comfort and luxury that rivals a 5-star resort. Just be careful – your guests might find it hard to leave such luxurious confines!
Last but certainly not least, the wildcard of this home – the game room. Imagine spirited ping-pong matches, tense poker nights, or simply a cool hangout for some good ol' Mario Kart gaming with the kids. It's the perfect space to create heartwarming memories, truly transforming this house into a home.
And there you have it. A home design that blends European sophistication with practical, family-oriented spaces, all topped off with the delightful bonus of a game room. This, folks, is the stuff dreams are made of. Who says you can't have it all?