Plan Details:
1,292 Sq Ft
3 Beds
2 Baths
1 Stories
1 Cars
Ahoy there, fellow adventurers in the realm of home hunting!
Have you ever found yourself daydreaming about a place that effortlessly combines the rustic charm of the countryside with a touch of contemporary flair?
Well, hold onto your hats, because we're about to take you on an exciting journey through our latest architectural marvel: the 3-bedroom ranch adorned with a magnificent vaulted ceiling.
Stay Tuned: Detailed Plan Video Awaits at the End of This Content!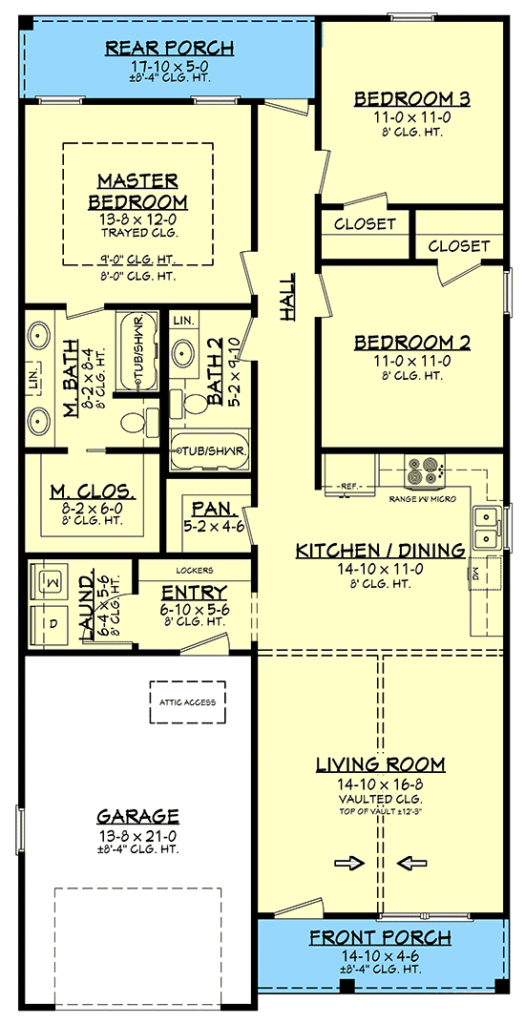 First things first, let's dive into the numbers. At 1,292 square feet, you might initially think, "Hmm, cozy, but maybe a tad snug?" But trust us, the true enchantment lies in the artful utilization of every inch of this space.
Bid farewell to any preconceived notions about traditional ranch houses, as this beauty is the epitome of a modern family's utopia.
Imagine this: You step over the threshold, perhaps kick off your shoes (or your trusty cowboy boots – no judgments here), and what unfolds before your eyes? A sweeping expanse encompassing a living room that seamlessly merges with an inviting eat-in kitchen. Now, let's talk about those vaulted ceilings.
These ceilings aren't merely decorative elements; they're the secret ingredient that makes the room feel like a grand universe unto itself.
Just like how Abraham Lincoln might have felt a little taller donning a top hat, these ceilings add an airy expansiveness that might even inspire you to pen down your own world-altering ideas.
And as you move towards the kitchen, let the enchantment deepen, because here's where the practicality gets even more magical. Behold, the walk-in pantry.
No longer will you wrestle with cramming a year's supply of canned beans into a minuscule overhead cabinet, or engage in a Tetris-style struggle with your cereal boxes.
This pantry is a haven of space, beckoning you to remember that bulk purchase of pasta sauce from last year. It's found its rightful home now. And speaking of homes, let's talk about the master bedroom. It's not just a room; it's a haven.
With a view that spills out onto the rear porch, imagine waking up to the gentle embrace of a sunrise or unwinding while the sun paints the sky in hues of gold and crimson. Yet, the true gem is not just the view itself.
Gaze upwards, and you'll be met with a step ceiling – a subtle yet impactful touch that adds a dash of geometric flair right above your head. It's almost as if the universe is whispering to you each night, "You're extraordinary, and here's a specially designed ceiling to prove it."
Now, for those who view storage as the very essence of a serene existence, the en suite bathroom has your back.
Equipped with four fixtures, and brace yourself for this, a walk-in closet discreetly tucked behind a charming pocket door. Say farewell to the days of battling a cascade of clothes just to locate that one elusive sweater.
Let's turn our attention to bedrooms 2 and 3 – both generously sized and equally brimming with charm.
These spaces are versatile havens, perfect for housing little ones, welcoming guests, or housing that personal gym that you're absolutely committed to using every single day (or let's face it, maybe once a week).
Now, let's chat about the garage. It's a snug spot for one car, front-facing for easy access, but the real magic happens the moment you step inside the house. Enter the mudroom, a sanctuary equipped with built-in lockers.
Imagine hanging up that rain-dappled coat with a satisfied sigh, stowing away those mud-spattered boots, or indulging in a spontaneous victory dance – after all, who can resist the allure of extra storage?
In a nutshell, this 3-bedroom ranch house is akin to a meticulously baked pie: a timeless classic with an unexpected twist concealed within. It radiates the warmth of a country cottage, yet seamlessly integrates all the modern luxuries your heart has yearned for.
If houses could have dating profiles, this one would be inundated with super-likes throughout the day. So, are you ready to embark on this exciting new chapter? The ranch's doors are wide open, waiting to welcome you home.
Plan 51815HZ