Plan Details:
1,827 Sq Ft
3 Beds
2 Baths
1 Stories
2 Cars
Imagine this: you're sitting on a porch swing, basking in the gentle southern breeze, and savoring a glass of sweet tea as the leaves rustle around you. It's a picturesque scene that feels like a dream, right?
Now, picture yourself enjoying this idyllic experience on your very own 945-square-foot porch, nestled in a charming 3-bedroom, 1800-square-foot Southern home plan.
Trust me when I say that once you take a virtual tour of this delightful abode, you'll be tempted to start packing your bags!
So, let's embark on this virtual journey together, and get ready to be captivated by the sheer beauty of this home.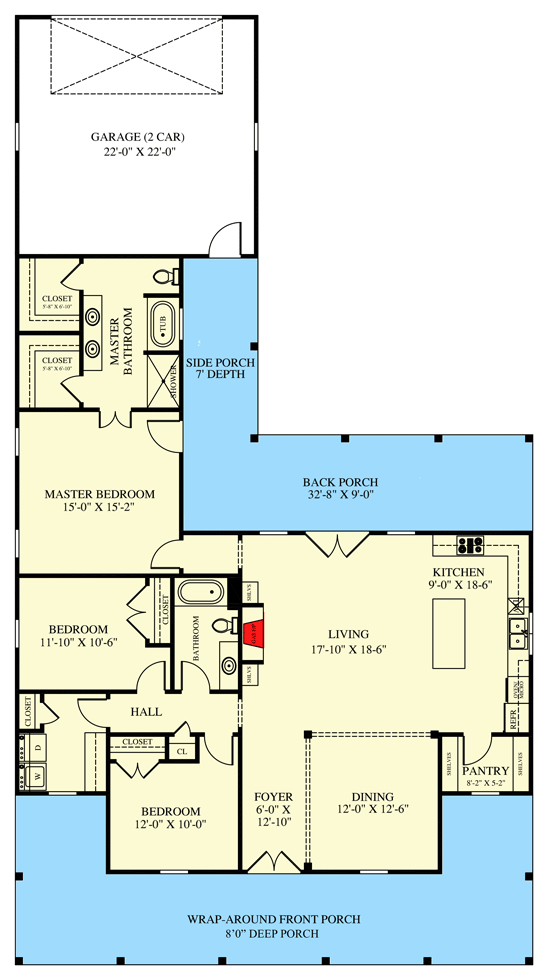 As you meander up the garden path, the first thing that will catch your eye is the grandeur of the house itself, embraced by a porch that stretches across the entire front and lovingly wraps around the corners.
The six stately columns supporting this airy haven might transport you to the world of "Gone with the Wind," evoking fantasies of Scarlett O'Hara and Rhett Butler. Who wouldn't want to immerse themselves in that kind of timeless charm?
Now, let's step inside. The moment you enter, you're greeted by a charming dining room on your right. Can't you just hear the joyful clinking of silverware, the laughter, and the heartfelt stories being shared during a cozy Sunday dinner? It's a space that invites connection and creates lasting memories.
Directly ahead lies the heart of the house—a spacious living room complete with a warm, inviting fireplace. This is the perfect spot to gather with loved ones for some good old-fashioned family time or to indulge in a delightful Netflix binge. After all, who am I to judge?
Sharing the limelight with the living room is a kitchen that would make even a Michelin-star chef break into a wide smile. With L-shaped cabinets embracing the walls and a central prep island, you'll have more countertop space than a finale episode of a baking show.
This is where school lunches are prepared, late-night snacks are raided, and Thanksgiving turkeys are expertly carved with ceremonial flair.
But what's a kitchen without a grill nearby? That's where our L-shaped rear porch comes into play. Here, you can channel your inner pitmaster while keeping a watchful eye on the kids playing in the yard.
Moreover, the porch conveniently leads to a double garage—an absolute blessing on those rainy days when you're hauling in groceries and trying to avoid getting soaked.
Now, let's venture towards the back of the home, where you'll discover the master bedroom—your personal sanctuary.
This room boasts not just one, but two walk-in closets. So, say goodbye to the "his and her" closet war; it's officially over. And the attached 5-fixture bathroom? It's like having a personal spa at your fingertips—a place where you can wash away the worries of the day and rejuvenate your senses.
As for bedrooms 2 and 3, they are thoughtfully nestled towards the front of the house, making them perfect for kids, guests, or even a home office (thanks to the pandemic, right?). These rooms share a well-appointed bathroom, putting an end to the morning rush-hour traffic in the hallway.
And here's the cherry on top: the laundry room is conveniently located close to these bedrooms. No more hauling loads of laundry up and down the stairs—your back will undoubtedly thank you for that.
So, there you have it, my friends—an intimate glimpse into your potential dream home. This 3-bedroom, 1800-square-foot Southern home plan, with its whopping 945 square feet of porch space, offers more than just a house; it presents a lifestyle.
It's where cherished family memories are created, where comfort effortlessly merges with style, and where southern charm is served with a side of modern convenience.
So, kick off your shoes, take a sip of that sweet tea, and allow yourself to envision your life unfolding in this exquisite southern belle of a home.
Because in this haven, every day is a porch day—a day to embrace the beauty of life and create everlasting moments.
Plan 521028TTL