Plan Details:
3,432 Sq Ft
3 Beds
3.5 Baths
1 Stories
4 Cars
Step into a world of suburban bliss, where dreams become reality and luxury takes center stage. Brace yourself for a captivating journey as I unveil a remarkable 3-bedroom, 3.5-bathroom Craftsman ranch that transcends mere bricks and mortar.
This architectural masterpiece is a true testament to sophistication and prestige—a statement piece that will leave your neighbors green with envy.
From the moment you set eyes on the four-car driveway, designed to accommodate your collection of exquisite automobiles, you know you're about to witness something extraordinary.
Picture your favorite cake, but instead of sugar, imagine it crafted from 3,432 square feet of sheer opulence.
This is no ordinary confection; it's a decadent delight with layer upon layer of luxury that will leave you craving for more.
As you approach the house, prepare to be enthralled by its outdoor wonderland—a haven for nature enthusiasts. A covered front porch beckons you with the promise of lazy afternoons on rocking chairs, sipping mint juleps while engrossed in a captivating summer romance novel.
But that's not all. There are not one, but two rear decks, ideal for hosting sun-soaked BBQ parties that will create memories to last a lifetime.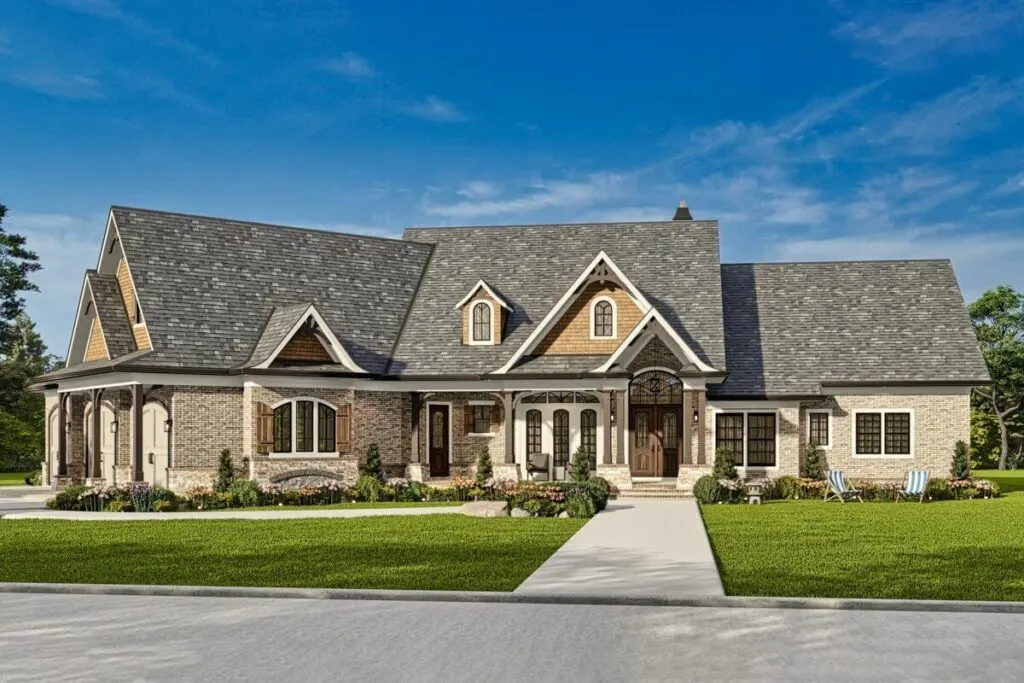 To add to the allure, an outdoor fireplace awaits, inviting you to roast marshmallows under a starlit sky. The rustic ambiance will transport you to an Instagram-worthy oasis, where tranquility and beauty meld seamlessly.
Now, step through the double doors and be prepared to fall head-over-heels for the understated charm of the brick and shingle exterior. It's as if the house itself is adorned in a cozy, stylish sweater, warmly inviting you inside.
The grand entrance of the vaulted foyer sets the stage for the everyday splendor you deserve. Just like a character from a 1950s sitcom, casually toss your hat onto the hat stand and revel in the glory that surrounds you.
To the left, an open formal dining room awaits, yearning to play host to lively dinner parties and celebrations. To the right, a lodge room that could rival the halls of a medieval castle.
With a soaring 20-foot ceiling, a roaring fireplace, and a wall of windows that frames your backyard paradise, this room exudes an air of regality fit for kings and queens.
But this house is not content with mere extravagance; it possesses a heart that matches its opulence. At its core, a breakfast nook beckons you, practically demanding Sunday mornings filled with fluffy pancakes and steaming mugs of coffee.
Adjacent to this inviting space lies the kitchen—a culinary haven designed to minimize your steps after preparing breakfast. And let's not forget the mud/laundry room, perfectly positioned to handle the laundry that comes with a life as fabulous as yours.
Prepare to be astounded by the master suite—a sanctuary that transcends the definition of a room. Equipped with a direct door to the rear deck, it caters to night owls and early birds alike, providing the perfect escape for moments of solitude or breathtaking morning views.
The bathroom, reminiscent of a spa, boasts lavish features including an oversized shower, a stand-alone tub, a water closet, and double vanity sinks—because why settle for sharing when you can revel in your own personal space?
And as if that weren't enough, his and hers walk-in closets grace the room, transforming mere storage spaces into fashion runways waiting to showcase your style.
Across the hall, you'll discover a cozy guest room, ready to welcome visitors or adapt to your heart's desires—a nursery, a study, or whatever your imagination desires.
And let's not forget the third bedroom, a hidden gem that caters to long-term guests, a teenager seeking solitude, or that eccentric uncle who graces you with his presence each summer.
This house defies convention by effortlessly blending rustic charm with refined elegance, offering a cozy sanctuary without sacrificing space. It embraces the great outdoors while flaunting its awe-inspiring interiors, creating an unrivaled living experience.
So here's to the 3-Bed Craftsman Ranch House Plan—a home that transcends mere architecture and becomes an embodiment of a lifestyle. It promises not just a dwelling, but an extraordinary journey filled with beauty, comfort, and memories waiting to be made.
Plan 25792GE