Plan Details:
2,752 Sq Ft
3 Beds
2.5 Baths
1 Stories
3 Cars
Get ready to be enthralled, dear reader.
Coffee cup in hand, seatbelt securely fastened; we're about to embark on an immersive tour of a dwelling so enchanting that you might want to immediately call the movers.
Strap in, let's get started.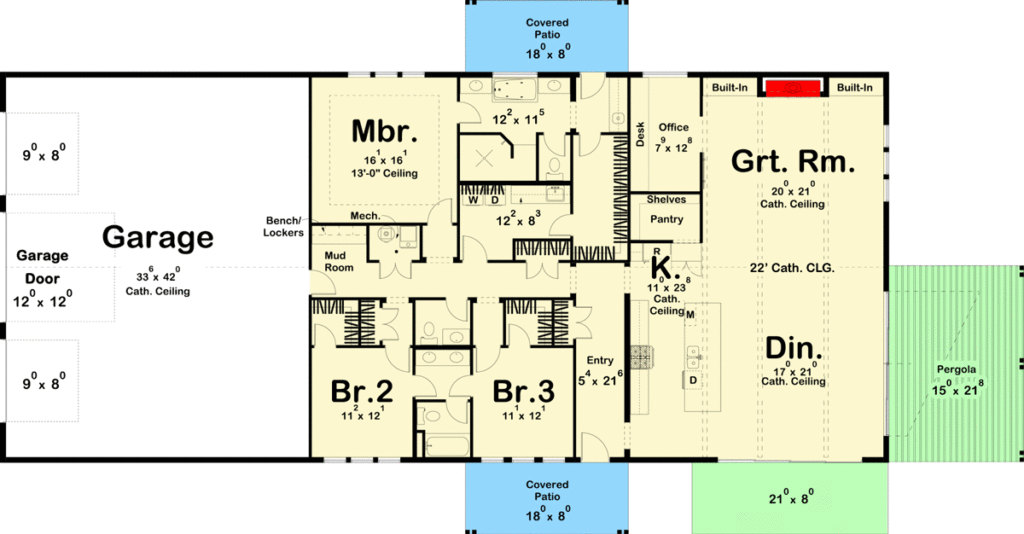 You might be wondering, "What on Earth is a barndominium?" Trust me, I was initially just as puzzled. It isn't quite a barn, nor is it a conventional condominium. Instead, it's an exquisite amalgamation of both.
Think of a barn's rustic allure elegantly intertwined with the luxury of a contemporary abode, and you'll have a clear picture of a barndominium!
Prepare to be swept off your feet by this stunning 3-bedroom marvel; it's no ordinary home. Imagine an epitome of architectural genius, crowned with a gleaming standing seam metal roof, adorned with charming board and batten siding, and completed with an expansive pergola that could put even the Hanging Gardens of Babylon to shame.
As soon as you step foot inside, you're greeted by an overwhelming sense of space. The generous 2,752 square foot floor plan, flanked by 12-foot walls, offers enough room to host a grand soirée that would put even "Dancing with the Stars" to shame.
The open concept living area is a social maven's paradise. The seamless blend of the great room, dining room, and kitchen crafts a degree of cohesion that rivals that of the Avengers.
Bask under the magnificent cathedral ceiling, boasting exposed beams that invite your imagination to soar. The great room is more than just great, it's a spectacle.
Nestled beside the built-in bookshelves, the crackling fireplace offers a taste of a cozy ski lodge, minus the shivers and chills.
Now, let's shift our gaze to the kitchen. Often regarded as the heart of a home, this one pulsates with life, centered around a large island that conveniently doubles as a snack bar.
It also boasts a walk-in pantry so spacious that you might need a GPS to navigate it. Who knew a pantry could double up as a perfect hide-and-seek spot?
Adjacent to the kitchen, the dining room seamlessly transitions to a covered patio via a large sliding glass door. Picture enjoying a breezy dinner or a sun-kissed breakfast here, and you'll understand the essence of blissful living.
Now, let's journey to the left wing of the home, home to the master suite – a tranquil sanctuary, far from just being a bedroom.
With a trayed ceiling that elevates your status to that of royalty, the master bathroom mirrors a mini-spa, complete with a soaking tub, dual vanities, a private toilet area, and a walk-in shower. Oh, and let's not forget the bonus: a coffee bar that opens to a private patio – an antidote to groggy mornings!
Opposite this haven, Bedrooms 2 and 3 operate as a dynamic duo, sharing a spacious Jack and Jill bathroom, each with access to their own walk-in closet. It's the equivalent of your wardrobe attaining celebrity status!
And for those with a fondness for RV adventures or those with an automobile that feels more like a mechanical beast, we've got you covered.
The generous 3-car garage comes with an oversized door and an ample bay for your mechanical companions. The garage also conveniently leads to a practical mudroom, complete with a bench and lockers. Bid adieu to muddy footprints and welcome an era of pristine cleanliness!
By now, you must be picturing yourself in this dream abode, an ideal fusion of rural tranquillity and urban comfort, all encapsulated within one roof.
This isn't just a house; it's an immersive experience, a lifestyle choice, a haven that you could call your own. As our tour through this captivating barndominium concludes, ask yourself – are your suitcases ready yet?
Plan 623082DJ