Nothing is more annoying than a beeping air fryer, right? Well, it's even worse when an air fryer keeps turning off and you need to find out why, if you're facing the same problematic situation.
Why does my air fryer keep turning off?
An air fryer might turn off continuously or unexpectedly due to several reasons. The main reason being a problem with the electrical systems or the power cord connections of the air fryer. Sometimes same may occur if there are loose components, an open lid, or a cracked exterior.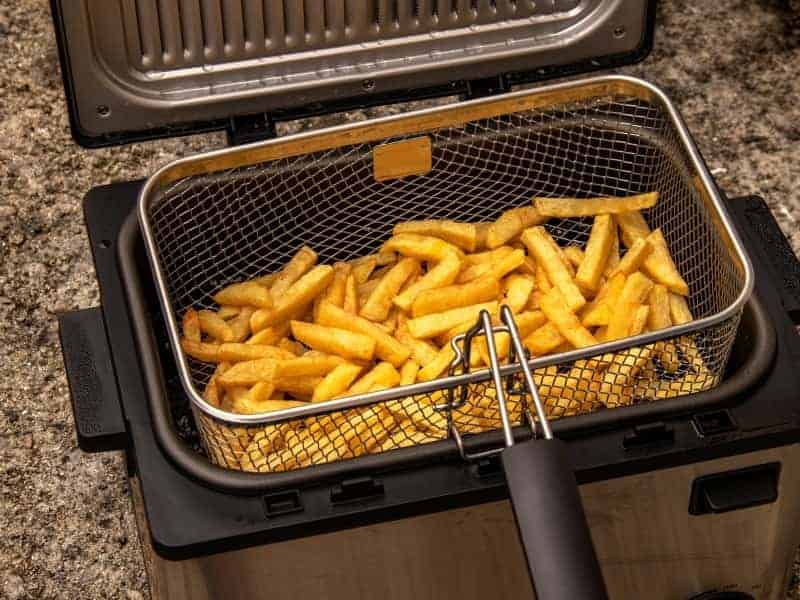 Do all air fryers keep turning off?
All air fryers do not keep turning off. If you have one that is exhibiting a problem as such, it certainly means that you need to plug it off and check for loose connections or components.
If you can't figure out what the issue is, it is always wise to contact customer service or send it for repair. You can also read the manual and try a regular cleaning and maintenance routine to prevent such issues.
3 reason why does my air fryer keep shutting off:
Let's find out the reason behind your air fryer keep shutting off –
Problems with electrical connections:
Failed or faulty electrical connections of the air fryers are one of the most common issues that make your air fryer shut down without notice.
The power cord may become loose or damaged, causing an interruption in the electrical supply to the appliance. Other times, the cable connecting the air fryer to the outlet may become frayed, causing similar issues.
It is worth mentioning that in most electrical components, a failed circuit breaker can be the culprit behind the shutting off of an air fryer.
Loose parts in the air fryer:
Loose components in the air fryer can cause more trouble than you think. From loud rattling noises to continuous and sudden shutdowns of the appliance, you can expect all kinds of issues.
Sometimes there are missing components that hinder the smooth function of an air fryer, and if it's an important one, your air fryer would shut down once in a while.
Displaced lids, cracks on the appliance are all parts of a faulty appliance that may cause issues like closing off without you touching the switch button.
Sometimes few air fryers also have sensors that become used up over time and lose their efficacy. These sensors are often responsible for your air fryer shutting down suddenly.
Misuse or lack of maintenance:
There's a reason why every appliance like an air fryer comes with a manual that nobody usually reads but should.
These manuals help you understand how to properly maintain and use the air fryer. If you or any family member has pushed the wrong button or put on an incorrect setting, it is most likely that your air fryer might turn off unexpectedly.
Likewise, lack of cleaning or maintenance can also make your air fryer act funnily.
Do air fryers turn off automatically?
Air fryers are usually designed with an auto shut-off feature, that turns off the air fryer once the cooking is done.
This is a safety measure as air fryers use high temperatures for cooking. If it turns off automatically, your appliance will be saved from overheating damage. You may want to open the plug and allow the fryer to cool.
What do you do when your air fryer stops working?
An air fryer keeps turning off, it worries us. Here is what you can do immediately:
Check and fix power cord connections:
Most times that your air fryer might have some mechanical issue and turn off out of the blue would be owing to lose cord connections, damaged fuse, and displaced plugging.
Check and plug the loose ends. If you notice that any of the cables are damaged, try to replace or repair those immediately. You may also want to check if the problem is with the circuit breaker.
If so, it is always wise to the electrical appliance or gets an electrician to fix the connections.
Go through the instruction manual thoroughly:
Believe it or not, consumers have complained about their air fryers shutting down immediately after they have misused them.
This is when you need to take the help of the instruction manual that comes in with it. Other than that, manuals have clear instructions on what not to do when it comes to appliances like air fryers.
Check for the maintenance routine and follow that so that the fryer does not shut down owing to your own mistake or misuse.
Talk to the professionals for help:
If you have done your share of checking and trying to fix the issue and still come out unsuccessful, you may want to consider taking in professional help.
Of course, customer service would help to pinpoint or narrow down what exactly has gone wrong. You can also directly send it to your reliable repair shop. This way, you would know that their solution is undisputable to the actual issue.
How to fix the air fryer that keeps turning off?
Here are a few steps you can take to make an attempt to fix the air fryer:
Step 1:
At first, you need to turn off your air fryer and unplug it from the power outlet.
Following that, let the fryer reach a steady room temperature if you have just cooked a meal or were in the middle of it.
Step 2:
You then need to make a run of checks on the electrical system of your kitchen appliances. The electrical system is interrelated in a house and one appliance can affect another.
Check the wires and power cable and put them in rightly. If cords are tangled or displaced, fix them accordingly. Fix or replace the fuse in the plug if needed.
Step 3:
If all is well with the power system and connections, move on to the air fryer itself.
If the door is open or displaced, put it in place. Tighten any loose parts and fix any cracks on the appliance.
Step 4:
Keep the fryer unplugged, and remove the components inside. Next, warm soapy water to clean the insides of the air fryer.
You can also use a clean cloth to clean the walls of the fryer. Also, clean the fixed parts of the fryer. Dry everything inside completely.
Step 5:
Turn on the air fryer but before that make sure all settings and sensors are in correct operation. If your air fryer still shuts down, you may have to contact a repair shop or a professional.
Do air fryers have fuses?
The air fryer will have fuses depending on what kind of plug the cord is connected to. If the plug is 3 pin that goes into any socket, the air fryers are equipped with a fuse.
If the air fryer is connected with a plug, that is more traditional with no points and a flatterassembly, the fryer does not have a fuse.
Other than that, if the plug has screws bolted on it, you would know that the plug has a fuse inside. If the fuse is damaged, it is most likely that the air fryer will stop working.
How to turn off the air fryer?
Turning off the air fryer is the easiest of tasks even for beginner users. Like every appliance, there is an on and off button on the front or top of the air fryer.
Whether it's a digital air fryer or an analog one, all you need to do is push the button to turn it off. If your air fryer comes with a sensor, make sure to operate the settings according to the manual instructions.
How to maintain an air fryer?
Maintaining an air fryer is simple and necessary for the durability of the appliance. One of the ways includes cleaning the fryer after every use. You can use dry clothes to wipe off the oiliness.
At times, deep cleaning with warm water a bar of soap is also necessary. Make sure that there is no food debris or accumulated dirt inside the tray. If you use oil in your air frying, you may want to clean it more often.
Checking up for cracked parts, faulty or loose components is also part of the routine. You may as well check for the cord connections and power plug-in while you are cleaning your air fryer.
After you have cleaned the air fryer, it is equally important to dry the appliance.
Contact Brand Support for Repair & Service
In case if you have any other issues with your air fryer and cannot fix them, you can contact your air fryer brand repair and service center for further assistance.
Final Thoughts:
If you have been facing the dreaded issue of an air fryer turning off, you need to take a look at the electrical connections. Check the plug points and circuit breaker. You may also have to look for broken or loose parts inside the fryer. If you can't fix it, always call for professional help.
Frequently Asked Questions:
Does an Air Fryer Make Food Crispy?
Does an Air Fryer Add Calories?
Can Air Fryer Replace Toaster Oven?
How Full Can You Fill an Air Fryer Basket?