There is no better appliance for health conscious people who want to have some crispy goodness without too much oil than an air fryer. But it is surely expensive, and you'd want to know if air fryers do make foods crispy!?
Does an air fryer make food crispy?
Air fryers can certainly make food crispy to some extent due to high heat circulation. Food cooked in an air fryer, however, would not be as crispy as food fried in a deep fryer. Dry food can be cooked for a crunchy coating, whereas wet or battered food would not be as crispy as you would expect.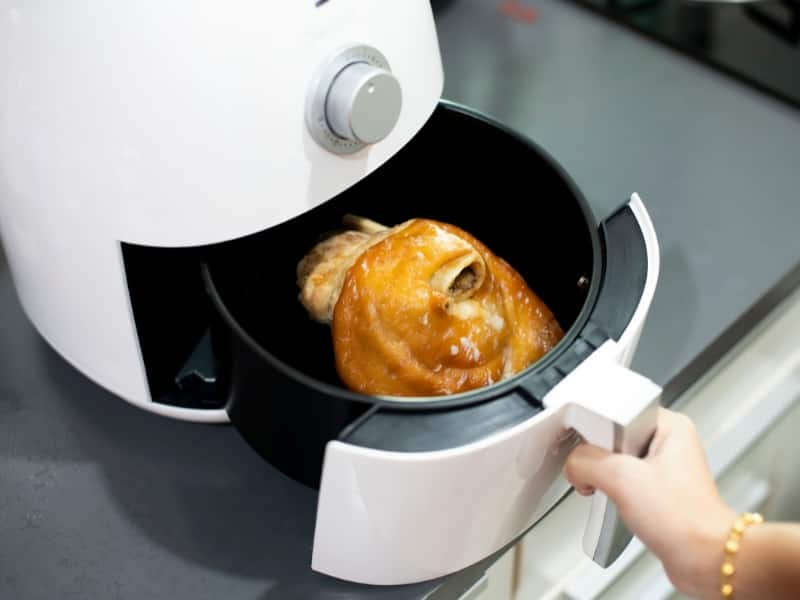 Do air fryers really make food crispy?
Air fryers can make dry food such as French fries, frozen food, and certain vegetables and roasted protein crispy if it is preheated, spaced out, and sprayed with adequate oil.
Maillard's chemical effect makes sure the outside of dry foods comes out crispy as you like. Still, air fryers cannot fry the food as deep fryers do in oil, and hence the crispy effect is not as much as you would get when frying in a pan full of oil.
How do air fryers make food crispy?
The basic mechanism that air fryers use to make food crispy involves heated air being radiated from the top of the fryer, with the help of the heating elements. This heat is then circulated around the food at very high speeds.
As the food is placed in a basket, this makes sure that the hot air comes in contact with every part of the food alike.
Now as the heat rises up and increases to about 300 degrees Fahrenheit, that is when the speeding heated air contacts the food to make a crispy outer layer. Here, the Maillard effect is created as well.
The Maillard effect is similar to caramelization, but instead, this is a chemical reaction between an amino acid and a reducing sugar that causes the browning and crunchy effect on food.
Why doesn't my air fryer food get crispy?
There are several reasons why your air fryer is not producing the crisp that you desire in your food. The following is a list of possible explanations:
You are stuffing too much food:
No matter how big your air fryer is, and how large the capacity of your appliance is, it is not meant to cook very large meals. In most cases, we tend to forget this very fact and overcrowd the fryer.
When you put too many vegetables or too many pieces of nuggets inside the fryer, the hot air circulation that mainly cooks your food and makes it crispy is obstructed.
If your basket is too full of raw food to be cooked, it is most likely that your cooking time will increase, and even so, end in meals that are not crispy or fully cooked.
You have forgotten to preheat or observe:
Attaining the right shade of browning and crisp is only a dream without using enough oil. Let's all agree that "frying" is not possible without heaps of oil.
An air fryer, which is only a healthy alternative for people who really want to have crispy food, will fail to a product that crisps if it is not preheated before.
This will also make sure that the heat rises even more quickly to deliver that desired crispiness.
Your duty does not end at preheating your air fryer. If you go about your way while the food is cooking, you will end up with less crispy food.
This is because you'll need to turn and flip your food and check the temperature. Not doing so will result in less crisp meals.
You are frying wet or battered food:
Oftentimes, users make a very common mistake of wanting to fry food coated with batter in air fryers, just as they do in deep fryers.
You cannot forget that deep fryers use a lot of oil to attain crispiness whereas air fryers use a maximum of 2 tablespoons of it. To expect an air fryer to fry and mate the coating crisp of wet food is unfair and illogical.
Using too much oil in dry or wet food can also be an issue in making your food crustier.
How do you make food crispy in an air fryer?
If your air fryer is not making it as crispy as you would expect it to, there are a few ways to improve this. The following are some tips you can use to cook crispy food in your air fryer:
Use an appropriate amount of oil:
You'll notice that on the user manuals of air fryers, the manufacturers often suggest you use a bit of oil when trying to achieve that crunchy golden deliciousness.
While you can certainly go ahead and cook meals completely oil free, the taste and the crispiness would be completely different. To attain the right amount of crunch and a golden coat, you'll have to use some oil.
As per the rule of thumb, two to three tablespoons of oil would be enough. However, you'll need to spread out the oil all through the food evenly and not just poor it.
For that, you can either use a spray, brush in addition to a PAM spritz for the desired finish.
After cooking oily food, be sure to clean your air fryer properly, and once before the next use.
Preheat and set the correct time and temperature:
If you are planning to cook dry food and also wish to have that crispy coating without having to submerge the good into a well of oil, you'll need to make sure you have a few controls in place.
For starters, make sure you preheat your air fryer. Yes, we know, air fryers are quick cookers and don't require preheating. However, when it comes to achieving a golden crunch on the outside, pre heating is a must.
Other than that, always make sure that the cooking time and temperature for what you are about to cook is just right. More or less of that could either result in uncooked food or burnt food.
As different food has different cooking times and temperatures, you can use converters and charts to help you with the right stats.
Cook small amounts of food at a time:
You are using the right amount of oil, preheating your air fryers, and have all the right control settings in place.
And yet, your food is coming out soggier with no crisp at all. If you've done it all right till now, you'll have to make sure that you don't overcrowd your air fryer.
Whether you are frying nuggets or fries, make sure to put in a small amount of raw food and spray oil on them evenly.
How much do air fryers make food crispy?
Firstly, it is important to push aside the confusion that air fryers "fry" the food. Frying is only possible when you are heating good amounts of oil and submerging the food into the hot oil to cook.
Since air frying does not involve so much oil, the crispiness of the food is also not as much as you would expect from foods made in deep fryers.
Even then, air fryers do a great job in making dry food like French fries, frozen food, even tofu crispy enough that is comparable to deep frying.
However, when making battered or wet food, the crispiness is not so noticeable or crunchy and sides down after some time.
What kind of foods come out crispy in an air fryer?
Here is a list of food that you can put into the air fryer and expect a crispy meal after its cooked:
French fries
Cauliflower tots
Brussels sprouts
Onion
Apple chips
Tofu
Roasted beef or chicken
Bacon
Chicken wings
Empanadas
Chickpeas
Which Air Fryer makes the crispiest food? – Best air fryer that makes food crispy
Here are some of the air fryers that are efficient and deliver just what you need: crispy, golden crunch!
Instant Vortex 4 in 1 Air Fryer
Ninja Air Fryer
COSORI Air Fryer Max XL
Gourmia 6-qt. Digital Air Fryer
Cuisinart TOA-60 Air Fryer Toaster Oven
Can you put battered food in an air fryer?
Surely you can put battered food in an air fryer and you can also cook them evenly.
Yet, the end result would not be as crispy and compared to normal frying. Without the right temperature and timing, it could also turn out to be soggy.
Freezing the battered food before air frying it, however, can result in a more crispy finish.
Do air fryers need oil?
Air fryers don't necessarily need oil to cook but for a certain food, it is advisable to use a little bit of oil. For foods that need a crispy coating, 2 to 3 tablespoons of oil should be sprayed on the food.
You may want to be careful to not use too much oil in the air fryer. This would result in soggy food that would barely hold on to the crunchiness minutes after it has been served.
Contact Brand Support for Repair & Service
In case if you have any other issues with your air fryer and cannot fix them, you can contact your air fryer brand repair and service center for further assistance.
Final Thoughts
As high heat is circulated around the food inside an air fryer, the heated air comes in contact with the food inside the air fryer and produces a crispy and golden coating. Dry food is cooked to crispier if 2 tablespoons of oil are used, compared to wet or battered food.
Frequently Asked Questions:
Can an Air Fryer Replace a Microwave?
Do Air Fryers Damage Countertops?
Are Air Fryers Allowed in Dorms?