Air fryers are a lifesaver because it makes our time in the kitchen easier. It can bake, roast, and make a great replacement for an oven. They are quite popular on the market today and reasonably so. Everyone faces problems with appliances from time to time.
Hence, it's okay if your air fryer is not turning on. Sometimes these issues are easy to fix. Let's find out why these problems occur and how to solve them.
Why won't my air fryer turn on?
Your air fryer might not turn on because of many reasons whether it is brand new or old. This can be because of plug-in, faulty components, button issues, etc. The problem could be unrelated to your air fryer and your socket could be the reason. Some of the problems can be unfixable.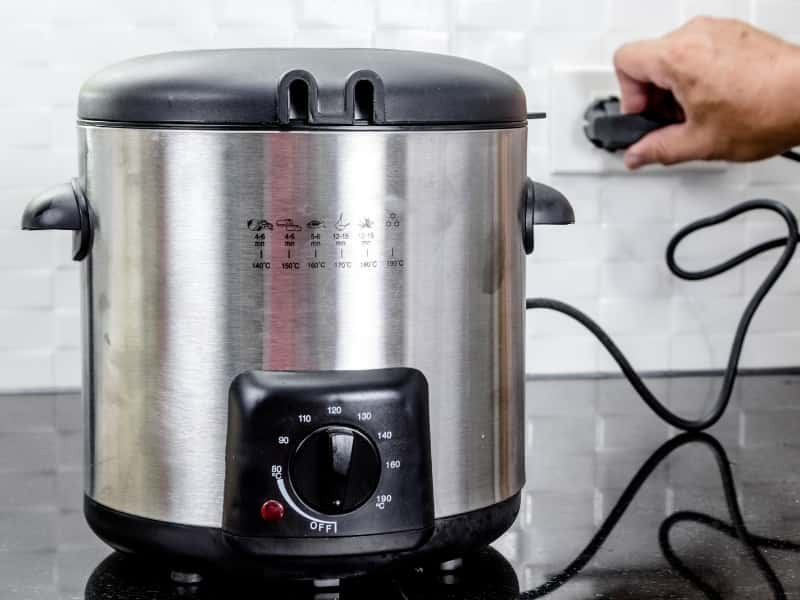 Why do air fryers stop working?
Air fryers can stop working for several reasons. It could happen on the first day or four years later. Like every other appliance, an air fryer will stop working at one point no matter how good it is. Let's find out why this happens.
Regular or Prolonged Issues:
All the parts inside the air fryer are connected in a way. When an issue is not fixed or looked into, the irregularity can make other parts stop working.
This is why it is important to fix the problem right away instead of letting it linger.
Damaged component:
Some components cannot be replaced or repaired. This can eventually make your air fryer stop working. You can find replacement parts from the manufacturer.
Sometimes the repairs are more expensive than purchasing a brand new air fryer.
Short Circuit:
A short circuit is a leading cause of fires and appliance damage. It is mostly a result of wiring issues such as defective wiring insulation and loose connections. They can be fixed but some short circuits can damage your unit completely.
You can't always identify a short circuit.
Faulty Appliance:
Manufacturing defects are pretty common when it comes to appliances. This is why you should make sure your air fryer comes with a warranty or at least a service warranty.
Test run the product after you purchase it to ensure everything is working properly.
Overuse and Poor maintenance:
This is the number 1 reason why air fryers stop working. Overusing the air fryer or keeping it plugged in at all times can make it overheat.
For this reason, you should let it rest from time to time and let it cool down before you use it again. Every appliance needs to be cared for. Regularly clean debris or any remaining oil or food from the air fryer.
How do you fix an air fryer that won't turn on?
There are numerous ways to fix an air fryer that won't turn on. Here are some easy and common methods that you can try out at home.
Reset and Reboot:
Sometimes it is as easy as that! Try rebooting first. Unplug the air fryer and let it come back to normal temperature. Give it some time to rest before plugging it back in. If that doesn't work, you can reset it.
It could fix any code or settings error.
Replace blown fuse:
If your air fryer comes with a fuse, it won't work if the fuse has blown. Try this method last after checking all the cables as you will have to open up the plug. Replace the fuse and problem solved!
Change power outlet:
Sometimes the air fryer is not at fault and instead, the power socket could be defective. To check if that's causing the problem, connect another appliance or device to see if it works.
That will help you find out if the socket is working or not. You could either change the socket or connect your air fryer to another power outlet.
Position the air fryer basket properly:
This does not apply to all air fryers. The misplaced basket could be blocking the door from closing properly. This is why always place it in the correct manner before turning your air fryer on.
Replace any damaged cables:
Cables get mishandled all the time. They have to tolerate bends, twists, and stretches which might damage them. If your cable gets damaged, your unit will no longer receive power from the outlet.
Replace any damaged cables including cuts and exposed wires. Do this with caution as you might get an electric shock.
What do you do when your air fryer won't turn on?
You should first unplug the appliance and list down possible reasons. Then check them one by one until you find the root of the problem. Clean the appliances to see if any interior components are stuck due to dirt or debris.
Before putting back the removable components, let them dry. If you hear any cluttering noise from the top of the fryer, open up the dial and see if any screws are loose. Even something as little as a loose screw can prevent it from turning on.
If nothing else works, the last thing to do would be to contact the manufacturer of the product. They might replace or get it fixed. It is better if you have a warranty, then you might be able to repair or replace it free of cost.
You could also hire a repairman to come and fix it or take it to a repair shop to get it fixed.
Proper maintenance is the best way to increase the lifespan of your air fryer.
How do I turn on my air fryer?
The first thing you should do is read the instruction manual. Every model varies by a bit. They could have different ways or buttons to turn the air fryer on. Before turning it on, wash the air fryer and remove all packaging.
The power button is usually easy to find. They resemble the symbol of most appliances. Press on the power button. Then use the + and – buttons to adjust the temperature. The run button is different from the power button in most air fryers. Press the play/run button to get started.
This might not be the case for all air fryers which is why it is important to check what the manual says. Instead of the power button symbol, your air fryer could have a 'Start/Stop' button.
How do you reset an air fryer?
Resetting an air fryer is quite simple. If your air fryer has overheated or if it won't turn on, resetting often fixes these problems. The reset point of most air fryers is located beneath the appliance. Turn over the unit and beside the barcode/name tag, you'll find the reset point.
It is called the automatic reset button. It might have 'Reset' written beside it.
Take any pointy object such as the tip of a screwdriver or a marker and use it to press the reset point. Before you do this, make sure to unplug the appliance and let it cool down first. After you are done resetting it, plug it back in and turn on the air fryer.
This does not apply to every air fryer, read the manual for more information.
Do air fryers have fuses?
This depends on what kind of cable you have. Not all plugs come with a fuse and it mostly depends country-wise. The design and brand play a role too. Sometimes built-in fuses cannot be changed which is an issue but the majority can be replaced.
You can find out if your plug has a built-in fuse or not and you don't necessarily have to be an electrician for that. Most plugs with 3 pins have a fuse whereas for the 2 pins one might not have a fuse.
Another thing you could do is open up the plug to check if your plug comes with a fuse. Blown fuses are identified this way. If your plug is put together using screws, you still have a chance to put a fuse inside. Having a fuse is safer than not having one.
Why does my air fryer keep beeping?
It might simply beep when it is done cooking or when it faces issues. Both types of beeping are different. If the beeping won't stop at all then it could be a result of a greater problem. It is likely to beep when your air fryer has overheated or when there is an error function.
The beeping can be caused by many things starting from the cable, external and internal parts, of the air fryer.
Often, the timer causes the beeping sound. This happens when the timer is broken or not working properly. If you can't find the root of the problem, you should check the manual of the air fryer. It should state why the beeping occurs.
How do I stop my air fryer from beeping?
There are many ways to stop your air fryer from beeping. The basic thing to do is unplug it and plug it back in after a while. This is called rebooting. Wait around 10 to 15 minutes before plugging it back in. If that does not fix the issue, check the power circuit.
You might need to remove your power plug.
Check the timer. If the timer is malfunctioning, you will have to replace it. A defective fuse can also cause beeping so you should check if you need to replace it or not. You can replace the fuse yourself at home by watching instruction videos.
If any electrical connection is creating this problem, tighten any loose parts. Clear dirt around any buttons that are stuck.
Contact Brand Support for Repair & Service
In case if you have any other issues with your air fryer and cannot fix them, you can contact your air fryer brand repair and service center for further assistance.
Always read the manual thoroughly before trying to fix your air fryer on your own. You can also look up the manufacturer's website to find solutions. If you can't fix it at home, try a repair service. It's better to buy a new air fryer instead of spending a lot of money on repair services.
Frequently Asked Questions:
Can I Use Steel, Ceramic, & Plastic Bowls in An Air Fryer?
What Can You Cook in an Air Fryer?
Can Air Fryers Use Extension Cords?
How Many Amps Does An Air Fryer Use?