Air fryers are a great as well as a cheap way to cook food. Not only is it healthy but it takes less effort while cooking up the food swiftly. If you have bought an air fryer and are facing problems such as it burning up your food then do not panic.
You might be making simple mistakes that lead up to that thus you should be thoroughly informed of the reason why this might be occurring.
Why does my air fryer burn food?
The most common mistake you might make while cooking food in your air fryer is having a higher temperature or a higher cooking time. Air fryers are not like your traditional ovens and both of these mistakes as well as over greasing can lead to you burning your food.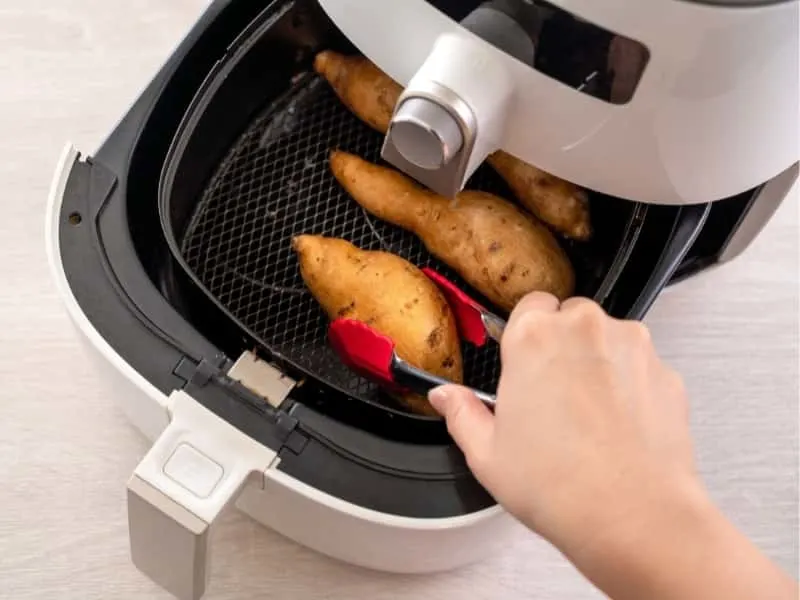 Can food burn in an air fryer?
Yes, it is very common for people to accidentally burn food in an air fryer because they think it functions like conventional ovens. Air fryers do not function like conventional ovens and if you do not keep your eye on the food it can get burnt pretty easily.
Some of the more common reasons for people to burn their food is because they think the mechanism is similar to ovens and thus end up keeping the cooking period or the temperature the same.
This is a big mistake that can end up ruining your dinner and have you order takeout food instead.
Why does my air fryer keep burning?
If your air fryer keeps burning your food then do not panic. Instead, there are some common reasons that you should look out for.
Not setting the right cooking time:
If you are using a previous recipe of yours then you need to set the time accordingly. Air fryers are particularly sensitive because they can go from slightly done to overcooked and burnt in a very short time.
Not all air fryers have the same cooking time and you should read the instruction manuals clearly and keep an eye out on your food until you can determine the perfect cooking time.
High temperature:
All air fryers require to lower the cooking temperatures by at least twenty-five degrees of Fahrenheit. Not all food requires a high temperature to cook and more often than not a higher temperature will end up burning your food.
You should also consider double-checking the temperature of your air fryer because some air fryers may end up being faulty. The temperature settings might not be working properly and your air fryer might be running hotter than you think.
If your air fryer is old this is a more common scenario as the temperature dials become worn out and show incorrect readings.
Too little oil:
Even though the name in itself suggests that you can cook food without oil. However, you must grease your air fryer and coat the food with some oil before cooking something.
If you use too little oil your food might end up burning. If you are health conscious then you can opt for cooking spray.
Too much oil:
It can go on both ends of a spectrum and you might just be using too much oil to grease your pan.
Too much oil can lead to your food getting too cooked and as a result burning up. Not only that, but it is also a fire risk and you might see smoke coming out of your air fryer.
Smoke point of oil:
This is a very common mistake made by many new users of air fryers. Certain oils cannot be used in air fryers.
These are oils with a smoke point that is way too high and since the air fryer tends to get very hot and might end up burning your food or worse, be a fire risk.
Using PAM:
If you use PAM cookers it might end up damaging the coating of your already non-stick air fryer. As a result, it might start affecting how your food is cooking and end up burning it.
If you have noticed that the coat of your air fryer has started to flake off then this might be the cause behind it.
Overcrowding:
If your food is not spread out evenly in your air fryer then there is a high chance that you will end up with food that is half not cooked properly and half that is burnt.
Venting:
You must give your air fryer enough space on each side to ventilate properly. This is particularly important as your air fryer can end up overheating. Not only can that burn your food but it can also cause fire.
Is it the temperature or cooking time that is burning my food?
To determine that you should take an oven thermometer and check the temperature of your air fryer. Oftentimes the dial of the appliance is not correct and the temperature might be a lot higher than anticipated.
You should also remember that as a general rule of thumb your air fryer's cooking temperature should be reduced that what you would originally cook in an oven. If you did not reduce it then it is probably a high temperature that is burning your food.
If both of the statements do not apply to you then it is probably cooking time that is burning your food. Air fryer takes very little time to cook and if you do not keep an eye on it then it might get burnt real quickly.
How to not burn food in an air fryer?
There are some basic tips and tricks you should follow to avoid burning your food in an air fryer.
Fix a proper cooking time and temperature:
You must decrease your temperature at least by twenty-five degrees Fahrenheit than your usual recipes and use a thermometer to check if the temperature is correct.
If you are new to the air fryer scenario then you must lower the temperature even more and keep an eye out on the food very frequently.
It is better to let it cook for a longer time than to have burnt food. Over time you will find that you have figured out the exact cooking time and temperature needed for your air fryer.
Do not overcrowd:
Do not put too much food in at once and give your basket a proper shake before putting it in. This is to ensure that the food is spread out evenly and thus cooks evenly and does not get burnt.
Also, make sure to properly grease your basket as well as the food and avoid over greasing it at all costs. Too little or too much oil can end up burning your food. One or two tablespoons of oil are enough.
Clean your air fryer frequently:
Do not make the mistake of not cleaning your air fryer for long periods just because it does not get oily and crusty as a normal pan.
The grease and crumbs in the crooks and corners can end up getting on your food and also getting burnt when you use it again without cleaning it properly. It can also start giving off a bad smell.
Once you are done using your air fryer, as it cools down fully, wipe out all the excess oil and crumbs left in the bottom as well as the corners.
Do not cook raw vegetables:
Even though it might seem easy and tempting to cook raw vegetables in your air fryer you should avoid doing that.
These vegetables end up getting burnt before getting cooked through. Thus, it is suggested to use frozen veggies instead. This is because frozen veggies pack a lot of moisture and will not get burnt in an air fryer and rather cook better.
What is the best oil to use in an air fryer?
You should not use just any oil for your air fryer. You need oils that have a smoking point with proper smoking points to cook your food properly. If the smoking point of your oil is too low then the food will not get cooked properly.
If the smoking point of your oil is too high then there is a chance of your food burning or worse, it is a fire. Some of the common oils that you can use are sesame oil, sunflower oil, grapeseed oil, and even avocado oil.
How do I stop my air fryer from smoking?
Cooking oil food leads to white steam which is something that you should not be worried about. Even then, if you want to be extra cautious then add a little bit of water when you see the smoke coming out.
This will not only prevent the smoke but also let your food continue to cook thoroughly.
How do you clean a burnt air fryer?
Soak your basket in a solution of dish soap and warm water for some time. Then use an old toothbrush to scrub out the burnt bits and pieces out of your air fryer.
Remember to be gentle because harsh scrubbing can end up leading to scratches as well as the coating of your air fryer getting worn out.
Contact Brand Support for Repair & Service
In case if you have any other issues with your air fryer and cannot fix them, you can contact your air fryer brand repair and service center for further assistance.
Final Thoughts:
If your air fryer keeps burning food then there are some common mistakes you should look out for. Not only do cooking time and temperature affect it, but the amount of food you are cooking together and the type of oil you are using can very well lead to such mistakes.
Frequently Asked Questions:
Why Won't My Air Fryer Turn On?
How Long Will an Air Fryer Last?
Do Air Fryers Heat Up the Kitchen?