Dutch ovens are originally from the Netherlands but they were actually introduced by a bunch of Dutch immigrants. Hence the name and the specific cooking method.
Dutch ovens are many people's campfire choices because of their heat resistance. But this is only one side of this cookware based on its common material, cast iron.
As the material differs, the quality and appearance also vary, but they all are called dutch ovens. But there are many other kinds of dutch ovens that exist, and it will come in handy if you knew about them.
What are dutch ovens made of?
Dutch ovens are primarily made of cast iron, but aluminum, cast aluminum, and stainless steel are also used to make dutch ovens. These ovens are similar to the usual cast iron ones, but ceramic or glass dutch ovens are different from the cast iron dutch oven due to the materials and functions.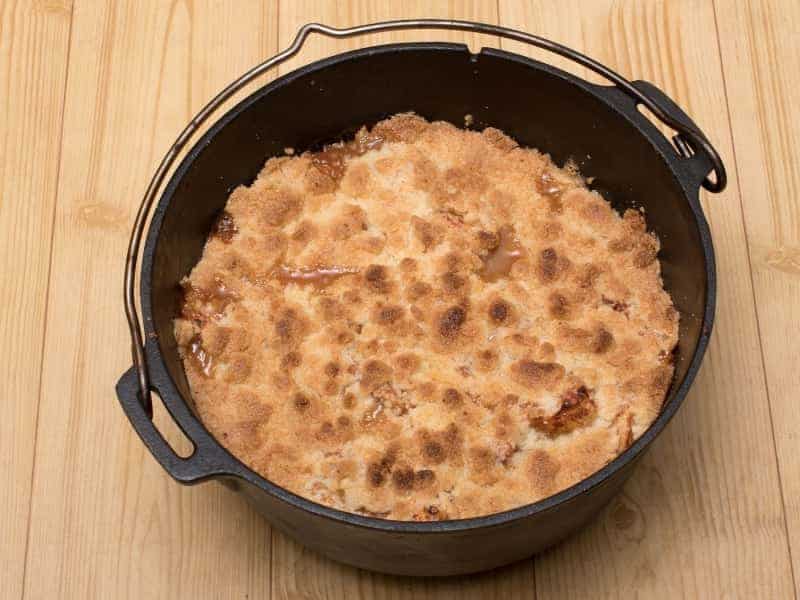 What material are dutch ovens made of?
There are many kinds of dutch ovens based on their materials. Such as:
Cast iron:
Dutch ovens are big cast-iron pots with brilliantly colored enamel covering that make them attractive and helpful kitchen aids. The cast-iron Dutch oven is a big, rigid cooking pot that has been around for generations.
They are still used the way they were designed since they are made of cast iron: over open flames and in hot coals. They can move straight from the stovetop to the oven and keep their heat for a long time after they've reached temperature.
Dutch oven takes a long time to heat up because of cast iron, but unlike some of its competitors, the heat is maintained because of the heavy lid's self-basting capacity.
Ceramic:
Ceramics have been around for centuries and centuries. They've been tried and confirmed as a material for various products, and they're hugely popular all around the world. As a result, a ceramic dutch oven model is also on the way.
The interior of this oven is non-stick ceramic. Because of this, they are a relatively light cooking appliance. It's devoid of cadmium, PFOA/PTFE, and is scratch-resistant.
As a result of the heat absorbing qualities of the ceramic, they heat rapidly, uniformly, and distribute and hold heat. Ceramic dutch ovens can be cleaned very easily in the dishwasher, and it is effortless to handle because it withstands all cleaning products.
It is also very affordable as ceramic is known as a cheap material.
Stainless steel:
The fascinating fact of stainless steel is that stainless steel is tough and won't break or crack when cleaned.
Using stainless steel for the Dutch oven is an innovative and labor-saving solution since Stainless steel ovens do not require specific cleaning instructions or rust.
Also, stainless steel Dutch ovens are much easier to maintain than other types of ovens. Some stainless steel Dutch ovens include aluminum bonded bases, which help the pot heat up faster and spread heat more evenly.
They're much lighter and thinner than cast iron.
Aluminium and cast aluminum:
Dutch ovens were built of cast iron in the past, but in recent years, aluminum dutch ovens have grown more commonplace.
Aluminium Hard-anodized metal is commonly used to make the Dutch oven. Despite being lighter than cast iron, it is a piece of considerable cooking equipment.
It has a nonstick interior that makes cleanup a breeze. However, unlike stainless steel, washing and scrubbing an aluminum dutch oven is difficult. You might not be able to use a dishwasher, and you'll have to be delicate while washing it with soap and water.
Despite the fact that modern Dutch ovens heat up rapidly, they do not retain heat as well as cast iron.
On the other hand, cast aluminum Dutch ovens operate like conventional shaped Dutch ovens, are lighter than cast-iron ovens, and can be cleaned in the dishwasher, but hand-cleaning is suggested.
This oven has the appearance of conventional cast iron but is more lightweight, making it ideal for individuals who do not want to carry heavy cast iron.
Glass:
Cast-iron Dutch ovens are heavier than glass Dutch ovens. Enamel Dutch ovens, on the other hand, have a porcelain enamel covering that is glass.
These were created for use in indoor kitchens since they did not require the seasoning process. You may place it over a preheated conventional oven, microwave, boiler, or electric stove and operate it over a cooktop.
It's simple to clean because it's compatible with standard dishwashers.
You may have questions about some famous branded dutch ovens. These are the most famous dutch oven brands and their materials:
Le Creuset dutch oven material:
There is a saying, "Every home cook and the professional chef needs a Le Creuset Dutch oven in their kitchen". Le Creuset dutch ovens are made of enameled cast iron. As long as you keep these ovens below 260°C, they're totally safe despite the PTFE fluoropolymer covering.
Lodge dutch oven material:
The Lodge Dutch ovens are made of Enameled Cast Iron Dutch. These are non-stick cast-iron ovens, and you can use these for various occasions.
Easy maintenance, convenience of use, heat conductivity, and affordability are just a few of the reasons why its enameled cast iron construction stands out.
Staub dutch oven material:
Staub Dutch ovens are made of enameled cast iron. These are heavy, solid, and use a low-temperature cooking technique, which gives your meal a more intense flavor and reduces more labor. Additionally, these ovens are devoid of PTFE/PFOA, cadmium, or lead.
Are all dutch ovens made of cast iron?
No, not all dutch ovens are made of cast iron.
Dutch ovens are traditionally made with cast iron which is: durable, heat resistant, and heat absorbent. However, aluminum, cast aluminum, and ceramic covens are ubiquitously affordable nowadays. You can also find glass and stainless steel dutch ovens in the markets.
Are cast iron dutch ovens better?
Yes, cast iron dutch ovens are better than other dutch ovens.
Cast iron is a type of metal that, just like the other variations, Dutch ovens may be used to cook almost anything on a cooktop. They operate better on coal or open flames since they don't have enamel covering.
Is a Dutch oven metal or ceramic?
Dutch ovens can be both metal and ceramic.
The dutch oven has a long history of being made of cast iron. But nowadays, there are many models of dutch ovens, including ceramic models. Both traditional cast iron or metal and ceramic dutch ovens serve various purposes and have different advantages.
Can a dutch oven be made of glass?
Yes, a dutch oven can be made of glass.
Glass Dutch ovens are intended to endure temperature fluctuations and are used from the fridge to the oven to the table. When it comes to cooking, this model is used for various purposes. It is dishwasher and microwave safe, as well.
What is an enamel Dutch oven?
Enameled Dutch ovens are made of cast iron and coated with enamel. Cast iron is fused at very high temperatures to form a thin layer of enamel, essentially porcelain.
Cast iron with the enameled finish is available in a range of vivid colors and styles to suit your preferences.
Even though it is constructed of cast iron, an enameled Dutch oven can absorb and retain the same amount of heat as a traditional one. It does, however, have temperature limitations:
It is not recommended for use over an open fire, whereas standard cast-iron can be used over a direct grill or fire; heating more than the heat range can cause a crack or damage the enamel; and temperature recommendations for oven use are not consistent.
As different brands suggest different heat ranges.
It won't rust in the dishwasher and may be washed with as much soap as you like. Like a well-seasoned traditional cast-iron dutch oven, it's also non-stick.
Is there any enameled cast iron made in the USA?
There are no enameled cast irons made in the USA.
There are some cast iron cookware manufacturers located in the USA. They say they produce seasoned cast iron in the USA, and they do have enameled cast iron, but it's not made in the USA but China under American supervision.
What dutch ovens are made in the USA?
There are many kinds of dutch ovens made in the USA.
You can find the traditional cast iron dutch oven in the USA by Lodge. Borough Furnace also produces enameled dutch oven. In the USA, stainless and pre-seasoned dutch ovens are also found by the Wolf and the Finex company.
Do dutch ovens stain?
Yes, dutch ovens are prone to staining, especially the enameled ones.
Your dutch oven's minor browning is typical. As a result of continuous usage and heat, the interior of your dutch oven will darken.
Every time you use it, be sure to clean and dry it properly so you don't have an enormous cleaning chore at the end of the week.
And it would be best if you did not get too concerned about the spot of your enameled cookware because it is customary to get marks overtime after long-term use.
However, staining might be an issue if the bottom of the pot darkens so much that we can't be called browning anymore.
Final thoughts:
Dutch ovens are known to be made of cast iron for centuries. However, other materials are used for dutch ovens now, including ceramic, aluminum, cast aluminum, stainless steel, and glass, other than just cast iron. The functions are also different from the traditional ones due to the materials.
Frequently Asked Questions:
Can You Deep Fry & Boil Water in a Dutch Oven?
Can Dutch Oven Lids Go in Oven?
Are Dutch Ovens Non-Stick? Why Does My Dutch Oven Stick?