Plan Details:
1,398 Sq Ft
3 Beds
2 Baths
1 Stories
2 Cars
Step right in, my friend!
No need to be bashful. I've got the lowdown on a splendid 3-bedroom New American Ranch Home Plan that'll have you dreaming about trading in your current digs faster than you can dodge behind a slow-moving tractor on the highway.
Let's dive right into the good stuff.
Right off the bat, this beauty greets you with an inviting exterior that's like a warm embrace from a close friend you haven't seen in ages.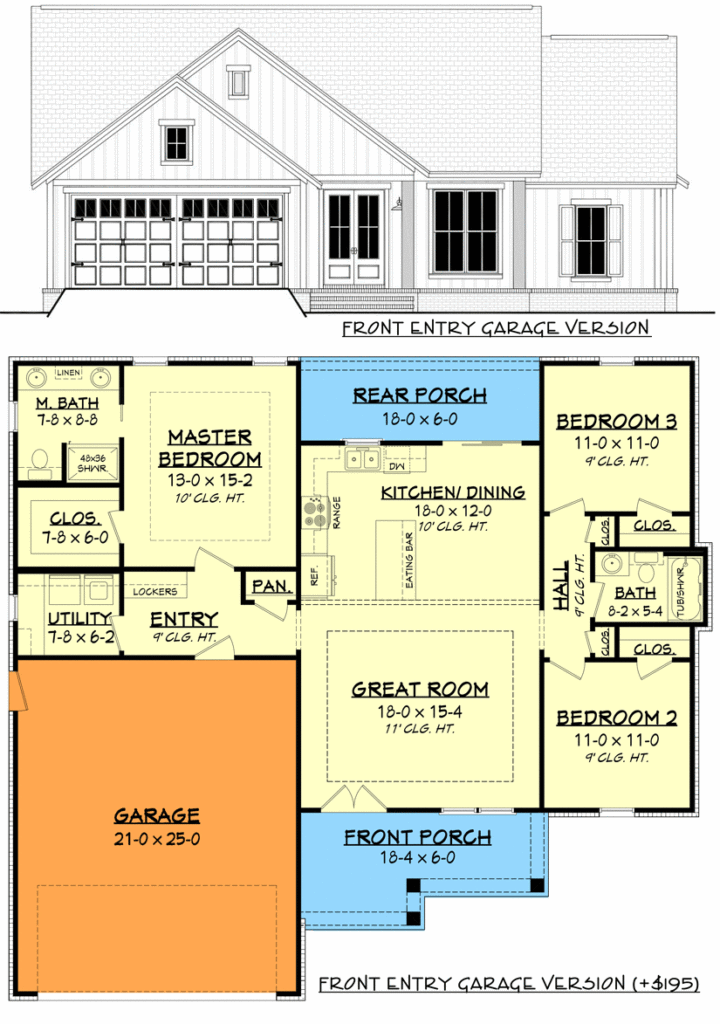 You know those houses that practically shout "welcome home" from a distance? Yep, that's the vibe we're talking about here. With its charming board and batten design, coupled with those two sturdy timber accents, this house exudes character.
Oh, and how could we overlook those French doors? The type that makes you want to twirl around in a breezy summer dress or pull off a dramatic slow-motion entrance.
Picture this: you swing those doors open, and you're welcomed into a spacious great room crowned with an 11-foot tray ceiling. If ceilings were competing in a beauty pageant, this one would undoubtedly walk away with the crown and scepter.
Got a thing for impromptu dance-offs with the family? Or those late-night heart-to-heart conversations where everyone gathers around on a single couch? Thanks to the ingenious split-bedroom layout, the heart of this home becomes a lively hub of shared memories and laughter.
And the beauty of it all? The central positioning ensures that everyone's just a stone's throw away. No more hollering across the house to summon Timmy to the dinner table – convenience at its finest.
Alright, let's talk kitchen. But not just any kitchen – we're talking about one sporting an island. If you've ever wondered where all those vanished socks from the laundry end up, it's probably in a mystical realm where every kitchen boasts an island.
This isn't your run-of-the-mill countertop slapped in the middle of your cooking zone. It's a versatile wonder: on one side, you're chopping veggies with culinary finesse, while on the other, your kids are hosting a cereal party.
And when you find yourself yearning for a change of scenery (or fleeing the aftermath of the kids' creative culinary experiments), glide over to the sliding door that leads to the covered porch. It's your very own haven, where you can sip your favorite brew while the world passes by.
Oh, did you think we'd forget? Not a chance! Tucked away conveniently near the family entrance from the garage, you'll find the laundry nook. No more schlepping laundry baskets across the house like you're on a mountaineering expedition.
This little gem is perfectly placed, so when you sneak back in from that late-night ice cream rendezvous, you can toss that ice cream-stained shirt straight into the washer – no muss, no fuss.
Now, this 1,398 square foot home might not rival the grandeur of a sprawling mansion, but let me tell you, it brings a hefty dose of personality and design swagger to the table.
With 3 cozy bedrooms, 2 bathrooms, a narrative that unfolds like a best-selling novel, and room for 2 cars – because really, who wants to play musical chairs with their automobiles?
In short, if houses had Tinder profiles, you'd be swiping right on this New American Ranch Home Plan quicker than you can utter "home sweet home!"
So, whether you're embarking on the journey of becoming a first-time homeowner or simply seeking a fresh start, this snug haven eagerly awaits your distinctive touch. Here's to creating a happy home that's uniquely yours!
Plan 51811HZ