Plan Details:
2,428 Sq Ft
3 – 4 Beds
2.5 – 3.5 Baths
1 Stories
2 Cars
Envision a home that seamlessly merges the timeless charm of a rustic country farmhouse with the sophisticated allure of modern design. Picture this: the best of both worlds harmoniously entwined in a single residence.
Welcome to a dwelling that transcends ordinary categorizations—it's more than just a house, it's a bona fide dream house.
Stay Tuned: Detailed Plan Video Awaits at the End of This Content!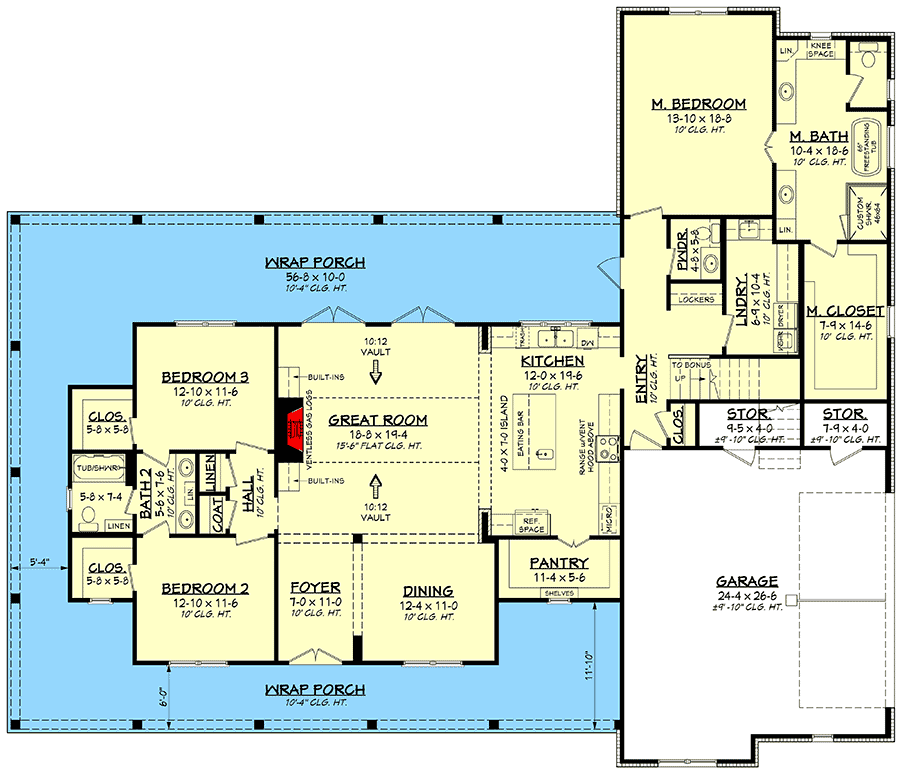 If we could anthropomorphize houses, this one would undoubtedly be the offspring of Joanna Gaines and Tony Stark. Let's embark on a captivating journey through the intricate tapestry of this architectural masterpiece.
Can you fathom a 10-foot-deep wraparound porch? Pinch yourself, because it's not a mere fantasy. This porch doesn't just adorn the front or back of the house, it graces both sides.
Imagine relishing your morning coffee while basking in sunrises and unwinding with an evening glass of wine as sunsets paint the sky.
With its board and batten siding harmonizing with a sleek metal roof, this home radiates curb appeal that could eclipse even the spirited exclamations of my Aunt Linda during a lively game of bingo.
For those who revel in making grand entrances (and really, who doesn't?), this house is tailor-made for you. Those French doors don't merely swing open; they usher you into the realm of sophistication and style.
And speaking of the great room, with its striking 15 feet and 6 inches ceiling height, it offers space so ample that even a pet giraffe could partake in the festivities.
The fireplace becomes a stage for marshmallow roasting or for immersing yourself in a narrative straight from a Nicholas Sparks novel. Add two more sets of French doors that lead to the enchanting porch, and you're practically residing in a dreamy haven awash with fresh air.
Have you ever stepped into a kitchen that ignites an urge to break into song? If not, you're about to experience that phenomenon.
This kitchen boasts a majestic island, where culinary creations, cookie-baking extravaganzas, and impromptu dance parties all find their stage. The walk-in pantry secures the sanctity of your private stash of chocolate.
And let's not overlook that double farm sink, flanked by windows that invite daydreams of crafting pies or even contemplating world domination – you know, the usual musings.
The primary bedroom isn't just a space to rest your head; it's a canvas for lifestyle aspirations. From an expansive walk-in closet reminiscent of Carrie Bradshaw's haven to the conveniently adjacent laundry access, it's almost as if the architects sifted through your dreams and brought them to life.
Guess what? The porch is mere steps away. Suddenly, late-night stargazing in your pajamas becomes a reality.
But wait, there's more! On the other side of the abode (granted, it might not rival a sprawling mansion, but it certainly feels that way), two additional bedrooms conspire to make your guests feel right at home – they share an elegantly designed Jack and Jill bathroom. It's the epitome of roommate goals.
And just when you believed this farmhouse couldn't elevate its splendor, it springs a delightful surprise. Adjacent to the garage entry, an inviting flight of stairs beckons.
Ascending these stairs leads you to the pièce de résistance—a bonus room! Need a fourth bedroom? A personal home gym? A clandestine lair?
This room boasts boundless potential within its approximate 700 square feet. And with a full bathroom thoughtfully incorporated, it transforms into a versatile studio space.
This modern farmhouse, boasting three bedrooms, isn't just a mere dwelling; it's a reverie swathed in aesthetic magnificence and laced with functionality. If ever a house has incited your heart to exclaim, "That's the one I want!"—look no further.
So, if you're on the cusp of settling for the ordinary, it's time to reconsider. With a residence like this beckoning on the horizon, embracing mediocrity simply flies out the window—much like the birds that undoubtedly flock to perch on that picturesque wraparound porch!
Plan 51870HZ