Plan Details:
2,790 Sq Ft
3 – 4 Beds
3 – 4 Baths
1 Stories
3 Cars
Imagine the tantalizing scent of fresh paint, a promise of new beginnings lingering in the air. Picture yourself in a home that seamlessly blends the rustic charm of the countryside with the sleek elegance of modern design.
Welcome to a paradise crafted for comfort – the 3-Bed Country Craftsman House Plan with a U-shaped kitchen. Let's take a tour of this delightful abode where every nook and cranny has a story to tell.
First, let's talk about those inviting porches. This isn't just any house with a front porch; it's a triple hug kind of house. You've got a spacious front porch, a cozy rear porch, and a charming side porch. It's like the house is reaching out to embrace you.
These porches will become the backdrop to your life – a place for rocking chairs, hushed conversations in the twilight, and moments of quiet reflection. They wrap around the house like a warm blanket, offering the perfect spots for sipping morning coffee or gazing at the stars on a clear night.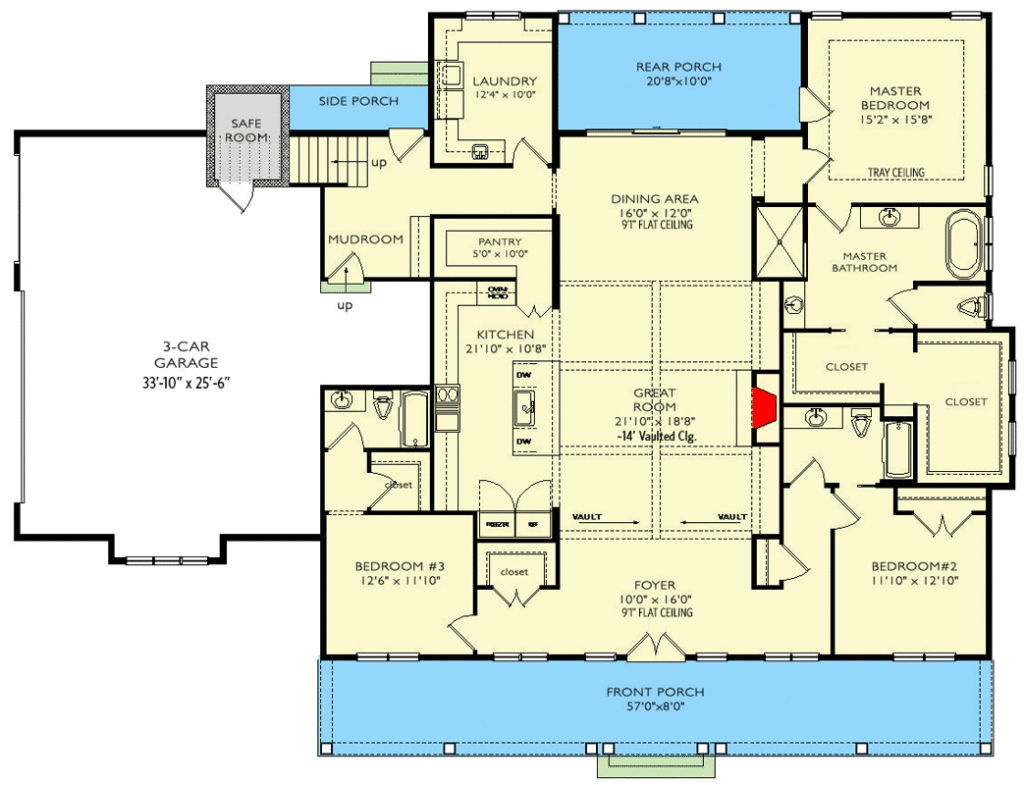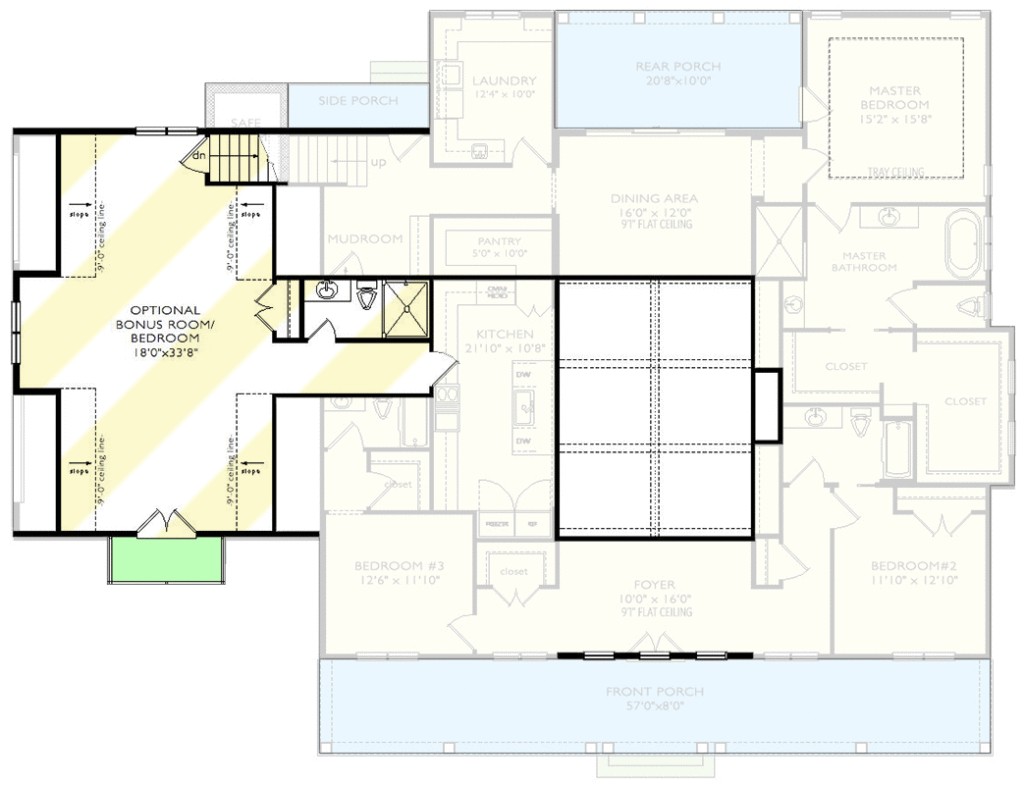 Now, let's turn our attention to the garage – a spacious, side-entry, 3-bay wonder. It can comfortably accommodate two cars and your beloved golf cart. Because who wants to lug around golf clubs when you can have them conveniently stored?
The third bay might seem like an indulgence, but it's that extra dollop of ice cream on your pie – slightly excessive but incredibly satisfying. It's the perfect space for all your "I need this" toys or "I might use this someday" tools.
As you step into the large, open entry-foyer, you'll immediately sense the freedom that comes with space. Your eyes will be drawn to the vaulted great room adorned with elegant interior beams.
This room is where comfort meets style, and it's probably where you'll accidentally doze off more times than you can count.
Adjacent to the great room is the pièce de résistance – the U-shaped kitchen, the holy grail of all kitchens. This isn't just a place to cook; it's a culinary coliseum.
At its heart, a large island with not one, but two dishwashers because who has time for dirty dishes? Certainly not you! Add in the spacious freezer, refrigerator, and walk-in pantry, and you're armed to host Thanksgiving, Christmas, and National Talk Like a Pirate Day all in one go!
Now, let's explore the bedrooms – three sanctuaries of solitude, strategically placed for maximum peace, quiet, and privacy. You won't hear snores, midnight fridge raids, or secret TikTok dances through these walls. These rooms aren't just separate; they're like guardians of your privacy.
And then there's the master suite – a realm where luxury meets comfort. It beckons you with a spacious walk-in shower that might make you question whether you ever want to step out. There's also a separate tub for those days when you need an at-home spa retreat.
But the pièce de résistance? A walk-in closet with his-and-her sections because, let's face it, if clothes could talk, they'd demand their own space. Here, your clothes won't just live; they'll coexist in perfect harmony.
But hold on, there's more! A generous laundry room conveniently connected to the mudroom ensures that dirty shoes and soiled clothes don't tarnish your pristine abode. It's like having a secret service detail for cleanliness. Your house won't just be a home; it'll be a spotless sanctuary of serenity.
But wait, there's another surprise! Ascend to the upper level, and you'll find an optional bonus room. This versatile space is itching to be whatever your heart desires: a fourth bedroom suite, a game room, a home theater, or perhaps a hidden lair for your world domination plans (we won't judge).
With a closet and a full bath, it's like a mini-apartment right within your home. Your guests might never want to leave!
In conclusion, this 3-Bed Country Craftsman House isn't just a structure of bricks and beams; it's a tapestry of experiences waiting to unfold. It's where elegance dances with efficiency, and tranquility mingles with festivity.
So, when do you plan on moving in? Because, truth be told, this house isn't just a home; it's a lifestyle waiting to be embraced.