Farberware, a trusted name since the last century, provides great utility in the kitchen. Given their popularity, you may already have used their products.
Since they have a diverse product line collection, it is common to wonder if they all go in the dishwasher. Today we will answer this question.
Can farberware go in the dishwasher?
Farberware products can go in the dishwasher. Most of their products are made for dishwasher use. Kitchenware includes pans, pots, skillets, lids, and other accessories that come with a dishwasher tag. However, not every Farberware is dishwasher safe, and some other products should be avoided.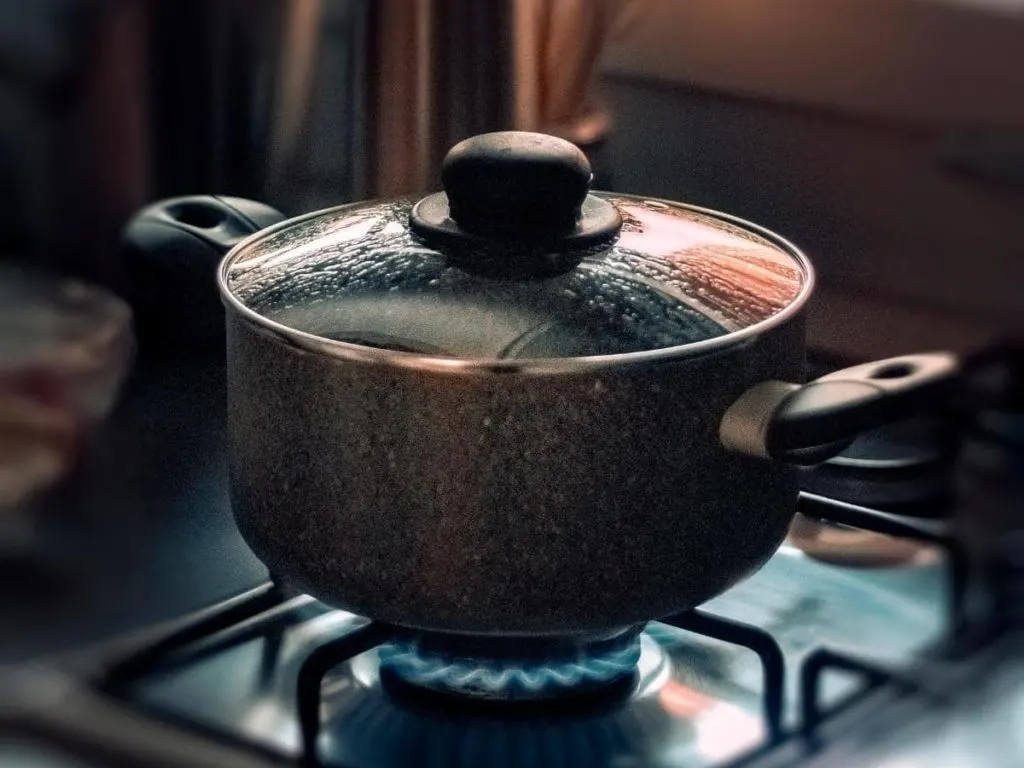 There are several Farberware products available that are made of different materials. Aluminum, cast iron, stainless steel, and ceramics are the most common ones. Learning every characteristic of these different materials is challenging.
Here are some products that you often forget about dishwasher safeness.
Farberware air fryer:
Farberware air fryer is dishwasher safe. It comes with a 3.2 qt food basket and a basket holder. Both the food basket and basket holder are dishwasher safe.
Farberware air fryer is an oil-less fryer, so you can easily clean it in the dishwasher.
Farberware pans:
There are several farberware pans. Farberware millennium stainless steel pans are dishwasher safe.
Even though there are many contradicting opinions on the dishwasher safeness of nonstick pans, Farberware high-performance nonstick pans are dishwasher safe.
Classic traditional frying and sauté pans are dishwasher safe. Most of the Farberware pans are dishwasher safe; however, in doubt, always contact the manufacturer.
Farberware knives:
Knives should never be put in the dishwasher because the detergent is abrasive for knives material. However, Farberware Non-stick resin cutlery knife is dishwasher safe. Both the blade and handle material are resin coated.
Although it is dishwasher safe, hand wash is always recommended for knives. If you want your knife to last, do handwash.
Vintage farberware pots:
Vintage farberware pots are entirely dishwasher safe. Traditional stainless and ceramic pots are dishwasher safe all the time. Farberware classic and millennium pots are dishwasher safe as well.
Is the farberware material dishwasher safe?
Generally, most Farberware products are dishwasher safe. They have various range of products consisting of materials like ceramics, cast iron, and stainless steel.
Ceramic nonstick:
Farberware ceramic nonstick collection comprises frying pans, skillets, and cookware pots. Farberware ceramic nonstick frying pans are dishwasher safe. Both the interior and exterior are made to be dishwasher safe.
The ceramic cookware saucepans, pots, and Dutch ovens are dishwasher safe as well. This set comes with lids and spoons that are dishwasher safe as well.
Rubber products are not recommended for dishwasher use, but the rubberized handles and lid knobs are safe for dishwashers.
Millennium stainless steel:
The Farberware millennium stainless steel nonstick cookware set includes pots and pans. All of the products from the millennium nonstick stainless-steel series are dishwasher safe for easy cleanup.
The handles and the lid knobs are made of stainless steel. Aluminum is generally not recommended for dishwasher use as it causes the aluminum to dull down.
The millennium stainless steel pots and pans are dishwasher safe.
Aluminum clad stainless steel:
Farberware classic clad stainless steel cookware series includes saucepans, stockpot, lids, nonstick frying pans, and cake pans. From these saucepans, pots and lids are dishwasher safe.
Classic nonstick stainless steel frying pans are not recommended for dishwasher use. However, the classic Farberware clad stainless steel pans and skillets are dishwasher safe.
Farberware classic sauté pan and frying pans are dishwasher safe as well.
Three reasons why farberware can go in dishwasher
Farberware makes dishwasher-safe products for easy cleanup. Although there are some rumors that some cookware is not dishwasher safe, here is why farberware products are dishwasher safe.
Customized handle materials:
Usually, rubber is not recommended to use in dishwasher. The rubber materials lose their integrity and strength. Over time it will get damaged.
But the rubberized handles and lid knobs in farberware products are fully dishwasher safe. They put in enough research and development to make rubberized materials safe for dishwasher.
Other variants of their cookware contain silicone, stainless steel, and aluminum. The silicone and stainless-steel accessories are safe to use in the dishwasher.
While aluminum is best kept away from the dishwasher, the small accessories will not be harmed if put in the dishwasher.
Easy and convenient wash:
Most of their stainless steel ceramic pots and pans are easily dishwashable. The dishwasher does not do any damage to stainless steel and ceramic products. You can use dishwash them without any fear.
Aluminum but dishwashable:
The abrasive detergents used in dishwashers are not friendly to the aluminum surface. But you can see some farberware aluminum products have a dishwasher tag on them.
Only the hard-anodized aluminum products are not dishwasher safe; other variants could be put in dishwasher. If you do not care about longevity and want a one-stop solution, go for dishwasher.
However, hand washing aluminum cookware will make it last for a long time
How to clean farberware?
Even though most Farberware kitchenware can go in the dishwasher, the manufacturer recommends hand washing their aluminum frying pans. Vintage Farberware pans and skillets should be hand washed.
The fry pans are easy to clean unless you have annoying grease and oil lying around. Focus on not scratching the sensitive surface.
You need dish soap, a soft sponge scrubber, and a soft towel. Things you should avoid- metal scrubber and abrasive cleaners. Here are some steps you can follow.
Soak in hot water:
Soak your Farberware in hot water. This will make any food residue and grease loosen up. Leave the pan for 10 minutes and then pour out the water. Rinse the bottom of the pan with hot water.
Take extra care while handling hot water; you do not want to burn yourself.
Use dish soap:
Pour a small amount of dish soap on the soft scrubber. Wipe the interior and exterior of the pan in a gentle, circular motion. Rinse with warm water.
If you are dealing with a stubborn stain, you may have to use baking soda.
Using a sponge, gently spread the baking soda solution on the stain. Leave the paste for 20-30 minutes. Gently wipe on the stain and rinse with warm water.
Dry with a soft towel:
Always dry your pots and pans with a soft and clean towel.
You may not always have to follow all the steps in order. Sometimes just wiping with dish soap is enough.
How do you clean stainless steel pots?
The intensity of cleaning depends on the dirtiness of your stainless-steel pots. You can go for light cleaning with only dish soap, or you can take more complicated steps to get rid of the nastiest stain.
Slightly dirty:
If the steel pot is slightly dirty, you only use dish soap and a soft scrubber. Clean it while it is warm. The residues will come off quickly.
If the oil and food get stuck on the surface, pour hot water and use dish soap to wash it.
Filthy stain:
If you have a dirty stain built up over time and have a hard time getting rid of it, use baking soda. Alternatives like Bonami and Barkeepers friend work great, but baking soda is readily available and cheap.
Pour some baking soda and water on the stain. Let the solution dry out a bit. Wear gloves and wipe the surface out with a soft scrubber.
How to Restore Farberware Stainless?
Restore your Farberware stainless steel cookware in the following ways
Burnt food:
The easiest way is to soak the pan in hot water and use a non-abrasive scrubber with dish soap. If it does not yield any result, boil the water in your pan.
Other than hot water, you can use vinegar and baking soda. Apply vinegar and baking soda paste on the stain. Rest it for 30 minutes and scrub it away with a soft scrubber. Rinse with water.
Burnt stainless steel:
Removing burnt marks is a hassle but not impossible. Apply dish soap and baking soda solution on the burnt spot in the exterior. Leave your stainless-steel cookware for hours.
Then wash it out as you usually do with water and dry with a soft towel.
Discolored stainless steel:
Vinegar does wonder in fixing discolored stainless steel. Apply vinegar on your discolored portion and rinse it with water. Repeat the process if necessary.
Final Thoughts
A rule of thumb is stainless steel pans can go in the dishwasher. Some aluminum products are not damaged in the dishwasher, while other aluminum farberware products are discouraged for dishwasher use. If you are in doubt, always contact the manufacturer for guidance.