Plan Details:
3,976 Sq Ft
4 Beds
3 Baths
2 Stories
3 Cars
Step into a realm where architectural brilliance meets modern living, where timeless elegance mingles seamlessly with contemporary convenience. Imagine a space that celebrates functionality and coziness in equal measure, beckoning you to call it home.
Welcome to the captivating world of transitional housing, where a truly remarkable blueprint awaits, ready to be the haven you've been dreaming of.
Spanning an impressive 3,976 square feet, this architectural masterpiece transcends the ordinary, far beyond the realms of a typical four-bedroom, three-bathroom abode.
It's an immersive journey encompassing every facet of life – from living and working to playing – all thoughtfully designed to thrive under a single roof.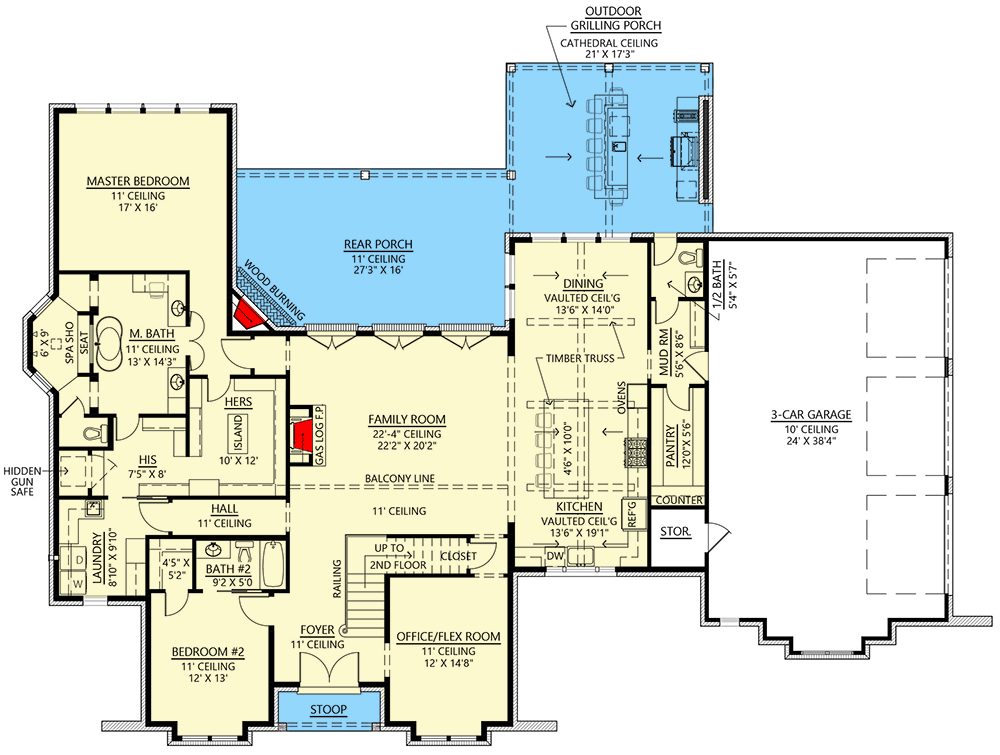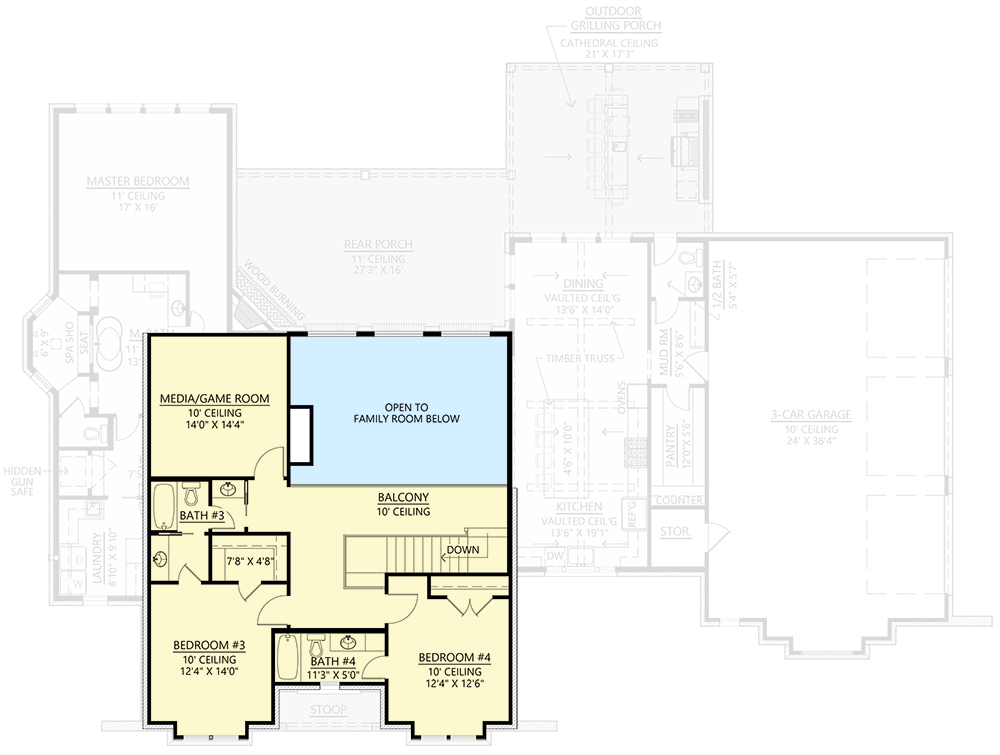 The first glimpse is awe-inspiring, with its high-pitched rooflines and graceful eaves casting an instant spell. Aesthetically pleasing and profoundly charming, it's a sight that captures your imagination at first sight.
Yet, appearances can be deceiving, for this transitional house plan is akin to a cutting-edge sports car – a classic exterior concealing a futuristic interior. Inside, modern living takes center stage, waiting to be discovered and embraced.
Picture your long-desired home office – a space where morning coffee spills won't spell disaster for your laptop, and where Zoom calls don't echo the hum of your refrigerator. Behold, this plan delivers that privilege.
A flexible room located adjacent to the foyer stands ready to become your productive sanctuary – a home office that seamlessly marries comfort with efficiency. Say farewell to the intrusion of household noises during important calls.
Just opposite this haven of productivity lies a cozy guest suite. Gone are the days of pulling out sofa beds or inflating air mattresses for visiting relatives. This room might just become the reason behind extended family stays and heartfelt gratitude.
And that's just the beginning. Venture further into the heart of the house, where a generously sized family room awaits, adorned with three sets of French doors. Perfect for hosting elegant gatherings or simply enjoying the breathtaking sunset vistas.
When the urge to take the festivities outdoors strikes, an expansive rear porch stands ready, complete with an outdoor kitchen. Dust off that grill, embrace the role of a master chef beneath the stars, and let the good times roll.
But the celebration doesn't halt there. The open-concept kitchen and dining area embody the soul of this residence.
Featuring double ovens, a six-burner range, exposed beams, and a grand island, it's a chef's fantasy come true. More than that, it's the setting for cherished family dinners, culinary experiments, and festive holiday banquets.
Here, the saying "too many cooks spoil the broth" holds no weight. The space is designed for every family member to contribute their own "secret" ingredient, fostering unity and creativity in the kitchen.
After entertaining, working, and impressing your guests, it's time for a touch of personal luxury. The main-floor master bedroom isn't just a place to rest your head – it's a retreat that boasts a spa-worthy ensuite with an oversized shower, a true slice of heaven.
And the walk-in closet? It's spacious enough to incite envy even in the fictional Carrie Bradshaw. Here's the kicker – it connects directly to the laundry room!
No more lugging laundry baskets across the house. With this layout, even the most procrastination-prone among us might find a renewed enthusiasm for tidying up.
Journeying to the upper level reveals two additional bedroom suites, tailor-made for the little ones or for those times when snoring partners need their temporary exile. Plus, there's a media or game room, primed for movie nights or teenage gaming marathons. In fact, you might find it a challenge to lure your kids out of the house now.
And let's not forget the three-car garage, a sanctuary for your prized vehicles, or a repository for that miscellaneous mix of belongings we all accumulate – the lawnmower, a bike that's been on hiatus, and an ever-growing pile of stuff that warrants a promise of future organization.
In the grand finale, this two-story family room transitional house plan isn't just a dwelling. It's a lifestyle, a canvas for a life richly lived, a blend of work, play, comfort, and luxury that caters to your every whim.
So go ahead, embrace this transition, and transform this house plan into your very own. Home isn't solely where the heart resides; it's where your soul finds its sanctuary. And this house, my friends, has soul in abundance.
Plan 56497SM