Plan Details:
3,314 Sq Ft
4 Beds
3.5 Baths
2 Stories
2 Cars
Prepare to be captivated by the ultimate suburban sanctuary, a place that will make your heart sing and your dreams come true.
Imagine a home that exudes warmth and comfort, a dwelling that whispers "Home Sweet Home" from the moment you lay eyes on it. Get ready for an extraordinary journey as we unveil a stunning New American house plan that will leave you breathless.
Let's set the scene. Picture a regal masterpiece with steeply-pitched gables that adorn its exterior. These architectural marvels bestow upon the house a crown-like majesty, instantly distinguishing it as royalty in the realm of design. And that's just the beginning!
As you approach, the house presents an irresistible curb appeal, enhanced by the graceful arched front porch. This visual symphony will make your neighbors green with envy, leaving them yearning for a slice of your idyllic suburban paradise.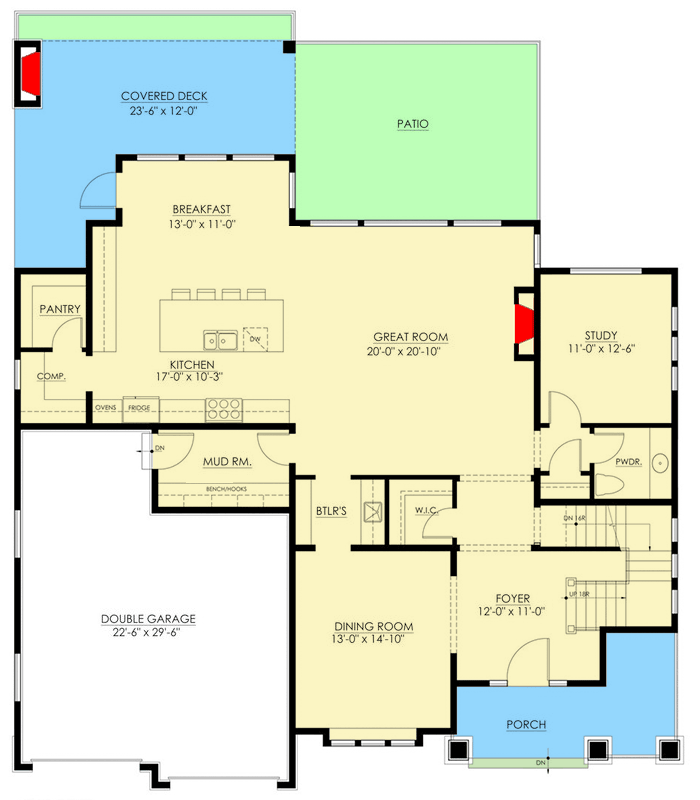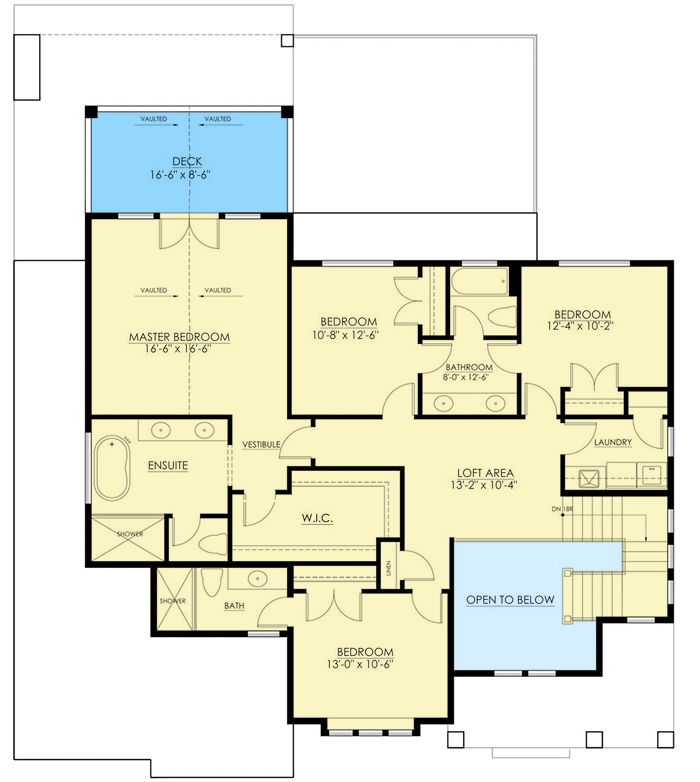 Prepare to step into a realm of grandeur as you enter the foyer. The tall ceilings stretch towards the heavens, bestowing an air of magnificence upon the space.
You might even catch yourself glancing upward, half-expecting to find a shimmering chandelier suspended above. Though the chandelier is absent, the foyer's splendor is undeniable.
To the left of the foyer lies a formal dining room that would make Martha Stewart weak at the knees. Bathed in natural light streaming through a lovely boxed bay window, this room sets the stage for elegant dinner parties and unforgettable moments with loved ones.
Here, you can indulge in the pleasure of fine dining while discreetly pretending not to notice your furry friend's pleading eyes.
Connected to the dining room is a butler's pantry, the unsung hero of organized kitchens everywhere. This hidden gem serves as a gateway, effortlessly bridging the gap between the dining room and the heart of the home.
And what a heart it is! Welcome to the great room, a radiant space flooded with natural light from oversized windows.
The abundance of sunshine might necessitate a fashionable pair of sunglasses. Anchoring this luminous expanse stands a grand kitchen island, an architectural superstar commanding attention and serving as the hub of culinary creativity.
Feeling overwhelmed by this architectural symphony? Seek solace in the tranquil study, a haven for contemplation and intellectual pursuits. If the outdoors beckon, venture to the covered deck or patio. Here, you'll find my personal favorite feature—an outdoor oasis.
Complete with a captivating fireplace, it transforms into a cozy sanctuary regardless of the season. Late-night philosophical debates or early morning coffee rendezvous—this is the perfect backdrop for moments that linger in your memory.
But hold on tight, because we're about to ascend to the upper level, where the wonders continue to unfold. A welcoming loft guides you towards a trio of family bedrooms, each one brimming with warmth and comfort. Two of them share a Jack-and-Jill bath, evoking memories of childhood camaraderie.
The third bedroom boasts its own full bath, offering a private sanctuary for guests or family members seeking solitude. These bedrooms are so inviting that your children may never want to leave. Consider your mission as parents successfully accomplished!
Now, brace yourself for the pièce de résistance—the master bedroom. Nestled at the end of the hall, this sanctum exudes serenity, shielding you from the hustle and bustle of everyday life.
Prepare to be enchanted by the vaulted ceiling, stretching upwards towards a private deck. Awaken each morning to a breathtaking vista, and you'll feel like royalty in your own private retreat.
In total, this architectural masterpiece boasts a staggering 3,314 square feet of pure delight.
With four bedrooms to accommodate a growing family, 3.5 baths to ensure the morning rush-hour chaos remains a distant memory, and two stories that make you feel on top of the world, it offers everything you could ever desire.
And let's not forget the two-car garage, because who wouldn't appreciate the luxury of extra storage space?
If this house were a captivating profile on a dating app, it would be swiped right with lightning speed, causing the internet to break under the weight of its desirability. But this remarkable dwelling is more than just a house—it's a place to call home.
It patiently awaits your arrival, ready to embrace you and create memories that will last a lifetime. Don't deny yourself the opportunity to experience a suburban paradise that surpasses your wildest dreams. It's time to unlock the door to your extraordinary future.
Plan 270008AF