Plan Details:
2,984 Sq Ft
3 Beds
2.5 Baths
2 Stories
3 Cars
Greetings there! Have you ever found yourself daydreaming about a sumptuous escape to the countryside, all while keeping your urban sophistication intact?
Well, hop on the farmhouse bandwagon, but let's get one thing straight – this is no ordinary homestead reminiscent of your grandma's place. Nope, this one comes with a contemporary twist that redefines elegance.
And here's a sneak peek: You'll be seriously tempted to make this your new abode, like, yesterday.
Stay Tuned: Detailed Plan Video Awaits at the End of This Content!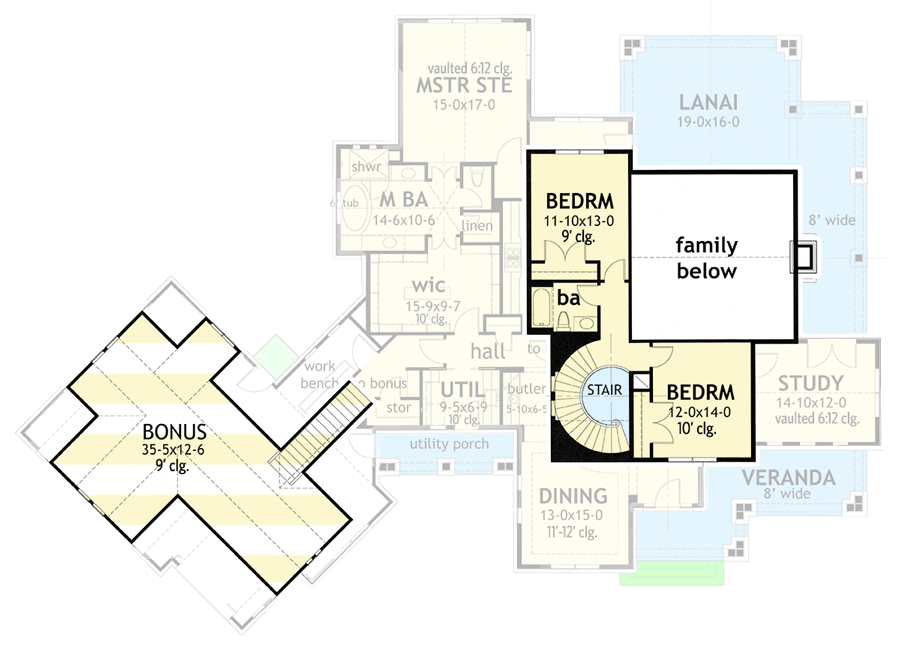 With an expansive 2,984 square feet, this two-story gem boasts three generously proportioned bedrooms and two and a half extravagantly appointed bathrooms.
Oh, and by the way, let's not forget that the garage is spacious enough to house not one, not two, but three cars. Your collection of wheels (or well, let's face it, your odds and ends) has finally found its posh shelter.
This isn't the sort of house you simply stroll past. The combination of those stylish bracketed awnings and the multi-paned windows exudes elegance that practically whispers, "You've got impeccable taste." And if you're concerned that it might be a tad too upscale, rest assured.
The numerous vaulted ceilings infuse the space with the warm essence of a rustic farmhouse. It's akin to having a touch of downtown Manhattan right smack in the heart of Kentucky's picturesque countryside. It's the best of both worlds!
As you step inside, prepare to be greeted by a breathtaking circular staircase that's practically made for making grand entrances (or just nonchalantly ascending, if that's more your style).
But don't stop there; as you continue, you'll be treated to a jaw-dropping panoramic view that stretches all the way to the opulent lanai at the rear. Just imagine sipping your evening wine in this serene spot – sheer bliss!
While we can't throw in a live-in butler (sorry about that!), the butler's pantry is here to provide a taste of that high-class service. Entertaining your guests in the formal dining room (complete with that chic tray ceiling, might I add) is as effortless as spreading butter on warm toast.
And for the reigning culinary maestro of the household? You can stay seamlessly connected with everyone, thanks to the stylish bar-top counter and the vistas that overlook the vaulted family room, the cozy breakfast nook, and once again, that irresistible lanai.
Who says the kitchen has to be an isolated space? Let's talk about the "suite dreams" that await – the main floor is home to a master suite with soaring vaulted ceilings that offers enough space to break into a dance routine (without an audience, of course).
But here's the real gem: A sprawling walk-in closet that's practically a room of its own. Now, getting ready is as simple as pie, with direct access to the garage. A quick run for coffee? You're all set!
We all need our moments of solitary indulgence, right? That's where the vaulted study comes into play – your ideal retreat.
Complete with elegant French doors, it opens up to the lanai, allowing you to bask in outdoor relaxation without venturing too far. It's tailor-made for those who adore nature but also value their personal space.
Nestled discreetly near the garage is a stairway that leads to something akin to heaven – or at least, the bonus room, which is just as splendid! With a sprawling 605 square feet of space, it's a canvas for your imagination to run wild.
Picture an art studio, a home gym, a private cinema, or maybe even your secret stash of candies (don't worry, your secret's safe with me). The five-foot knee walls and the lofty nine-foot ceiling create an ambiance that's simultaneously airy and intimate. That's what I call a taste of luxury!
Considering a bit of rearranging? If the notion ever strikes you to detach and relocate the garage (hey, life's full of surprises), the core of the house would measure a neat 66 feet and 10 inches across, and 67 feet and 11 inches deep. Options? You've got them in abundance!
This isn't just a mere house; it's an entire experience. A seamless blend of the cozy, welcoming vibes of a farmhouse with the opulence of a contemporary estate.
It's tailor-made for those who yearn for the tranquility of the countryside without bidding adieu to their metropolitan flair. So, are you ready to make this your new home sweet home, or what?
Plan 16853WG