Plan Details:
2,039 Sq Ft
3 Beds
2 Baths
1 Stories
3 Cars
Step into the realm of cutting-edge home design, where the charms of a rustic barn embrace the luxuries of modern living – introducing the captivating world of Barndominiums!
Imagine starting your day with a steaming cup of coffee, leaning against the kitchen island, and taking in the sweeping view from your wraparound porch. Picture yourself exploring this unique residence that seamlessly blends the warmth of rustic elements with the conveniences of contemporary amenities.
Stay Tuned: Detailed Plan Video Awaits at the End of This Content!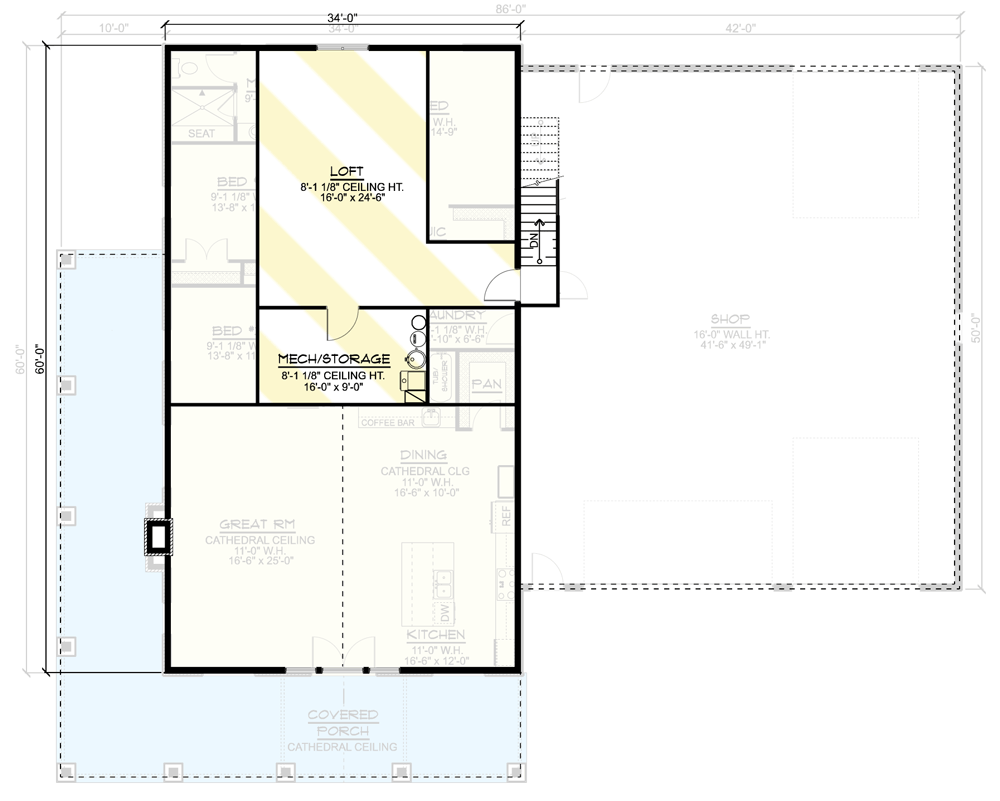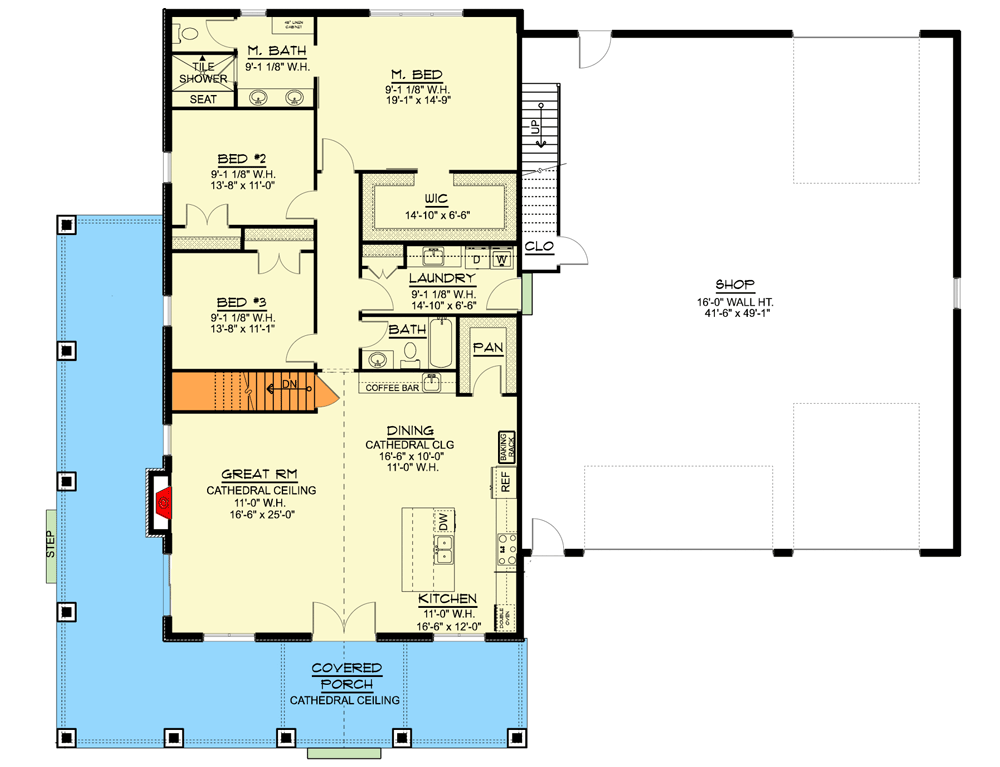 Who would have thought that a sprawling 2,123 sq ft garage could become a reality? It's a concept that probably never crossed your mind or mine. However, now that it's a viable option, it's a canvas for imagining a myriad of possibilities.
Need to accommodate three cars? Not a problem. Entertaining the idea of launching a DIY YouTube channel focused on transforming discarded furniture into stunning art pieces? The space is more than accommodating.
And let's not overlook the thoughtful inclusion of front and rear overhead doors. The days of awkwardly maneuvering to fit your vehicle into tight spots are a thing of the past; you can simply drive straight through!
But wait, there's an intriguing surprise tucked away within the garage – a spiral staircase leading to a second-level loft.
This loft serves as a versatile haven, whether you crave a secluded sanctuary for focused work or a peaceful escape from the hustle and bustle of daily life.
Who would have thought that what was labeled as "storage" would unveil itself as a potential secret hideaway?
Now, if the wraparound porch didn't already make you feel like the protagonist of your story, stepping through the elegant French doors into the combined great room certainly will. The cathedral ceiling adds an air of grandeur while the fireplace beckons with its cozy ambiance.
That 5′ by 8′ kitchen island isn't merely a surface for chopping vegetables; it's an invitation to engage in conversations and create lasting memories (not to mention, it's the ideal setting for a delightful wine and cheese soirée).
Oh, and let's not overlook the presence of the coffee bar. Because, let's be honest, who can truly function without that invigorating morning brew?
For those who enjoy impromptu pillow fights or playfully spirited moments, the bedrooms offer an expansive arena. On the flip side, if tranquility and mindfulness are your calling, there's ample space to craft a meditation nook.
Placed ingeniously adjacent to a complete bath and a conveniently accessible laundry room (with a sneaky entrance from the garage for those muddy shoes), everyday living becomes a seamless experience.
Nestled at the rear of the design, as if safeguarding a cherished secret, the master bedroom unfolds as a haven of serenity. With its personal 4-fixture bathroom, it's the ultimate venue for belting out your favorite tunes in the shower.
The linen closet ensures your towels are always at arm's length, while the walk-in closet might just make you feel like you've stepped into your own private boutique every morning. After all, indulging in a touch of luxury should be a daily ritual we all relish.
The concept of "corrugated metal siding" might evoke industrial connotations, but consider it as the armor that protects and elevates your haven. It's robust and chic – a contemporary twist on the classic farmhouse aesthetic.
In essence, this Farmhouse-Inspired Barndominium isn't just a term that rolls off the tongue; it's a symphony of style, practicality, and whimsy. It's a tapestry where modern aspirations intertwine harmoniously with classic inspirations, crafting a living experience that's as enchanting as it is functional.
Regardless of whether you're an aficionado of rural landscapes yearning for modern elegance or a city dweller envisioning moments of rustic tranquility, this might just be the Barndominium you've always envisioned.
Now, the only question that remains: when can we turn this dream into our reality?
Plan 135072GRA