Plan Details:
4,966 Sq Ft
6 Beds
4.5+ Baths
2 Stories
3 Cars
Get ready to put on your party hats because we're about to take a captivating journey into what could easily be the ultimate blueprint for your dream home – and mine too, for that matter.
Buckle up and join me as we dive headfirst into the world of architecture and explore every nook and cranny of this mesmerizing design.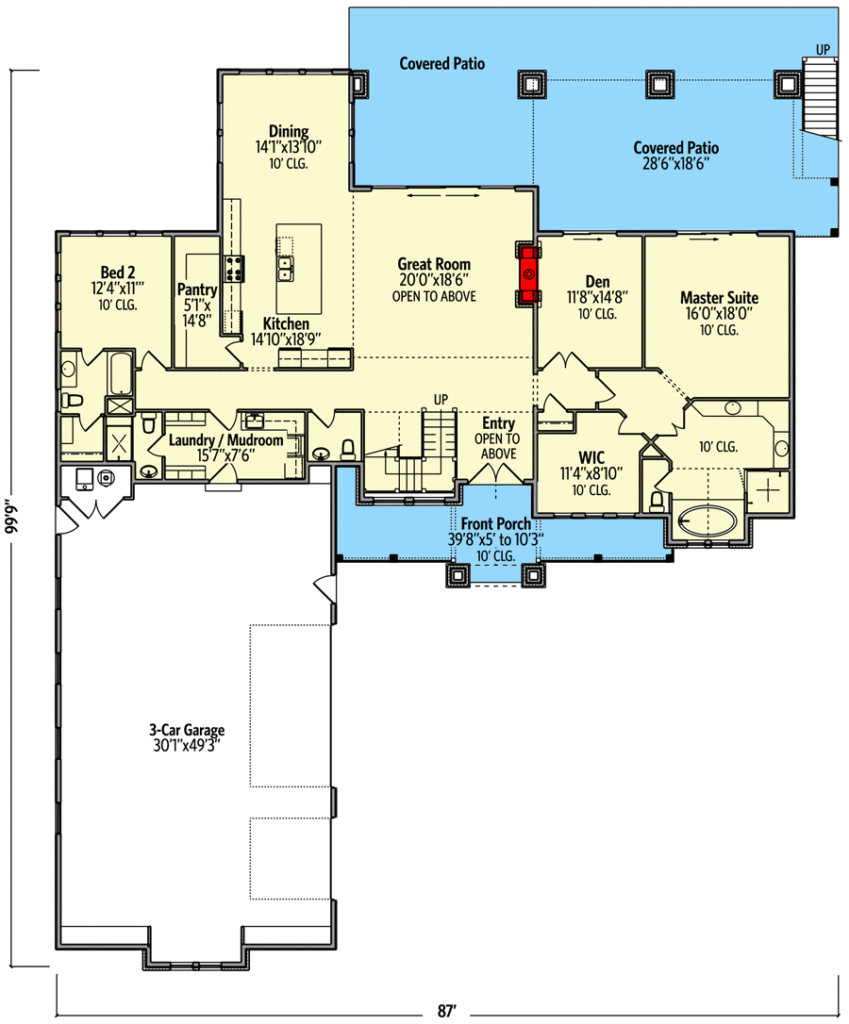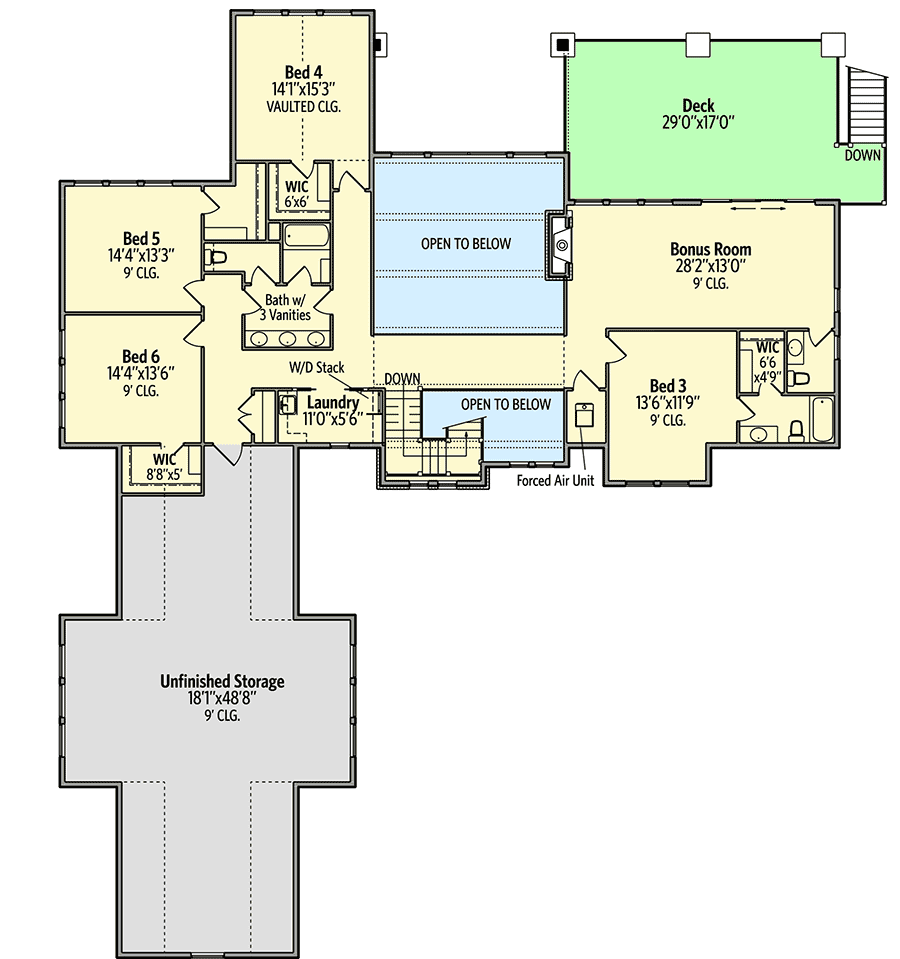 Let's start by taking a look at the exterior. The house boasts an enchanting stone accent that instantly transports you to the realm of modern-day castles. Imagine yourself as royalty, minus all the drama. Just add a crown and maybe a scepter, and you're all set to rule your kingdom of comfort.
As we step inside, the interior unfolds before us, and it's nothing short of spectacular. Those vaulted ceilings? They're so high, they could have their own weather system! The sheer grandeur of the space is bound to make your guests' jaws drop faster than you can say "Welcome."
But hold on, the pièce de résistance is yet to come. Brace yourself for a two-sided fireplace that's shared between the den and the great room. Picture this: toasting marshmallows on one side while roasting chestnuts on the other. Who knew multitasking could be this cozy?
Speaking of generous proportions, if there's one thing that confirms the "bigger in America" adage, it's definitely the kitchen island.
This mammoth island measures a staggering 5 feet by 10 feet – practically a small island nation in itself! Whether you're cooking up a storm, enjoying a meal, or attempting to create a sandwich masterpiece, this island has got you covered.
And let's not forget the walk-in pantry. It's so spacious that you might consider giving it its own zip code. This kitchen is a haven for both the casual cook and the culinary virtuoso.
Now, after all that culinary excitement, it's time for some rest. The master bedroom, accessible through the den, is the epitome of relaxation. Its walk-in closet is so expansive, you might just discover a wardrobe-sized portal to Narnia.
And the ensuite? Luxury knows no bounds here. Dual vanities ensure sink space squabbles are a thing of the past. A separate tub and shower, a private toilet room – it's a comfort haven worthy of a "Best in Class" award.
On the other side of the house, there's another bedroom with its own full bathroom. Beware, though, your guests might become so enamored that they never want to leave. Consider yourself warned.
Ever returned home from a muddy adventure? The mudroom is your knight in shining armor. With benches and cubbies ready to intercept all that dirt, your living space remains pristine.
And the mudroom's functionality doesn't stop there. It seamlessly leads to the three-car garage – because why settle for just two?
Fancy enjoying a tranquil morning coffee or a serene evening glass of wine? Step out onto the covered deck, a mere slide away from the great room, den, and master bedroom. Close your eyes, take a deep breath – that's the pure joy of having a personal escape right at your doorstep.
Remember those childhood dreams of hidden passages and secret rooms? While the upstairs might not be a labyrinth of tunnels, it offers its own surprises.
The "bonus" room overlooks the great room and foyer, providing a versatile space for anything you can imagine – movie nights, dance-offs, or focused work sessions.
And let's not overlook the four bedrooms, ready to host dreams, pillow fights, or impromptu reading sessions. But the adventure doesn't stop there. Step onto the expansive open-air deck, soak in the breathtaking views, and then descend the stairs to your very own backyard haven.
This two-story New American house plan is more than just a structure – it's a manifestation of dreams. With a blend of luxury, comfort, and style, it's not just a place to live; it's where memories will flourish, laughter will resound, and stories will unfurl.
So, if you're in search of more than just a roof over your head, this could very well be your next grand adventure. Here's to the exciting journey of finding your perfect home!
Plan 95105RW