Plan Details:
4,036 Sq Ft
3-4 Beds
3.5 Baths
1 Stories
3 Cars
Ladies and gentlemen, get ready for an extraordinary journey into the world of luxury and elegance, where opulence and functionality unite in perfect harmony.
Today, we have the pleasure of unveiling a magnificent 4,036 square foot Modern house plan that will leave you awe-struck and craving a life of grandeur.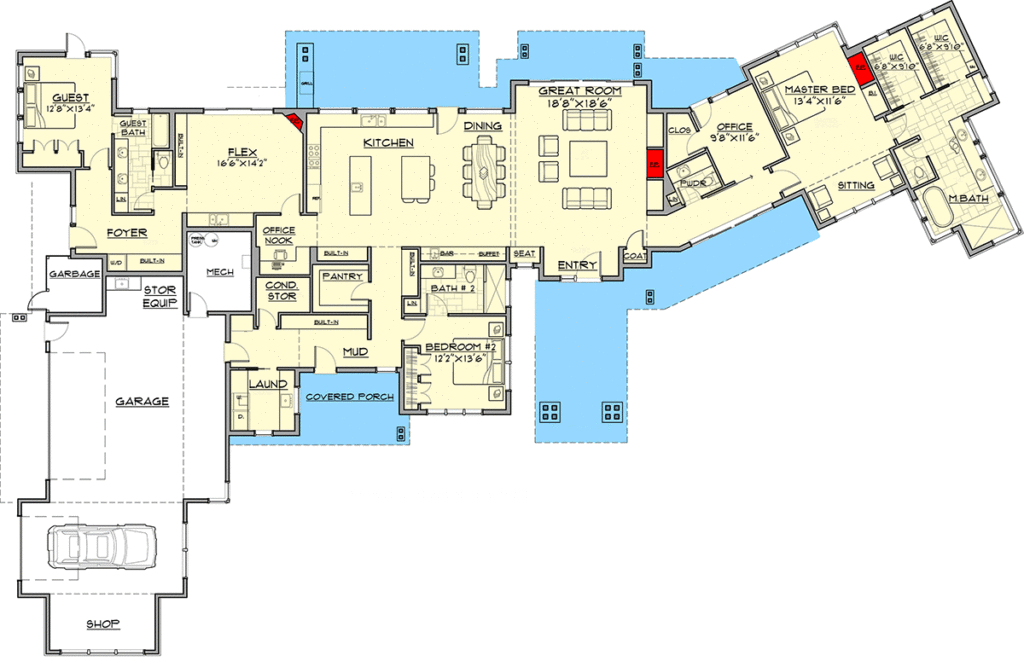 Picture waking up each morning to a breathtaking view of the sunrise, streaming through elegant transom windows that are far from ordinary peepholes.
These carefully positioned portals offer you the best of Mother Nature's scenic beauty, right from the comfort of your home.
Now, imagine starting your day sipping a freshly brewed coffee while basking in the warm sunlight that flows in through the soaring ceilings, reminiscent of the grandeur of the Sistine Chapel.
This is the open concept great room, a vast and spacious area that serves as the heart of the home, where culinary delights are created in the modern kitchen while keeping an eye on the kids or enjoying Gordon Ramsay's latest cooking escapades on TV.
Speaking of the living room, it boasts a cozy fireplace, perfect for those chilly winter evenings when you want to cuddle up with a captivating book and a steaming cup of hot chocolate.
Not a fan of cooking? No problem at all! This house has you covered with a cleverly tucked-away office nook in the great room, allowing you to catch up on work without feeling isolated.
Multitasking has never been so effortless and stylish.
And for those with a penchant for glamour, there's the flex room – as versatile as an Olympic gymnast.
This room exudes sophistication with a wet bar for shaking up martinis on Friday nights, elegant built-ins to showcase your treasured collection of porcelain kittens, and an inviting corner fireplace, because one is simply never enough.
Who can resist sipping a cocktail by the mesmerizing flames of a roaring fire?
Privacy is of utmost importance, and this house plan offers just that with two separate bedrooms, providing each occupant with their own serene retreat.
One of these bedrooms is a luxurious guest suite, designed to impress and pamper your in-laws or friends so much that they may never want to leave.
Be warned, hosting guests will become an irresistible pleasure!
Now, let's talk about the crown jewel of this magnificent dwelling – the master suite. This is more than just a bedroom; it's a haven fit for royalty.
With a plush sitting area, a spacious spa-like bathroom that could put a 5-star resort to shame, and not one but two walk-in closets, your dreams of abundant storage space are finally realized.
No more squabbles over closet territory; it's a match made in heaven!
Of course, no luxury house would be complete without enchanting porches in both the front and back. These aren't just mere shelters from the elements; they are havens for relaxation and enjoyment.
Imagine leisurely lounging on a lazy Sunday afternoon with a refreshing drink or savoring a delightful family barbeque on a breezy summer evening under the twinkling starlit sky.
So, there you have it – a house plan that goes beyond being a mere architectural blueprint. It offers a lifestyle, a dream, and the perfect fusion of style, comfort, and luxury. With a delightful sprinkle of humor and a touch of wit, this house promises to provide everything you could ever desire.
Who needs a fast car or a million dollars when you can revel in the delights of three cozy fireplaces and the convenience of two walk-in closets? As you reach for your checkbook, it's easy to see why this house represents the epitome of refined living.
Embrace the allure of this splendid dwelling, where elegance meets practicality, and prepare to embark on a journey into a life of unparalleled grandeur.
Plan 54227HU